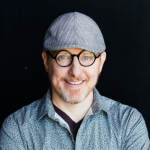 One of the best books I've seen that helps entrepreneurs get their vision down on paper is Gino Wickman's book,
Traction
. That's why I'll be teaching some concepts from the book to scale and grow your firm at this year's
Deeper Weekend conference
(
watch this video to get a $250 early bird discount
 to the conference on
Oct 25 to 27
.)
In Traction, Wickman says "Entrepreneurs must get their vision out of their heads, and down onto paper." This is one of the most enlightening concepts in business today. The concept of establishing a vision can be daunting at first because it has lived cluttered in the entrepreneur's head for so long. It can be hard to write down, but extraction of a vision is necessary if you want to build an organization larger than yourself. According to Wickman, the first step in getting the entrepreneur's vision down onto paper is to write out the Core Values of the business. But before we get to the steps of writing out your core values, let's look at some principles supporting the importance of your core values.