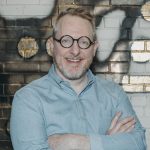 Welcome to a new decade. That is so weird to write, but here we start a new decade. All of us.
At this time, it's pretty normal to think of all the big things to change, and to do some reflection. Our minds and our actions go 'big picture.' That's pretty healthy typically. But the change of a year, no less the change of a decade, can lead us to a darker path of staying too high up in the clouds without remaining down in the details where change truly happens.
After almost 30 years in a career and 50 years on the earth, I've learned some things. Here is what I can say I know:
The big picture is where you plan successfully.
But the details are where the work happens, and you actually win.
You need both in a balanced way to make a successful future.
So, in this state that we are all in where our heads are up in the clouds, be careful when you look at those Instagram photos and stories from other people. Make sure you keep a level head when you read everyone's big hopes and dreams in their blogs for their future. That's all good stuff.
But the real change will happen in the day-to-day. The 'everyday' is where you will win. The showing up for work daily, following your plan, seeking others to keep you accountable, balancing things in your life to commit time to work AND commit time to real relationships. It's not easy! The details are hard! The day-to-day is where you will win, and few keep that in mind as they watch others dream during this change of a decade.
The day-to-day is where we are faced with the daily choices of saying 'no' to the many things that will distract us from fulfilling the dream. Learning to sacrifice and say 'no' is what keeps you and me on the right path towards fulfilling the dreams we are dreaming during this turn of the decade. And since it's day-to-day, we need some help because we can lose focus and get distracted. So adding in accountability from those we trust will keep our heads on straight and continuing to march in the right direction (which is why we started the Thriveal community!).
So feel free to dream at the turn of this decade. But stay balanced in the details as you start tomorrow to fulfill your dreams on a daily basis.
Jason is the Founder of Thriveal and the Chief Innovative Officer of his CPA firm, Blumer & Associates. He is the co-host of the Thrivecast and The Businessology Show and speaks and writes frequently for CPAs and creatives, his firm's chosen niche. Jason loves to watch documentaries on just about anything. He lives in Greenville, SC with his wife and their three children.