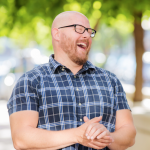 Don't force me to be thankful.
The thing that makes me the most un-thankful is when someone says we should go around the table and have everyone say something they're thankful for. I'm thankful when that crap is over because I want to eat.
And on Thanksgiving I'm not just eating. I'm an artist. I'm trying to consume a very precise quantity of food: not enough to cause an aneurysm when I bend down to tie my shoes, but pretty f***ing close.