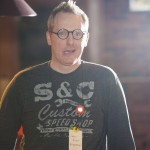 I've had some successes and failures as a leader lately. I want to write down what I'm learning.
Here is what I'm learning as a leader:
1.
I'm leaning into my human work.
I ain't no boss, and I sure ain't no manager. Bosses like to tell other people what to do, and managers check up on people to make sure they did what they were supposed to do. I hate both of those. Leaders serve. And who are they serving? Humans. And humans are messy. I'm messy. It seems, "Messy + Messy = Miscommunication, Confusion, and Frustration." But what if "Messy + Messy = Opportunities to Become Better Humans?" I'm learning that it does mean that, at least for me. So I'm leaning into people. I'm leaning into my partner,
Julie Shipp
. I'm leaning into my team. And I'm leaning into my wife. I'm leaning into my clients. Leaning into human work means you are going to step on toes, and awkwardly do and say things you didn't mean. But I'm going to do it anyway because I believe leaning into humans will bring great transformation for me, my team, and my clients.