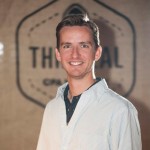 "The pathway to your greatest potential is through your greatest fear." -Craig Groeschel
This is where it gets real. The blog posts are one thing. The conferences. An inspiring TED talk or coffee exchange with a peer. But eventually it all comes down to you, and the action. And the fear that's present in that moment.
I'm convinced that facing fear is perhaps the biggest skill we can develop as business owners. Heck, as human persons. To me, here's an example of human business, and how developing this skill in business, can actually feed back into our life outside of business. And vice versa. I know it has for me.