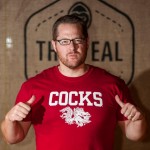 One way to get me to do almost anything is to call me a chicken. As a matter of fact, just inferring that I'm a chicken is usually enough. I even do it to myself to motivate me.
Which is how I ended up asking for a 100% raise and a $10,000 bonus.
Back Story: Last summer my board of directors asked me to take on additional responsibilities with no additional pay. I knew we didn't have any money for raises at that time. (Being the company comptroller,¹ I know crap like that.) I'm also a team player, and I didn't want anybody to think I'm a chicken, so I agreed.