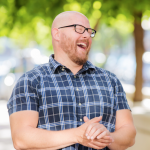 When it comes to adopting new innovation, I am not by nature an early adopter. But here's my trick: I hang out exclusively with early adopters. That way I might feel like I'm taking a long time to get on board with new technology or new business practices, but in reality I'm still near the front end. I'm the very last early adopter, which by definition still makes me an early adopter.
With that in mind, and with the crushing realization that we're starting a new decade, here are three challenging goals that you should consider pursuing in 2020 in order to keep up with the frontrunners in the profession. This is the stuff that all the cool kids are already doing.
GOAL #1: Start drafting your clients monthly
WHY DO IT? It eliminates WIP. It eliminates AR. It gives your firm predictable monthly income which will help you budget and plan for growth. There's a fair amount of work that goes into it up front, but it makes life easy once it's in place. It's basically the Ronco Home Rotisserie & BBQ of professional service firms: set it and forget it.
WHAT'S THE CATCH? In order to draft your clients monthly, you need to have a lot in place. Most importantly, you need to have fixed price agreements (FPAs) and scope documents in place. And it goes without saying that you need to set up an ACH system (or something similar) with your bank that allows you to draft your clients monthly. And don't forget that your FPA should have specific language delineating how much will be drafted each month and what day of the month it will be drafted.
GOAL #2: Fire two clients1
WHY DO IT? At least three reasons: (1) It forces you to identify your niche. (2) It forces you to create higher-value services. (3) You get to cut yourself loose from clients who are a pain in the ass.
WHAT'S THE CATCH? It's risky AF. At least it feels risky because you are actively choosing to cut existing revenue sources. In order to replace lost revenue, you need to identify how you can serve existing clients even better with higher-value service offerings. And the best way to develop those higher-value services is to identify a niche — a specific group that you have specific insight and expertise on how to help solve their problems.
In 2012 my friend Michael Hsu fired 60 percent of his clients. SIXTY PERCENT. After firing all those clients, his revenue stayed level, and his profits increased. Michael reminisces that "Many of the clients we fired said, 'We don't care about your business insights. We just want bookkeeping as cheap as possible.' They were toxic to my company in such a way that staff morale was low, and we were focusing on putting our their fires which was impeding our ability to serve our good customers."
Like I said, it feels risky, but big picture, it's less risky than the alternative. If you are serving any random client who's willing to write you a check, and if you're offering mostly commoditized services, your business is not sustainable. Change or die. You won't die this month, but eventually you will.
GOAL #3: Stop using timesheets
WHY DO IT? At least three reasons: (1) If you're not tracking your time, you can't bill your time, so it will force you to use FPAs. (2) It will send you in the direction of value pricing. (3) Relying on timesheets makes you worse at managing your people.
WHAT'S THE CATCH? You can't be lazy. Time tracking allows you to be lazy. Delineating scope of work and pricing that work and avoiding scope creep and avoiding scope seep all take time and effort. Saying, "We charge so much per hour for however long it takes and for whatever work we end up doing for you," is easy and lazy.
If you ditch timesheets, you can't be a lazy manager, either. Time sheets make you feel like you're managing your people, but it's an illusion. Everyone knows that staff eat time and over-allocate time to clients who are less price sensitive. If you think your staff is doing what's reflected on their timesheets, you're letting yourself be deluded.
Think about it. If timesheets were a good management tool, then why do zero parents have their kids fill out a spreadsheet saying where they were and what they were doing for the entire week? "I saw Billy's timesheet. No beer. No sex. No drugs. No fights. Just a lot of homework and chores. I'm a great parent."
Believe it or not, if you adopt these goals for 2020, you'll still be part of the early adopters. You'll be one of the cool kids. You know, cool for accountants. So still not really that cool.
1More if you're nasty
Greg was born in Akron, Ohio, in the shadow of the Firestone tire factory. He began to swim competitively when he was eight, swimming for the Mountlake Terrace Lemmings. He graduated in 1995 from the University of Washington with a math degree. He chose math for the ladies. After serving ten-years as an 8th grade math teacher, he decided it was time for a career change, mainly because he "couldn't stand those little bastards." He began his accounting career with a local CPA firm in Orem, Utah, where he consistently failed the QuickBooks ProAdvisor advanced certification exam. Greg currently works as the Controller for the Utah Valley Physicians Plaza. He lives in Utah, but manages to make it to Greenville, SC once a year to emcee Deeper Weekend. He enjoys eating maple bars, drinking Diet Pepsi, and swearing.