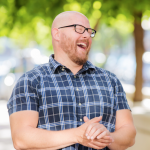 Don't force me to be thankful.
The thing that makes me the most un-thankful is when someone says we should go around the table and have everyone say something they're thankful for. I'm thankful when that crap is over because I want to eat.
And on Thanksgiving I'm not just eating. I'm an artist. I'm trying to consume a very precise quantity of food: not enough to cause an aneurysm when I bend down to tie my shoes, but pretty f***ing close.
So when I say thankfulness is a competitive business advantage, I'm not saying that you and your team ought to brainstorm some things that you think you should probably feel more grateful for. Instead I'm suggesting that you take some time to reflect on four aspects of your firm, and if you feel authentic gratitude for each of those aspects, then you're going to kick ass, or more accurately, you're going to continue kicking ass.
But if reflection on any of these aspects does not produce a sense of joy and thankfulness, then you need to make some changes, and you need to make them pretty damn quick.
These four aspects of your business need to ignite gratitude:
Your people
Your expertise
Your balance
Your impact
PEOPLE
I'm talking about both your team and your customers here. When you think about the people you work with and the people you work for, is your reflexive emotion one of gratitude? When you think about them as a whole and when you think about them individually, are you glad that you get you work with them. Do wonder how you got so lucky?
If yes, you have a competitive business advantage. Regarding your team, if you're grateful for them, that means you have the right people on the bus. With the right team, not only will you produce and innovate, you won't be wasting time modifying the bus to try to fit the (wrong) people. Instead you can use that time creating value for your customers.
If you are truly grateful for your customers, that means that they're the right customers for you to serve. It means you know that you are serving them well. It means that you're getting more than money out of the deal, but more on that when we get to Impact.
But if you're not truly thankful for your staff or clients, you've got to fire them. You've got to be like, "Merry Christmas to all, but to you, uh, goodbye." It's like Marie Kondo, but with humans. If they don't spark joy, thank them for their service and then drop them off at Goodwill.
We're all afraid of losing the revenue regardless of whether it comes from good clients or crappy clients. But the good news is that there are other clients out there that will replace those crappy ones and make your life better. Same with staff.
EXPERTISE
Are you super glad that you're awesome at your job? Sometimes I catch myself saying something like, "I'm pretty f***ing great at what I do." I really feel that way. It's not sarcastic, and it doesn't feel like I'm bragging. I think I objectively kick ass at my job, and objectively kicking ass feels awesome. It's also a competitive advantage.
Are you thankful that you are uniquely skilled to solve your clients' problems? Are you thankful for your niche? Are you thankful for your role as a visionary or as an integrator? If you've got the right expertise, the right niche and the right role within your firm, you're going to light it up, professionally, and you can't not be successful.
Otherwise, you need to get better at what you, find the right niche, and find the right role and/or the right partner.
BALANCE
Just like everybody, I need to work, and I need to play. Fortunately for me, playing means performing standup comedy, and standup is my side hustle, so playing is still working. Some people might say that's too much work. I say it's just right. My day job as the controller for a group of medical office buildings feeds the nerd side of my psyche, and performing feeds the creative nerd side of my psyche.
Also, since I'm part of a small building management team, I'm on call 24 hours a day, so it's not uncommon for me to be at one of my buildings on the weekends, late at night, or crazy early in the morning. Sometimes I have to drop everything for an emergency. Again, that may not seem like balance, but I've got tons of flexibility in my hours, so if I have to leave work to help my son with math or to babysit an electrician who's working on my kitchen remodel, I can do it.
What I'm getting at is that balance looks different for everyone, and it may not even look like balance. You need to find your balance. Some people don't even call it work-life balance, they call it work-life integration. Some people just call it life balance because work is part of life. Not only that, as humans we have a need to engage in meaningful work. So work isn't separate from life. Work is an integral part of life.
Regardless, when you think of the structure of your life, does it make you happy? Are all the different sides of you are getting fed? If so, then you have a long-term competitive advantage because what you're doing is sustainable.
If you're out of balance (whatever balance means to you) then you may have a short term advantage because you're burning yourself up. But if your firm and the structure of your role inside your firm aren't a source of gratitude, then whatever growth or revenue or profitability that you're sacrificing for are going to immediately disappear when you can't do it anymore and your lose your damn mind and find yourself showing up naked to a chamber of commerce meeting.
IMPACT
Can you sit back and be truly grateful that what you do is making people's lives better? Ed Kless said that George Gilder said that "profits are an idea of altruism." Profit and altruism seem to be contradictory, but they're not. If you're making the world a better place, if you're truly helping people satisfy a need, then you will be paid well for it. Clearly a competitive advantage.
Being grateful for the positive impact you're having on your clients' lives also results in a critical adjustment to your outlook. Your first job should be to figure out how to improve your customers' lives, how to solve their problems, or how to relieve their pain. You still have another job: to figure out how to turn that into a profitable service offering. But when you're just trying to make some cash without regard to how it's bettering other people's lives, that's just kind of gross.
So I hope this Thanksgiving, when you reflect on these four aspects of your firm, that you are truly grateful for what you've created. I also hope you can tie your shoes without passing out.
Greg was born in Akron, Ohio, in the shadow of the Firestone tire factory. He began to swim competitively when he was eight, swimming for the Mountlake Terrace Lemmings. He graduated in 1995 from the University of Washington with a math degree. He chose math for the ladies. After serving ten-years as an 8th grade math teacher, he decided it was time for a career change, mainly because he "couldn't stand those little bastards." He began his accounting career with a local CPA firm in Orem, Utah, where he consistently failed the QuickBooks ProAdvisor advanced certification exam. Greg currently works as the Controller for the Utah Valley Physicians Plaza. He lives in Utah, but manages to make it to Greenville, SC once a year to emcee Deeper Weekend. He enjoys eating maple bars, drinking Diet Pepsi, and swearing.