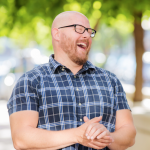 We just wrapped up Thriveal's Deeper Weekend 2019 conference. Jason set a new record for use of the word "butthole" at an accounting conference. He also taught us about the Entrepreneurial Accounting Organization ("EAO"), and the very first principle of an EAO was "Client Focuses."
Determining your firm's Client Focuses means you get to select what types of clients you want to target. Basically, if you want to run your firm in an entrepreneurialistic™ way, you need to find a niche.
Discovering and pursuing a niche is incredibly important, but what's weird is that it's never urgent, landing it squarely in Quadrant Two of Stephen Covey's Seven Habits Time Management Matrix. (True story, I've been in Stephen Covey's home in Provo, Utah, and I very much regret that I didn't steal something.)
We're all supposed to be working smart enough (and being disciplined enough) to live consistently in Covey's Quadrant Two. We should be managing our capacity enough to never have anything get too urgent, and we should have the discipline and discernment to not get tricked into spending our time on things that are not important.
But in real life, urgency becomes the default impetus for productivity, and like I said, discovering and pursuing a niche is never urgent. And since plenty of firms (yours included?) may seem to be going along just fine without ever having identified a specific niche, the importance of finding a niche can be less than top-of-mind.
If you need a quick recap of why a niche is so important, here it is, distilled down as much as possible: Without a niche, you can't be an expert. And if you're not an expert, you can't charge high prices.
I don't own a firm, but I like to think about what my niche would be if I did. And here are four things that I would require of my niche.
RIGHT FIT.
A niche that's always been attractive to me has been tattoo artists and parlors because it reflects the badass nature that I don't have but wish I did. But then I got a couple tattoos. When I was paying for my sweet ink, my artist told me that she could take my credit card, but if I paid in cash, they would charge me less because they wouldn't have to pay tax on it.
Yeah … but they would. And based on that one isolated experience I extrapolated a universal truth¹ that the entire tattoo world is amoral and devoid of ethical behavior. Ethics is a pretty big deal for me, you know, a core value,² so the tattoo industry would be a bad fit. I mean a bad fit for me. Feel free to work with them if you hate ethics.
PROFITABILITY.
At Deeper Weekend, Lynda Artesani, president of Artesani Bookkeeping and one of Intuit's Deeper Weekend delegates, gave a brief presentation on the importance of finding a niche. One of the things she emphasized was that you shouldn't target a niche unless it can be profitable. Seems like a no-brainer, but it's totally a yes-brainer.
Since I do standup comedy, I've often thought about a stand up comedian niche. But that would actually suck. The vast majority of standup comics are poor AF. Even a lot of the ones you see on TV are barely scraping by. It'd be pretty stupid to become the world's premier accountant for comedians who can't afford an accountant. It's like how my brain breaks when I hear about firms that specialize in offers in compromise. "Oh, you want to focus on clients who can't pay bills that they can go to jail for not paying? Sweet."
GROWTH.
Niches are like spouses. If you have more than one, you probably have too many.³ Since you're only going to have one niche, you need to select one that has good potential for the future.
So here's a bad idea. Pick bookstores as your niche. Or phone book companies or video rental retailers or newspapers. Those industries are dying. The ideal is to pick an industry that is ready to boom. That way, you will boom right along with them. Meatless burger patty manufacturers is the hot niche of the day.
COMPLEXITY.
Another reason the tattoo industry appealed to me was because it's a service industry. No inventory. No sales tax. So easy. But I'm a dumbass. Lynda Artesani says you want to target complex industries because complex industries have complex problems that require complex solutions, and complex solutions are more valuable and provide more job security.
The cannabis industry is a great example of an incredibly complex (and growing) industry. Sure your clients will all smell like a Grateful Dead tour bus, but fortunately for you complexity is even more complex for people who are stoned.
So start now. Figure out which of your existing clients is a good fit, profitable, growing and complex. If they're not an anomaly, but instead reflect their entire industry, start targeting more and more clients in that industry. Make it your niche.
¹Because that's how science works
²Unless I'm in Stephen Covey's home.
³Probably.
Greg was born in Akron, Ohio, in the shadow of the Firestone tire factory. He began to swim competitively when he was eight, swimming for the Mountlake Terrace Lemmings. He graduated in 1995 from the University of Washington with a math degree. He chose math for the ladies. After serving ten-years as an 8th grade math teacher, he decided it was time for a career change, mainly because he "couldn't stand those little bastards." He began his accounting career with a local CPA firm in Orem, Utah, where he consistently failed the QuickBooks ProAdvisor advanced certification exam. Greg currently works as the Controller for the Utah Valley Physicians Plaza. He lives in Utah, but manages to make it to Greenville, SC once a year to emcee Deeper Weekend. He enjoys eating maple bars, drinking Diet Pepsi, and swearing.