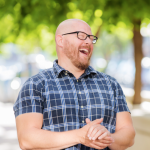 Peter Block is one of Jason Blumer's heros. We had the honor of interviewing him for the August 2019 episode of the Thrivecast. And Peter Block turned Jason into a 14-year-old fangirl.
He wasn't a fangirl like screaming and crying and fainting for the Beatles. That's more like a 13-year-old fangirl. Jason was just very concerned that by the end of the interview Peter Block would like him. He simply wanted Peter Block to be his BFF in such a manner that their families would vacation together starting on Labor Day.
And I get it. When we interviewed Dan Ariely back in 2012. I did the same thing. Unfortunately Ariely did not like my jokes and he did not come to my birthday party.
The interview was amazing. Block's wisdom and understanding of effective organizational leadership blew us away. So much wisdom it was as if Yoda and Buddha had a baby who went to business school.
Block's whole perspective on running an organization was that the boss needs to be developing leaders. For most of us, we hope we're developing leaders, but we're not actively doing anything to accomplish that. Or we assume that we're just hiring people who are already leaders. Or maybe when we say we want leaders, what we really mean is that we want exemplary followers.
So what can we do to actively develop leaders in our firm? Peter Block had a bunch of ideas, and Jason, without hesitation, agreed with all of them.
He says we need to be receptive to complaints and criticism from our staff. If we're developing leaders, they're going to have opinions and ideas of how our firm needs to change because the flip side of a great idea is a complaint or critique of how things are right now.
He was clear that our staff has the responsibility to be respectful when they present their complaints and criticism. But ultimately if your staff isn't challenging you, then you ain't got no leaders.
He also said that if you're developing leaders, you don't have to have everything figured out. Your staff may come to you, asking for direction, asking, "What should I do?" And if you're developing leaders within your firm, a lot of the time your response should be, "I do not know."
Keep in mind this doesn't mean that you should intentionally suck at strategy and communication in order to develop leaders. Every person at your firm needs a clear understanding of your expectations and their responsibilities. However, this doesn't mean you have to spell everything out. A job description can include some ambiguity, like "the employee will create new processes" or "solve unique problems" or "determine the appropriate time to wear pants." The trick is you have to be clear and explicit about the ambiguity. Then you're creating some leaders.
During the interview Jason said something about how leaders hold their people accountable, but Block corrected him and said we've got to stop saying we "hold" people accountable.¹That language of "holding people accountable" undermines people's agency, self-discipline and responsibility, all of which are required of leaders. Instead, your people should actively submit themselves to accountability. Now you might be thinking, "That's kinda dumb. It's the same frigging thing." But Peter Block would remind you that all change begins as linguistic change, and Jason would tell you to shut your damn mouth because nobody disrespects his new dad like that.
For the final question of the interview — for real — I asked Peter Block who he liked better, me or Jason. He said he liked Dan Ariely.
¹Which is when Jason started crying and fainting.
Greg was born in Akron, Ohio, in the shadow of the Firestone tire factory. He began to swim competitively when he was eight, swimming for the Mountlake Terrace Lemmings. He graduated in 1995 from the University of Washington with a math degree. He chose math for the ladies. After serving ten-years as an 8th grade math teacher, he decided it was time for a career change, mainly because he "couldn't stand those little bastards." He began his accounting career with a local CPA firm in Orem, Utah, where he consistently failed the QuickBooks ProAdvisor advanced certification exam. Greg currently works as the Controller for the Utah Valley Physicians Plaza. He lives in Utah, but manages to make it to Greenville, SC once a year to emcee Deeper Weekend. He enjoys eating maple bars, drinking Diet Pepsi, and swearing.