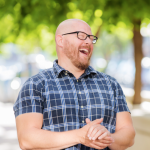 Why do you own your own firm?
Some people do it because they're horrible employees. They know it, and their former bosses knew it.
My brother's like that. He's kind of the worst employee. He'll start a new job and love it, but after awhile, he can't handle the chronic, systemic problems that almost every employer¹ struggles with. But instead of bringing those things up in constructive ways, he bottles up his frustration until one day he busts into his boss' office, yells, "This place is bullshit!" and flips over a desk. Then the next day, he'll come back to work, poke his head into his boss' office and ask, "So I don't work here anymore, right?"
Yeah, that's right, Bob.² You don't work there anymore.
If you're like Bob, and you do that enough, eventually you realize, "Oh … I'm an entrepreneur." I get that.
But the real thing I want to know is this. Did you start your own firm because of money (including your temperament making you unemployable), or did you start your own firm because it's your artistic calling? Or maybe the better question is this: When's the last time you approached your firm with the same mindset that an inspired artist approaches his or her creative work?
This year I read a couple books on creativity, and I talked about them on the 2019 Summertime Book Club episode of the ThriveCast. In those books, when the authors listed different creative pursuits, they always included entrepreneur in one way or another. In the section called "The Unlived Life," Steven Pressfield, the author of The War of Art, asks, "Are you a writer who doesn't write, a painter who doesn't paint, or an entrepreneur who never starts a venture?" In Big Magic, Elizabeth Gilbert includes "person who owns a plumbing business" along with author, sculptor and musician.
The target audience for these books was clearly traditional creatives, so it felt a bit hamfisted when they included business people in the milieu. It was like you could hear their agent saying, "We can book some sweet speaking gigs at tech companies if you just throw entrepreneur in there."
But whether it was forced or not, I dig it.
I dig it because I believe that being an entrepreneur can be an artistic calling. In fact, I think that you can separate entrepreneurs into two groups. There are people who are entrepreneurs because it's a good way to make some good money, and there are people who are entrepreneurs because it's their calling: they can't do anything else that fulfills them the way that running their own firm does. In fact, I think in Thriveal we have a lot of people for whom entrepreneur is an artistic calling because Thriveal is for "countercultural firm owners who embrace their entrepreneurial creativity."
Having an artistic calling to be an entrepreneur means that you have an emotionally laden vision for the firm that you need to bring into existence. It's not so much if we do X, Y and Z we'll make a crap ton of money. Instead, you're viscerally aware of the feeling that you want your customers to feel as a result of having you as their accounting firm. You know the feeling you want your team to feel as a result of working for you at your firm. You know the feeling you want to feel as you focus your creative energy to bring into existence a firm that is uniquely and authentically YOU.
Having an artistic calling as an entrepreneur does NOT mean you're unprofessional and have no strategy. It's actually the opposite. If it's your artistic calling, you need to be even more professional and strategic. In The War of Art, Steven Pressfield explains that artists must approach their art as professionals because it is the only way to conquer The Resistance, that is the nebulous and ubiquitous force that makes you want to get all caught up on laundry instead of working on your art.
Having an artistic calling as an entrepreneur does NOT mean you're a perfectionist. It does not mean that you wait to launch until you have the perfect actualization of the emotionally-laden vision for your firm. If you're called to be an entrepreneur, you start entrepreneuring right now. You see, you haven't become a painter if you never paint; you haven't become a comedian if you never get on stage and tell a joke; and you haven't become an entrepreneur if you never start a venture. You have to start. You have to put something out there even if it's not perfect — because here's another sign that you have a CALLING as an entrepreneur: when you fail or experience difficulty as an entrepreneur, you still can't not do it.
Don't get me wrong. There is absolutely nothing wrong with being an entrepreneur if it's not an artistic calling. But you can change the world if it is.
¹By "almost every employer" I mean "every employer."
²Don't show this post to my brother. I'm looking at you, Chris Compton.
Greg was born in Akron, Ohio, in the shadow of the Firestone tire factory. He began to swim competitively when he was eight, swimming for the Mountlake Terrace Lemmings. He graduated in 1995 from the University of Washington with a math degree. He chose math for the ladies. After serving ten-years as an 8th grade math teacher, he decided it was time for a career change, mainly because he "couldn't stand those little bastards." He began his accounting career with a local CPA firm in Orem, Utah, where he consistently failed the QuickBooks ProAdvisor advanced certification exam. Greg currently works as the Controller for the Utah Valley Physicians Plaza. He lives in Utah, but manages to make it to Greenville, SC once a year to emcee Deeper Weekend. He enjoys eating maple bars, drinking Diet Pepsi, and swearing.