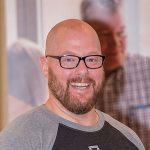 When you've watched Michael Phelps compete, you've probably thought to yourself, "That guy reminds me of Greg Kyte." It makes sense because I, too, am a swimmer.¹
I started swimming competitively when I was eight years old for the Mountlake Terrace Lemmings. My stroke was the butterfly because for some reason doughy kids do better at butterfly; that's just science. I didn't really have the eye of the tiger for the sport, so when I joined my high school swim team I was a hotshot freshman who progressed to become a very mediocre senior.
And swimming wasn't my only sport. I also wrestled in middle school as I explained in this post from 2017.
I had a lot of coaches over the years, most of them not so good. One of my better high school coaches got fired after some swimmers crashed a party at his house — a party with beer — and he let them stay at the party with the beer.
We talk a lot about business coaching in Thriveal. I decided to do some intensive research on athletic coaching, and I found three skills that the best athletic coaches have, but these skills don't get the attention they deserve when it comes to business coaching. To be effective coaches, we need to do this stuff. Check it out …
THE BEST COACHES WALK THE TALK. To be an effective coach, it's do as I do, not just do as I say. And this is even more important in business coaching than it is in athletic coaching. At some point, every athlete has questioned the athleticism of their coach, but we give them a pass because they're so damn old. We assume they were probably pretty great back in the day. That doesn't hold up with business coaching. I don't want a coach who's not kicking ass TODAY.
Being a coach should be like being a teacher. I had to earn a college degree in mathematics to be qualified to teach FOIL to eighth graders. Same with you if you're a business coach. You need to be taking all the risks and reading all the books and implementing all the stuff and getting all the experience. If not, you're full of crap. A recent guest on the Thrivecast, Ron Carucci, refuses to call himself a coach because there are too many people out there who are full of crap, selling coaching when they have little to no legitimate training, experience or insight. Don't be that coach.
At Thriveal, we talk a lot about selling coaching even if you don't think you're ready, and I don't want to dissuade you from taking the risk to try coaching, but go into it with clear eyes. When you do it, you need to bust ass to really BE a coach. The best coaches know their sport and its techniques intimately, and are forever working to improve their knowledge expertise.
THE BEST COACHES CONTINUALLY CHALLENGE THEIR ATHLETES TO DO BETTER AND TO PUSH THEIR LIMITS. When we talked to Jon Lokhorst on the Thrivecast about coaching, he told us about the importance and effectiveness of listening to your clients and asking probing questions so that they can find their own answers and solve their own problems. He's totally right. True, lasting transformation has to be discovered by your client from within. However, as a coach you also need to push those mofos.
High level athletes are naturally driven. Same with your coaching clients. Regardless, a lot of what they need from you is a kick in the butt to push them to new levels of performance. Gretchen Rubin told us about how different people respond to external and internal expectations. Part of why a client is paying for a coach is because they need external expectations and motivation and accountability.
Don't be a wuss when your coaching clients need a push. Do they need to delegate more?² Then you need to push them to delegate more. They sold two new engagements last month? Great! Next month they have to sell three and for twice as much. Last year they fired five clients that weren't a good fit? Awesome! Make them go fire five more.
THE BEST COACHES MAKE THE SPORT FUN FOR THEIR ATHLETES. I'm a big proponent of fun and play at work. But I prefer a broader, deeper idea of fun. Your coaching clients should come home to their significant other and tell them with unfeigned, unforced gratitude that they love what they do. If that happens, they're having fun.
In the real world most entrepreneurs are one really horrible day away from giving up. Every good entrepreneur has a highly marketable, highly valuable skill set. They could close up shop any time and make a good living as an employee. But they don't. Every athlete is the same way. They wake up at 4:00 AM and think, "What the hell am I doing? I don't have to do this. I can be the fastest guy on a treadmill at 24-Hour Fitness for a lot less hassle."
Entrepreneurs are volunteers who gave up a good career elsewhere to create something important and alive, something that brings them joy. The thing your coaching client may need more than anything is for you to help them rediscover the joy that led them to start their own business. If you can deliver that, you're the best damn coach ever.
¹Was a swimmer.
²Trick question. Everybody needs to delegate more.
Greg was born in Akron, Ohio, in the shadow of the Firestone tire factory. He began to swim competitively when he was eight, swimming for the Mountlake Terrace Lemmings. He graduated in 1995 from the University of Washington with a math degree. He chose math for the ladies. After serving ten-years as an 8th grade math teacher, he decided it was time for a career change, mainly because he "couldn't stand those little bastards." He began his accounting career with a local CPA firm in Orem, Utah, where he consistently failed the QuickBooks ProAdvisor advanced certification exam. Greg currently works as the Controller for the Utah Valley Physicians Plaza. He lives in Utah, but manages to make it to Greenville, SC once a year to emcee Deeper Weekend. He enjoys eating maple bars, drinking Diet Pepsi, and swearing.