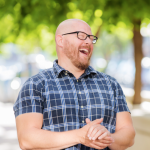 So I got drunk while I was teaching an ethics course.
Let me make this clear: not while I was taking an ethics course, but while I was TEACHING an ethics course.¹ Thanks, Dan Ariely.
I didn't get crazy drunk, but I'm confident my blood alcohol level was at least 0.08. I didn't puke while explaining the rules of who can and can't be a partner at a CPA firm, but that would've been great TV. I was just drunk enough that I was spending lots of energy on enunciation.
Why did I get drunk? Great question. In the ethics course, I repeatedly refer to Dan Ariely's research on lying, cheating and stealing. I've taught this curriculum a million times, and I mention Ariely by name A LOT, so I decided we should make a drinking game out of it. Every time we said "Dan Ariely" we had to take a shot.
Many shots were taken. One of my co-presenters doesn't drink, so I brought some juice boxes so he didn't feel left out. At one point he realized the power he had — he could say "Dan Ariely" as much as he wanted, and he only had to sip some apple juice while the other two of us had to down some more Tincup Frontier Whiskey — but he didn't abuse his power because we were teaching ETHICS.
The webinar went great. It was probably the best one we've ever done. We covered all the material and didn't have to rush. It was poignant and visceral and fun and entertaining. I always tell my co-presenters that the biggest metric by which I determine the success of a webinar is whether or not WE had fun … because if we have fun, our audience has fun. And we had a lot of fun.
Afterwards, the company that hosted the webinar sent me the comments people left when filling out their evaluations. Here's a little taste: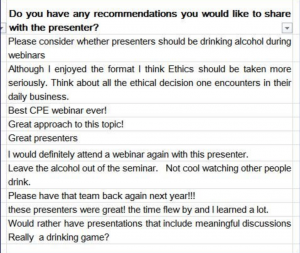 Feedback from customers is incredibly important. Fortunately, it's built into the process with CPE. Not so much with your firm. You have to intentionally set up a process whereby you gather and review candid feedback. And the candid part can be really hard since you have an ongoing relationship with your customers. When I teach CPE I have no idea who these people are, I've never seen them, and I'd never know who they were if we met in real life. Anonymity promotes candor. And assholery, but I guess they can be the same thing.
It's clear from the comments that several of the people who attended the webinar did not have quite as high of an impression of us as I did. Like I said, I thought we killed it.
But I have to remind myself that the comments were extreme, and extremes are good. Stay with me here. What we did during the webinar was polarizing, and whatever you do, you should strive to be polarizing. Tim Williams, the author of Positioning for Professionals says:
The brands with the strongest supporters also have the strongest opponents … This means you should stop worrying about being pleasing and start worrying about being polarizing … in a way that clearly sends the signal "we're not for everyone."
My webinars are polarizing because of my irreverent, subversive presentation style. What makes your firm polarizing? Anything?
Tim Williams has a great method for finding ways to be polarizing. He says you become polarizing by adopting culture-defining principles where "the opposite can be reasonably argued." A statement like, "We conduct ourselves with integrity and honesty," isn't polarizing because nobody's going to argue the opposite. However, "We file extensions for every client so we can deliver the best results without burning out our staff," is polarizing because it's easy to argue the opposite.
Moment of truth: I kind of hate the polarizing thing. At my core, I'm a people pleaser. It hurts when people say they hate what I do, especially when I loved it, and even more especially when I felt it was my best work.
But the trick is to leverage whatever it is about you that's polarizing to filter out the customers that won't like you. We didn't do that with the webinar. It was marketed to everyone who needed ethics CPE. We should have boldly marketed it as "irreverent and with booze." If you effectively filter potential customers by being polarizing, then when someone complains it's kinda on them. Like if someone went to a strip club and then wrote on their comment card "everyone was a bit scantily clad for my taste" … it's kinda on them.
¹Dear NASBA, just in case you're watching, it was NOT a course sponsored by Thriveal. Thriveal would never sully its unblemished CPE certification by being associated in any way with someone who would incorporate a drinking game into a continuing professional education course. Thriveal CPAs, LLC, and its associates believe that CPE, especially ethics CPE, should be taken seriously.
Greg was born in Akron, Ohio, in the shadow of the Firestone tire factory. He began to swim competitively when he was eight, swimming for the Mountlake Terrace Lemmings. He graduated in 1995 from the University of Washington with a math degree. He chose math for the ladies. After serving ten-years as an 8th grade math teacher, he decided it was time for a career change, mainly because he "couldn't stand those little bastards." He began his accounting career with a local CPA firm in Orem, Utah, where he consistently failed the QuickBooks ProAdvisor advanced certification exam. Greg currently works as the Controller for the Utah Valley Physicians Plaza. He lives in Utah, but manages to make it to Greenville, SC once a year to emcee Deeper Weekend. He enjoys eating maple bars, drinking Diet Pepsi, and swearing.