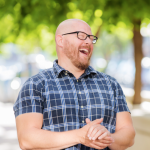 I'm supposed to get kicked out of Thriveal, but I'm still here because I've got dirt on Jason.¹
I'm not supposed to be in Thriveal because I don't own a firm. I don't even work at a firm. I'm in industry, and I'm an accounting department of one, so depending on who's asking, I'm either a CFO, a controller, a comptroller, or an AP clerk.
But I offer a unique perspective within Thriveal because I'm a consumer of accounting services. I use a big-ass national firm, but I use them exclusively for compliance work. They prepare tax returns for two of the LLCs that I manage because I'm too dumb to understand 754 adjustments, and they review my financial statements because the AICPA Code of Professional Conduct seems to imply that I can't defensibly become independent from myself.
They only do compliance work mostly because I'm a bitch to upsell. (And I'm a bitch to upsell because I have an inflated sense of self-esteem for someone who's too dumb to understand 754 adjustments.) I don't want help solving problems or figuring out how to take my business to the next level. I feel like I can do that on my own.
On top of that I'm conservative AF. I need to be certain that whatever services I'm paying for are worth it. So basically I'm your worst customer. I'm not an A client. I'm a SOB client.
But even so, I've thought it out and here are three services I'd gladly pay you $25,000 right effing now for.
#1) I'D GLADLY PAY YOU $25K IF YOU … Find me $25,001 of tax savings.
More would be better. And don't just defer those taxes. Eliminate them. This year, the firm that I use charged me way more than usual for tax prep. But before I got the bill, I got a call from my main contact at the firm, let's call her Amber², saying that they spent the time to find solid justification to claim the 20 percent Section 199A QBI deduction for all of our lease income, which saved my LLC members collectively more than $30,000. The increase in fees was less than $30,000, so I'll gladly pay that bill.
Ron Baker introduced me to the concept of customer profit. If the value you create for your customer is greater than fees you charge your customer, then the customer earned a profit. A lot of the time, the value you create is subjective and difficult if not impossible to measure with precision, but in the case of tax savings, you can absolutely measure it.
If you want to sell your customer a $25,000 project, make a compelling case beforehand that their customer profit will be more than $25,000.
#2) I'D GLADLY PAY YOU $25K IF YOU … Create a retirement plan that will earn me butt tons of money.
True story. Last fall I was sitting in the office of a partner of the firm that I use, and we're talking about everything under the sun. Out of the blue he says that I'm clearly a crucial employee to my company (he didn't say it like he was kissing ass, which made it feel even better than if he was obviously kissing my ass) and that it's very common for people in my position — working for a company with significant commercial real estate — to be allowed to buy in as an owner on the real estate side. He's helped set stuff like that up for other people, and he'd be glad to help set it up for me.
I was aware of the type of arrangement that he was talking about, and I had contemplated putting something like that together for myself. It was great for someone with his level of experience to affirm that an arrangement like that was normal and customary. And he put the idea in the front of my mind.
A few days after the idea had been percolating, all the pieces came together, and I was able to buy a sizable chunk of one of our real estate entities at a great price with no money down. And in a couple of months I'll be able to do it again for an even bigger portion of the same entity.
These two investments will easily increase my retirement savings by about four hundred percent over the next five years.
If I didn't have the skill set to pull this off by myself, I would have gladly paid him $25K to put that together for me. However in this case I paid him $0 to plant the seed of the idea in my brain at just the right time. He was the CPA version of Leonardo DiCaprio in Inception, just I was awake and he didn't make SAG union scale.
If you can help me put something like this together again in an area where I couldn't pull it off by myself, you bet your butt I'd pay you $25,000. The trick here is you have to sell it before you deliver it.
#3) I'D GLADLY PAY YOU $25K IF YOU … Help me automate to the point where I can fire an employee.
Because I'm kinda looking for an excuse to fire Matt.
When I started working for my current employer, there were eight of us working in business, finance and management roles. Now there are only two. I'm doing the work that six people used to do, and I'm making three times what I did when I started which is still about 50 percent of what they were paying the six of us back in the day.
If you can come in and automate a function of my business to the point where I no longer need to hire an employee to do it, I'll pay you for that. And if that employee cost me over $25K a year in salary, benefits and taxes, then I'd totally pay you $25K for your help.
If you use AI to wipe out everyone at my company (except me), I'll give you cash money. But mostly just help me get rid of Matt because nobody likes Matt.
But for real, you can do this. One of the things everybody knows about Thriveal is that we are a group of early adopters. Software like Avalara and Bill.com is old news for us, but it's unknown to a ton of companies. You can pull together and implement a hand-selected suite of products that would create efficiencies so that your client will be able to show their Matt the door. "Sorry Matt, but you read my blog post, so this shouldn't come as a surprise."
Leveraging existing features of my accounting software made it so that I didn't need data entry help. Bill.com helped me get rid of payables help. Cloud data storage made it so that I don't have to waste time driving between my various offices to get crap done. I was able to do it on my own, but I'm confident somebody could help me take this even to the next level of automation.
Sell me enough automation and I'd totally buy it for for $25K.
¹He hangs toilet paper on the dispenser in an improper "underhand" manner. He's a monster.
²Because her name is Amber
Greg was born in Akron, Ohio, in the shadow of the Firestone tire factory. He began to swim competitively when he was eight, swimming for the Mountlake Terrace Lemmings. He graduated in 1995 from the University of Washington with a math degree. He chose math for the ladies. After serving ten-years as an 8th grade math teacher, he decided it was time for a career change, mainly because he "couldn't stand those little bastards." He began his accounting career with a local CPA firm in Orem, Utah, where he consistently failed the QuickBooks ProAdvisor advanced certification exam. Greg currently works as the Controller for the Utah Valley Physicians Plaza. He lives in Utah, but manages to make it to Greenville, SC once a year to emcee Deeper Weekend. He enjoys eating maple bars, drinking Diet Pepsi, and swearing.