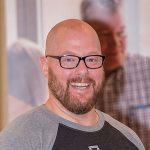 The race to the bottom is stupid for two reasons: (A) you don't want to be at the bottom, and (B) you've already lost that race.
My brother Bob called me a little panicky last month because he lost his tax return.
Bob does his own taxes by hand and sends them in via snail mail. And when I say by hand, I don't just mean that he doesn't e-file. I mean he goes to the post office and gets forms and fills them out BY HAND.
Why does he do it? Because it's retro and he's cool like that. And because his taxes are stupid easy.
Listen, if they made an easier version of the 1040EZ¹, he would be eligible to use it. He's single, no dependents, standard deduction, one W-2, and his SSN is 617-34-9982. I'm pretty sure some of you have software that can scan this blog post and e-file a return for him. That's how easy his taxes are.
But here's what got him in a panic. First off, he lives in Washington State, and Washington legalized recreational marijuana in 2012. So my brother, who really likes living in post-2012 Washington, finished his taxes and walked to the post office to drop them in the mail. But when he got there, the envelope with his tax return inside was gone. Poof. Like a recreational cloud of smoke.
So he called me and asked me what to do. He said that he didn't just want to just fill out a new 1040EZAF and send it in because what if somebody finds the stamped envelope and drops it in the mail. Then he would've filed two returns and the IRS would think one of them is fraudulent and then he'd have to deal with that in order to get his refund. And what if the IRS came snooping around his house. I mean it's legal now, but not on a federal level, and with the new Attorney General you never know. And no, he's not paranoid, but maybe he is because that's pretty common for someone who plans to use his entire tax refund on legal recreational marijuana.
I gave him some advice, but I'm not going to tell you what it was. I'm not a tax guy. It was probably crappy advice. I don't need your ridicule, and I don't need you being all patronizing in the comments. "Why would you tell him to file for a new social security number before the tax return arrives at the IRS, Greg? That makes no sense." I don't need it.
He ended up ignoring my (probably) bad advice and instead he went to Island Tax Service where he paid $75 for somebody to prep and e-file his 1040EZAF.
But this whole situation got me thinking about value. Seventy-five bucks is a lot of money for my broke-ass stoner brother to pay for someone to file the easiest tax return ever. The only reason he was willing to pay that much was his pot-fueled paranoia.
And then from the Island Tax Service side of things, I can't imagine that $75 would make it worth their time to get Bob's data in the computer and file the return. So there's very little — if any — value for the firm or for the customer in this transaction.
And Island Tax Service isn't the only one creating little-to-no value. There's a company called Visor Tax Prep who put out an online coupon where "an actual human CPA" will do your taxes for $79, and that includes either a Schedule C or a Schedule D. You have to answer some questions on their website and upload your tax documents, but they do the rest.
And then if $79 is too much to pay to file your taxes, TurboTax has been flooding the commercial breaks that you skip with your DVR with their "free free free free" commercials. It's a bait and switch because your return is only free free free free as long as it's simple simple simple simple and you do it yourself. But TurboTax also has a cheap cheap cheap cheap option called TurboTaxLive Basic which includes a "final review from a real CPA or EA," and it only costs $79.99.
It's this year's snapshot of how compliance work automation is taking the floor out of tax prep revenue. And it will continue to do so for the foreseeable future. You can't beat these guys on price for low value work, and if you did, you would wish you hadn't.
The reality is you have to constantly be in search of higher-value offerings at your firm, and you've got to do it for the rest of your career. If you don't, you'll end up making no money e-filing returns for people whose clothes smell like how a substitute art teacher looks.
¹It would be called the 1040EZAF
Greg was born in Akron, Ohio, in the shadow of the Firestone tire factory. He began to swim competitively when he was eight, swimming for the Mountlake Terrace Lemmings. He graduated in 1995 from the University of Washington with a math degree. He chose math for the ladies. After serving ten-years as an 8th grade math teacher, he decided it was time for a career change, mainly because he "couldn't stand those little bastards." He began his accounting career with a local CPA firm in Orem, Utah, where he consistently failed the QuickBooks ProAdvisor advanced certification exam. Greg currently works as the Controller for the Utah Valley Physicians Plaza. He lives in Utah, but manages to make it to Greenville, SC once a year to emcee Deeper Weekend. He enjoys eating maple bars, drinking Diet Pepsi, and swearing.