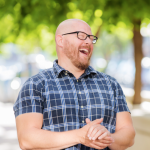 Are you really an entrepreneur? Sure, maybe you own your own firm. But that's not enough. You might not really be an entrepreneur?
Back when I worked at a firm, we had about a dozen partners. They were all owners of the firm, but I never thought of them a entrepreneurs, and I'm pretty sure none of them described themselves as entrepreneurs. They would readily describe themselves as accountants, partners or firm owners, but entrepreneur didn't feel like a fit.
If you start your own firm from scratch, are you an entrepreneur? That seems right, but even if you started your own firm, does there come a point when you aren't really an entrepreneur anymore? Do you ever graduate from "entrepreneur" to "lame-ass old school business owner"? Would you ever even want to become a LAOSBA¹?
Thriveal exists to inspire countercultural firm owners to embrace their entrepreneurial creativity. But what is entrepreneurial creativity? Does everybody have it? Do you have it?
It's clear that being an entrepreneur (and having entrepreneurial creativity) involves the following three components: growth, innovation, and risk. You've got to have at least two of the three to consider yourself an entrepreneur. And if you have all three, hooray … your parents are very proud.
THE FOUR TYPES OF ENTREPRENEUR:
(1) Growth and Innovation: You're working to scale your firm by developing new service offerings.
(2) Growth and Risk: You're working to scale your firm by implementing a new business model.
(3) Risk and Innovation: You're bringing new service offerings to your customers and a new business model to your firm. Obviously you'd love to increase your profit, but scaling (adding new staff, bringing on more partners, opening additional offices) isn't something that really turns you on.
(4) Growth and Risk and Innovation: You want to get big, and you want to do it using a methodology that's new and by offering new services that you thought up.
CPAs who worked their way to partner in an existing firm and who accept the status quo at their firm — the hierarchy, the traditional methods, the traditional structure, the usual services — are not entrepreneurs. There's a good chance they want to grow their firm, but remember … you need two of the three.
Not everybody has entrepreneurial creativity, and even fewer have entrepreneurial drive. But if you're one of the few who has both, Thriveal is a great resource to help you scale and innovate and risk. We can also help you keep growing and innovating and risking so that you never turn into a LAOSBO.
I'd love to know which type of entrepreneur you are. Tell me in the comments.
¹Lame-Ass Old School Business Owner
Greg was born in Akron, Ohio, in the shadow of the Firestone tire factory. He began to swim competitively when he was eight, swimming for the Mountlake Terrace Lemmings. He graduated in 1995 from the University of Washington with a math degree. He chose math for the ladies. After serving ten-years as an 8th grade math teacher, he decided it was time for a career change, mainly because he "couldn't stand those little bastards." He began his accounting career with a local CPA firm in Orem, Utah, where he consistently failed the QuickBooks ProAdvisor advanced certification exam. Greg currently works as the Controller for the Utah Valley Physicians Plaza. He lives in Utah, but manages to make it to Greenville, SC once a year to emcee Deeper Weekend. He enjoys eating maple bars, drinking Diet Pepsi, and swearing.