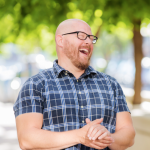 You're a cow and you're giving away your advisory milk for free. Your advisory milk is your most valuable milk. It'd be stupid for a cow to not charge for its organic dairy-free vanilla almond milk.
A huge topic of conversation at this year's Deeper Weekend was how easy it is to give away advisory services for free.
In some industries giving stuff away for free is a fantastic business model. But we don't sell heroin.¹
In this post I'm going to look at ways that attorneys and interior designers give their advisory services away for free because I think there's a better way to do it … you know, like a way where you don't do it.
When I was going through my divorce, I had to shop for a lawyer. Throughout the entire painful legal process, the best and most valuable legal advice I received came from four initial free consultations. From those four hours of free consultations, I learned what the process was going to be like and I gained a ton of confidence that I was going to be able to navigate the process well. Divorce is one of the most stressful things we can go through, so reducing that stress was hugely valuable. But these lawyers were too stupid to charge for it.
Except one.² She made me pay $100 for that hour, and I gladly paid her. I'm not sure what gave her the confidence to charge me significantly less than half of her normal hourly rate. Maybe because she'd been practicing family law in the community for a long time and had built a reputation for herself? Maybe because she was plenty busy charging her full hourly rate? Maybe because I look like an idiot who would pay $100 for something that she'd otherwise give away for free.
Regardless, if you've been giving away advisory for free, maybe you should be more like Robin Blacklock, Esquire, and at least start charging a nominal fee. The benefits are (A) you'd be collecting enough money to get a small tattoo of the outline of your firm's logo and (B) you'd chase off cheap-ass potential clients who don't even want to pay $100 for your organic almond milk.
Let's switch gears. Right now I'm working on remodeling my kitchen. Since I got so much free advice by shopping lawyers, I figured I'd work over a bunch of interior designers the same way. Turns out interior designers are way smarter than divorce lawyers.
The first interior designer I met with was a contact from work. She's the in-house designer for a flooring company that does tons of work for the medical office buildings where I am employed. She started our first meeting off great, telling me all the aspects of my plan that she thought were stupid. I stopped her after about 15 minutes, told her that I'd never worked with an interior designer before, and asked her to explain how she got paid. She said, "I charge $100 an hour, but we'll waive it if you buy your flooring and tile from us … but since your company is such a big customer of ours, we probably just won't worry about it at all."
So let's review that interaction. (A) I verbally acknowledged that what she's doing is valuable to the degree that she should get paid. (B) She explained a very reasonable compensation structure. (C) She flushed it all down the toilet without any resistance or objection from me. Wow. That's just like what you do at your firm.
A year and a half ago, I bought a house and went to a furniture store to buy some furniture. The employees there told me that they had interior designers, and that I could hire them for $800 for a consultation, but – check this out – the $800 would be credited toward my furniture purchase at their store.
Not bad. They recognized that the services they're providing are valuable. They attached a price to that value. But they also knew that their ultimate goal was to sell a bunch of furniture. Their designers would probably recommend specific pieces from their store that would total way more than $800. The $800 up front was a great way to qualify customers, and getting them to buy the furniture after the consultation is fish in a barrel.
You could easily package your initial consultation services the same way. The initial consult equals $X. But if you sign up for an annual package with the firm that includes blah blah blah, the $X will be applied to the first monthly payment. Boom.
And then finally, I found an interior designer who quoted me a flat fee of $1500 with a scope document and clearly defined deliverables. She would've made Ed Kless proud. When we talked on the phone, she just asked me a bunch of questions and got me rambling on and on about what I'm thinking about for the remodel. But she didn't give me any feedback or advice. She ended the conversation by telling me that she was going to send me a bid for the work. When the bid came, it was included in a contract which outlined the scope of her work.
And do you know why I went with her? Because I didn't want to eff around with someone who wasn't good enough to charge me money. Price signals quality. She believes that the advice she's giving is worth the money she's charging. Also, when I pay somebody to work for me, I can demand value out of them. I don't want to work with the designer who said I shouldn't worry about it because we're a big client for them. This project is important to me, and I don't want to feel like I'm begging someone for a favor. I want a professional to do work for me so I can achieve the desired result.
Bottom line, don't be a wuss because you're not a lawyer. Convince yourself that your advisory services are valuable, ask potential advisory clients a lot of questions, and instead of giving your advice, give them a bid and a scope document – like a badass interior designer.
¹Most of us don't sell heroin.
²Sorry I lied to you when I said all four consultations were free. I lied like a filthy lawyer.
Greg was born in Akron, Ohio, in the shadow of the Firestone tire factory. He began to swim competitively when he was eight, swimming for the Mountlake Terrace Lemmings. He graduated in 1995 from the University of Washington with a math degree. He chose math for the ladies. After serving ten-years as an 8th grade math teacher, he decided it was time for a career change, mainly because he "couldn't stand those little bastards." He began his accounting career with a local CPA firm in Orem, Utah, where he consistently failed the QuickBooks ProAdvisor advanced certification exam. Greg currently works as the Controller for the Utah Valley Physicians Plaza. He lives in Utah, but manages to make it to Greenville, SC once a year to emcee Deeper Weekend. He enjoys eating maple bars, drinking Diet Pepsi, and swearing.