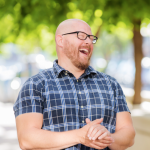 Several years ago I got a last-minute call to headline at a comedy club. The scheduled performer backed out or maybe caught hepatitis, I can't remember which. So I was the replacement, and it was one of the oddest shows I've ever had.
The audience was acting weird the whole time. There were periodic bursts of laughter followed by long stretches of nothing. My delivery was good. My timing was good. Everything was fine, but the audience's reaction was just so strange. Most of the time they weren't giving me anything. Every once in a while I'd get a good laugh and I'd think, "I got 'em now!" But then they'd go back to unresponsive.
So it was just a crappy audience with a weird vibe, right?
In the world of stand up it's common practice to blame an audience for a bad show. Just like in accounting it's common to blame a client for a bad engagement. Please note: I don't deny the existence of bad audiences or bad clients. But it doesn't do anybody any good if your AAR just reads, "Shitty client."
It turns out that the rough show I had wasn't the audience's fault — not at all. Turns out the performer who canceled was a hypnotist, so the show was promoted as a comedy hypnosis show, not a stand up show, and there was no time to promote it correctly. So the whole time the crowd was just thinking, "This guy's kinda funny, but when's he gonna hypnotize us?! I didn't come here to listen to jokes about taxes. I came here to get hypnotized and do stupid stuff in front of friends and family and lots of people I don't know."
The show sucked, but it wasn't the crowd's fault. They were expecting one thing and I delivered something totally different.
There was another time eight years ago when I was the crappy audience.
My first job in the accounting profession was at a mid-size local firm here in Utah. After working for them for 2,003 hours, I was hired away by a client. At that moment, the relationship between the company I now worked for and the firm I used to work for fundamentally changed. Not just because I went from employee to customer, but also because there was no accounting department at that company before they hired me.
When I pitched coming to work for them, a lot of the pitch was the money they would save from having me work in-house. That meant my old firm would have to do less work. But clearly the firm was not interested in doing less work.
After about a year of us going on autopilot through the firm-client relationship, I fired my former accounting firm, and the managing partner got super butthurt. Understandably butthurt because we were a significant source of revenue. At one point he was yelling at me over the phone about how they'd had tons of employees who left the firm to take jobs with clients, but all of them stayed loyal to the firm. I was an ungrateful black sheep and a disloyal turncoat.
It wasn't the firm's fault that they lost a lucrative client. It was my fault.
But was it my fault? Yep. Just as much as it was the fault of that audience for not double-checking with the ticket booth that the show that was billed as a hypnosis show was still in fact a hypnosis show.
My old firm saw me as a moderately clueless knucklehead (true) with almost no experience (exactly 2,003 hours of experience) who was taking on a controllership that he was barely qualified for (true). But they also assumed that I wanted business as usual (FALSE) when what I really wanted and needed an entirely new relationship.
My inexperience and knuckleheadedness was most evident in my lack of assertiveness. As soon as my exit interview with the managing partner ended, I should have had another meeting with him telling him my vision for his new relationship with my company. But those are all notes for my after action review.
Let's assume my old firm did after action reviews (they didn't); nothing in any of the last three paragraphs would help them to not lose customers in the future.
In the book Implementing Value Pricing, his holiness Ron Baker says the most crucial question you must ask during an AAR is "How can we do better next time?" not "How did the client screw this up for me?" Bad clients do exist. But there are things you can do if you have a crappy client. You can fire them or you can work with them to turn them into a better client.
Remember Level 5 Leadership from Good to Great? When describing Level 5 Leadership, Jim Collins talked about the window and the mirror. "Level 5 leaders look out the window to apportion credit to factors outside themselves when things go well. … At the same time, they look in the mirror to apportion responsibility." But when describing poorly performing companies' leadership he says, "They'd look out the window for something or someone to blame for poor results."
Have you implemented a formal system for performing AARs at your firm? Without a formal system, you're pretty much doomed to unproductive, watercooler AARs that mostly consist of blaming your dumb clients for making your experience with them weird.
Speaking of weird … after all that happened, my old firm still invites me to their annual staff alumni pool party. So stay tuned for next month's blog post: "You Run an Accounting Firm So Under No Circumstances Should You Ever Have a Pool Party."
Greg was born in Akron, Ohio, in the shadow of the Firestone tire factory. He began to swim competitively when he was eight, swimming for the Mountlake Terrace Lemmings. He graduated in 1995 from the University of Washington with a math degree. He chose math for the ladies. After serving ten-years as an 8th grade math teacher, he decided it was time for a career change, mainly because he "couldn't stand those little bastards." He began his accounting career with a local CPA firm in Orem, Utah, where he consistently failed the QuickBooks ProAdvisor advanced certification exam. Greg currently works as the Controller for the Utah Valley Physicians Plaza. He lives in Utah, but manages to make it to Greenville, SC once a year to emcee Deeper Weekend. He enjoys eating maple bars, drinking Diet Pepsi, and swearing.