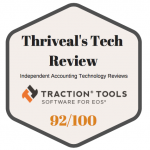 In his first book on EOS® (Entrepreneurial Operating System®), entrepreneur and author Gino Wickman outlines a whole new way to run a business. This system has been implemented by thousands of entrepreneurs. It helps them to develop a vision for the company, establish goals around that vision, and provide a structured way to drive the business to accomplish these goals. Though EOS can help your organization stay on task, it requires you to keep all of your EOS data organized. Traction® Tools is a cloud-based application designed to do one thing: help businesses implement EOS. If you are unfamiliar with EOS, I would recommend reading Traction, Gino Wickman's book introducing EOS.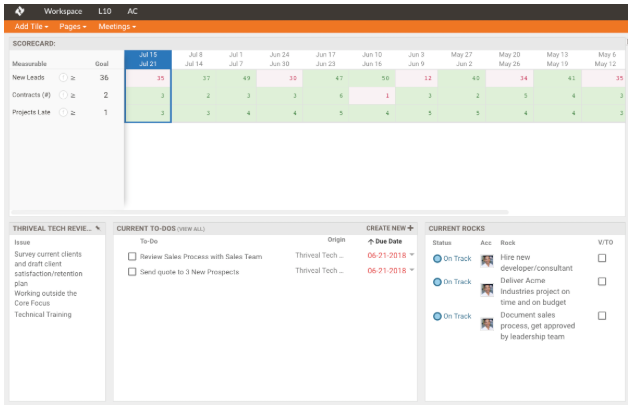 The EOS Model™ provides users with a way to run their business. Traction Tools provides the software to run EOS online in the cloud, making it easier to implement and stay organized. The software is great for remote and paperless teams or, honestly, anyone living in the twenty-first century. Traction Tools isn't a CRM; it's a way to implement a whole new operating system for your business.
Core Features – 34/35
All components of EOS can be set up in Traction Tool's software. When you begin your free trial, a member of their Client Success team will help upload your EOS data into the software.
The Traction Workspace™ is the dashboard where you can view your Scorecard, Issues, To-Dos, current Rocks, and notes at-a-glance.
Your Rocks are managed in the app with all associated notes. Milestones can also be added with the due dates to keep momentum going.
Issues can be created from any meeting containing any notes, hyperlink, or files associated with the issues.
Individual To-Dos, both personal and business-related, can be created and linked to a meeting, keeping all of the communications linked together.
Together these features allow you to operate EOS for your company online, keeping all your data in one place, even when your employees aren't.
Once your dedicated Client Success team member has helped you import your Accountability Chart (AC), Vision/Traction Organizer™ (V/TO™), and the other components of EOS, you are ready to run your first meeting! Both Level 10 Meetings™ and Same Page Meetings™ can be run and tracked inside the app. In EOS these weekly meetings are the guardrails that keep your organization on task. Traction Tools gives you the outline for each meeting and allows your team to track the Scorecards, Rocks, Headlines, To-Dos, and IDS™ (Identify, Discuss, Solve) – all within the application. It also keeps track of your agenda by timing each phase of the meeting, recapping the To-Dos, and finishing by having each team member rate the meeting. Level 10 Meetings can be run with the leadership team of an organization or within each department.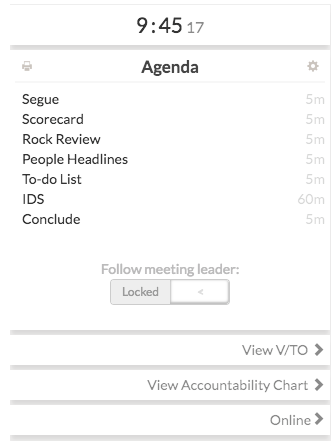 Design – 22/25
Traction Tools is designed to be simple and utilitarian. The software provides the ability to run EOS online and is easy to navigate with each component of EOS built-in. Level 10 Meetings are run intuitively with timers to keep you on track in each section to ensure the overall meeting stays within its time limits.
The limitations in Traction Tools are intentional; the software will not allow you to stray from the EOS Model but rather keeps you on track within the structured guidelines.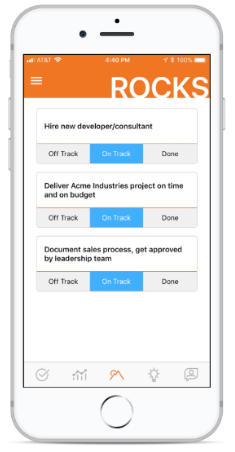 Support & training – 19/20
Learning a new software can be time consuming enough as it is. Traction Tools has the added challenge of working within EOS for anyone not familiar with the system. They overcome this with one-on-one training in the beginning and unlimited personal support after the setup is complete. They also provide a knowledge base that is a great resource for many questions.
Integrations – 3/5
Currently Traction Tools integrates with one outside software, Zoom Video Conferencing. This integration allows you to conduct your Level 10 Meeting within Zoom online when you are not able to be in the same room as your entire team. Zoom will also provide the ability to record these meetings if need be.
Platform & Practice – 14/15
The browser based software is accessible from any major browser on any operating system and on mobile devices through their Apple and Android apps. Personal To-Dos, Issues, and People Headlines can be texted into the software, though this service is limited to customers in the US, UK, and Australia.  
Conclusion
Traction Tools is a great software for anyone who is running or wants to run on EOS. However, if you aren't running on EOS, using Traction Tools as a CRM will be frustrating as the software is not designed to be used outside of the EOS environment.
Value
If you practice EOS or would like to start, I would highly recommend you give Traction Tools a try. They have a 30 day free trial and after that the base fee is $149/month, which includes licenses for 10 users. It is then $10/month/person after that.