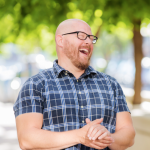 I hate the Teacups. I get way too barfy because I get motion sick way too easy. And because of the nausea, I get sour grapes, too. I mean everyone looks like they're having a blast, but you're just spinning in circles like an idiot, right?
My son loves LegoLand. I love it, too, but only because my son loves it so damn much. If it weren't for the joy it brings him, it could burn to the ground and the world would be a better place.¹  If you've been there, you get it.
LegoLand has its version of the Teacups ride. It's called Bionicle Blasters, but it's exactly the same, and for the past two summers in a row the Bionicle Blasters ride has been the best demonstration of how much I love my son. It was just the two of us who went to LegoLand, and I went on the Teacups Bionicle Blasters a hundred times because he loves that God forsaken ride.
So we were waiting in line (again) for Bionicle Blasters when I saw this very angry grandpa get up in his grandson's face and tell him that he has to ride Bionicle Blasters because "I paid for you to come to an amusement park for you to ride rides!"
Now I really liked the kid. Mostly because he didn't want to ride Bionicle Blasters. And I really did not like Angry Grandpa because what he was saying was total BS.
But now wait. Slow down. Maybe it wasn't absolute BS. Maybe it was just relative BS; maybe it was just BS to me.
I paid for me and my son to go to LegoLand because I wanted to spend time with him doing something that he loved. That was the value of LegoLand for me. I didn't give a rat's ass if I did or did not ride any rides. I was there to be present while my kid had a blast.
My son finds value in LegoLand from four specific sources: 1) the Bionicle Blasters ride, 2) the Lego Ninjago ride, 3) the 4D Movie Theater, and 4) the all-you-can-eat pizza restaurant. The rest is useless to him, but those four things never stop being fun for him. He can (and did) do all those things multiple times, and they did not seem to be impacted by the law of diminishing returns.
Angry Grandpa measured the value of LegoLand based on the number of rides his family went on. Very quantifiable. It seemed like he didn't care if people were crying while riding the rides. Just as long as the went on the damn rides a lot, he felt like he got his money's worth.
It's harder to know exactly what the kid valued in his LegoLand experience, but we do know for certain that he did NOT value going on Bionicle Blasters.
So there were four different people who all bought the same thing (admission to LegoLand) who were all having different experiences and who valued different things.
The exact same thing happens at your firm. Different customers value different things which is why it's crucial that you have a value conversation. Without it you're going to serve people improperly.
If you've been brainwashed by Ron Baker as much as I have, then you know that all value is subjective. That's why I can't say that Angry Grandpa's determination of value was wrong. We just value different thing.² Every one of your clients has a slightly different subjective determination of the value of your services.
Some clients want their taxes filed by February 7. No one has a clue why, but they do. They value that.
Some want a refund. It doesn't make economic sense, but some people just value that because they never took any finance or economics courses.
Some customers want a lot of personal attention, and some customers, like Joe Pine from episode nineteen of the Thrivecast, want you to take all their tax crap and disappear up your tax hole without ever speaking to them unless you need a signature or something.
And when you have a value conversation, you not only figure out how to serve each customer properly, but you can also figure out which customers are Angry Grandpas before you agree to work for them, and instead of taking them as a client you can tell them that Liberty Tax is better suited to meet their needs.
¹This is hyperbole for comedic effect, not threatened arson.
²And he's wrong.
Greg was born in Akron, Ohio, in the shadow of the Firestone tire factory. He began to swim competitively when he was eight, swimming for the Mountlake Terrace Lemmings. He graduated in 1995 from the University of Washington with a math degree. He chose math for the ladies. After serving ten-years as an 8th grade math teacher, he decided it was time for a career change, mainly because he "couldn't stand those little bastards." He began his accounting career with a local CPA firm in Orem, Utah, where he consistently failed the QuickBooks ProAdvisor advanced certification exam. Greg currently works as the Controller for the Utah Valley Physicians Plaza. He lives in Utah, but manages to make it to Greenville, SC once a year to emcee Deeper Weekend. He enjoys eating maple bars, drinking Diet Pepsi, and swearing.