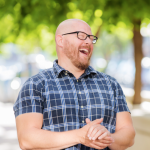 So you value priced your customers. You thought you nailed it. You had value conversations to determine which results you provide that your customers will gladly pay for. You gave fixed price options. You burned your time sheets. You sold access to your intellectual capital.
And then tax reform came along with nine days left in 2017 and everybody has questions. EVERYBODY. You have questions. Colleagues are calling and emailing you to see if you know stuff, but you don't, so you're calling and emailing colleagues who are bigger nerds than you to see if they know. And even when you do find an answer, it comes with a disclaimer like "from what we can tell at this point" or "I'm not sure, but it appears as though" or "this is a total shot in the dark, I really have no f***ing clue."
You budgeted time to blog regularly, so you figured you'd research and write a kick-ass post, and direct your clients to get questions answered there, like Jason did and Nesha did. But what you didn't realize is that for every general question you answered, it spawned a specific questions for the specific client. Like, "I own two private jets. Do I get a bigger tax break for just one or for both?" Or "Since I'm not planning on divorcing my husband until sometime after 2019, does my prenuptial agreement protect me from the changes to the deductibility of alimony." Or "Since I (A) eat and (B) poop, does that make me a pass-through entity?"
And this isn't really a good time for any of us. Nobody really has time right now. Every phone call you take or email you respond to is time you should be working on closing the 2017 books for the clients you sold outsourced CFO services to, or learning about changes to your tax software or brushing up on changes that affect 2017 taxes because you put that off not realizing that you'd get slammed with a million questions about tax reform.
And after the one-hundredth phone call, you hear your brain saying, "I didn't charge enough for all this."
If you sold your customers full access, all-you-can-eat accounting services, then whether you realized it at the point of sale or not, you priced for uncertainty. Maybe you priced too low, but you priced for uncertainty.
Both you and your customers took a risk. You charged a premium (or should have) to take the implicit risk that something major — like tax reform — could come along and force you to work your ass off. Your customers paid a premium (or should have) for full access even if nothing major — like tax reform — came along. If this had been a really quiet, change-free tax and accounting year¹, they would have paid for access that they did not need.
But the reality is tax reform happened, your customers need you a lot, and you need to CPA up and take care of them like you agreed to.
But the good news is that you can leverage this in the future. You can leverage it when you price your existing customers in the future, when you market to new customers in the future, or (if you're not value pricing yet) when you begin the shift toward value pricing.
First off, resist the temptation to cry to your clients about how much of a burden their barrage of questions is to you. You're too good for that. You took the risk. Gracefully accept the results. If you need to decompress and take some steam off, do it in Yammer or with other professionals who share your frustration.
Next, remember this when you're pricing for next year. When you have your annual value conversation, make sure you highlight how nice it was that they didn't have to worry about extra charges for contacting you with their tax reform questions. Remind them that whatever happens, including a complete overhaul of the entire tax code, you are going to take great care of them. If they value access like that, charge them a premium for it. If they don't give them a less expensive option with limits on their access
The exact same holds for marketing to new customers. You can be like, "Remember way back at the end of 2017 when the tax code changed dramatically? With me, if something like that happens again, you're covered. I'm going to take great care of you and answer all your questions, regardless of how often you call. Now give me all your money."
And finally, if you've been dying to start the switch to value pricing from hourly billing, this could be a great opportunity. Find one customer with whom you have a tight relationship and say something like, "You how you had a bunch of questions this year because of tax reform? You probably hated calling me because you didn't want to get dinged on your bill for every little or big question you had. You probably don't know this, but I effing hate charging by the hour, too. Would you be interested in exploring a new pricing structure with me?" Boom. You're in.
Take that first customer and negotiate a fixed, value price that's drafted monthly. Use what you learn with that first customer to start switching others to value pricing, too.
Tax reform sucks. It's never easy. It makes our job a lot harder. But If you approach it thoughtfully and strategically, you can fortify existing relationships with customers, and leverage it to market effectively to new customers.
¹Hahahaha! Like that's a thing.
Greg was born in Akron, Ohio, in the shadow of the Firestone tire factory. He began to swim competitively when he was eight, swimming for the Mountlake Terrace Lemmings. He graduated in 1995 from the University of Washington with a math degree. He chose math for the ladies. After serving ten-years as an 8th grade math teacher, he decided it was time for a career change, mainly because he "couldn't stand those little bastards." He began his accounting career with a local CPA firm in Orem, Utah, where he consistently failed the QuickBooks ProAdvisor advanced certification exam. Greg currently works as the Controller for the Utah Valley Physicians Plaza. He lives in Utah, but manages to make it to Greenville, SC once a year to emcee Deeper Weekend. He enjoys eating maple bars, drinking Diet Pepsi, and swearing.