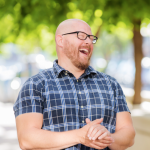 I don't really like punk rock music, but I love punk rock's ethos.
I don't like the Ramones, and I don't like Neil Diamond. But I'd proudly wear a Ramones t-shirt because of what they stand for, and I'd unhesitatingly burn all Neil Diamond merch because Neil Diamond songs are like hairballs in my ear canals.
Punk rock is raw, real, non-commercial, authentic, personality-driven, emotionally charged, creative, innovative, and fights against the mediocrity of mainstream.
"Punk has always been about doing things your own way. What it represents for me is ultimate freedom and a sense of individuality." — Billie Joe Armstrong, Green Day.
"For me I think punk rock was always about questioning things." — Mark Hoppus, Blink-182.
"Punk rock is a word used by dilettantes¹ and heartless manipulators² about music that takes up the energies, the bodies, the hearts, the souls, the time and the minds of young people who give everything they have to it." — Iggy Pop.
The successful, small accounting firms that I dig the most are like that. The founders launched their firms not only to make a living but also as an act of rebellion against Top 40 accounting firms and smooth jazz accounting firms. The punk rock firms that I dig have souls and personalities and individuality. They question the status quo.
But one problem we explored at Deeper Weekend was this: How do you successfully scale your firm and stay punk rock? How do you implement Traction and The E-Myth at your your firm and not become Billy Joel, CPA? How do you effectively transform your firm so that it is (a) successful without you and (b) still rebellious?
Maybe you've felt the shift from Black Flag to Kenny G happen in companies you work with. There was a company that I loved. They were the scrappy underdog with a kick-ass culture and a kick-ass product who were chasing down early adopters to move their product forward. Then their marketing department started playing defense. The company still wanted fun, edgy marketing, but they didn't want the risk associated with fun, edgy marketing. Their marketing campaigns became hollow, and their marketing team became posers. They were growing, so they were developing systems and policies to manage their growth, but they were also becoming Kenny G.
That's the paradox. Your firm became successful because of the personality of its founder(s), but scaling a firm requires bringing in new people, and bringing in new people requires developing systems that remove the founder(s), their personalities, and their sensibilities from certain parts of the equation for continued success. How is that possible? How can you limit the personality and sensibility of the founder without losing the personality and sensibility of the firm? How do you grow and stay punk rock?
Just to be clear, I'm not talking about succession here. That's a related topic, but it's outside the scope of this post. I'm just talking about growth. Succession requires either building or finding replacements who can lead the firm with the same punk rock sensibilities after the founders are completely gone. Succession is AC/DC continuing their growth, fame and popularity with Brian Johnson after the tragic death of Bon Scott. What I'm talking about is Nirvana going from playing shitty clubs in Seattle to taking over the world.
Fortunately, being punk rock doesn't mean staying small, and it doesn't mean staying poor. There are hugely successful, very wealthy punk rock bands. Here's how you grow and stay punk rock.
You identify what parts of your firm create magic and what parts are sustained by logic³, and then you create systems and you automate and you delegate the hell out of the parts that are sustained by logic so that you can focus on the magic — focus on the music.
For most U.S. firms, preparing a tax return is sustained by logic. It's required by law. It has specific inputs and specific outputs and a correct answer.
But tax planning can be magic. Your relationship with the client, your understanding of the variables of their business and/or personal finances, and your super-nerd knowledge of the tax code can find creative, artistic (and legitimate) ways to structure their finances to achieve financial freedom and business success.
Think about a punk rocker. As they get a little more successful, they begin to rid themselves of tasks that aren't directly related to the music. They hire roadies to wrangle their equipment. They hire bus drivers to drive them overnight to the next venue. They hire a guy who clearly doesn't bathe enough to sell their merchandise. They outsource ticket sales. They hire managers and agents and publicists to focus on sales and marketing. They leverage the iTunes robots to increase sales. And if all those things are systematized, managed and internally regulated and controlled, then the punks get to focus on the rock.
Don't stop there. Create a punk rock culture at your firm. When you hire someone to do your logic work, make sure it's their magic work. You can outsource simpler tax returns to companies in the Philippines who have magical turnaround time. You can hire someone who is magical at data entry, and protect them and their time from things that are not their magic. You can implement AI software that magically scans and reads receipts and posts the proper entries into your clients' accounting software.
Everyone in your organization should feel punk rock. Everyone should feel like the job they get to do is their "magic," and everyone should get to delegate, automate, and systematize their logic work.
But you've got to start at the top. Start with yourself. Start with the band.
¹Me
²Also me
³The inimitable Tim Williams developed the concept of Magic versus Logic.
Greg was born in Akron, Ohio, in the shadow of the Firestone tire factory. He began to swim competitively when he was eight, swimming for the Mountlake Terrace Lemmings. He graduated in 1995 from the University of Washington with a math degree. He chose math for the ladies. After serving ten-years as an 8th grade math teacher, he decided it was time for a career change, mainly because he "couldn't stand those little bastards." He began his accounting career with a local CPA firm in Orem, Utah, where he consistently failed the QuickBooks ProAdvisor advanced certification exam. Greg currently works as the Controller for the Utah Valley Physicians Plaza. He lives in Utah, but manages to make it to Greenville, SC once a year to emcee Deeper Weekend. He enjoys eating maple bars, drinking Diet Pepsi, and swearing.