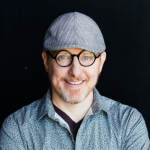 Scott Kregel, CPA is building his firm in Pennsylvania. He leads
Kregel & Company, CPAs
, and he has been a Thriveal member for many years. He began years ago in our coaching course to help CPA firm owners think differently about how they build their firms. And now Scott Kregel has been growing his firm, and fully participating in the Thriveal community and in Deeper Weekend.
Here is what Scott said recently,
"Since joining Thriveal (I think 2011 through an online webinar), I am a different person. Not only have I connected with like-minded individuals, but I have used this community as inspiration, challenge and accountability for me. There is something in Thriveal that I like to call healthy, competitive, accountability. It's healthy because it is authentic. It is competitive because we are driven business owners and we see and learn what one another is doing. It is an accountable space because the relationships that are created are built around the idea of helping one another become the very best person they can be in their own context.




Thriveal is not a faceless organization, Thriveal is the people that are a part of it. There is a unique connection with others in the CPA profession when you share that you are a part of Thriveal – this helps others know a lot about you and how your ideas of the profession are being shaped. In all my years and in all the discussions in the Thriveal community, I have found us to be about 6-12 months ahead of most others in the profession. We have often wrestled, debated, experimented with many ideas and strategies that others in the profession are just being introduced to. This makes me a better business owner as I incorporate these ideas into the firm. As employees begin to see the ideas introduced in our firms become more mainstream, we gain credibility as business owners and leaders in our firms as well as in the profession."
How do we do it? Thriveal is not about firms. It is decidedly about the owners that lead firms. We are entrepreneurs, and we know that entrepreneurs need support, care, and inspiration. We need this, and Scott needs this too. And this is why we exist. When you sit at a table with Scott Kregel at Deeper Weekend, you will be engaged in an honest conversation of what it takes to build a team and a firm. Scott knows. Leaders and members of Thriveal know what firm owners work through as they build their firms. We go through it too. And we want to bring you together with others that are working through the same things you are working through.
Members of Thriveal can continue collaboration around learning from Deeper Weekend as they meet together monthly in their own Community Group with 8 to 10 other members. If you are interested in joining Thriveal,
register here
to come to a free monthly Intro Call to find out what Thriveal membership is all about!
We are inviting you to come to Deeper Weekend and experience what members like Scott Kregel, CPA are doing to build their firms. If you think you are right, find out more info below!

What? Thriveal's 7th Annual Deeper Weekend Conference
Who? Firm owners and accounting firm entrepreneurs looking to start their own firms.
When?
October 25 – 27, 2017
Want a Discount? Use code #DW17 on the bottom of the registration page to take $100 off your ticket price until September 15th!