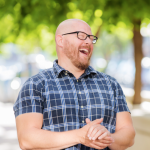 I'm pretty much an HGTV design star. Not just because I put up crown moulding in my living room and master bedroom.¹ But also because I went to an interior design store once.
The store was called Rustica Hardware. It's an amazing store, but the thing that dug into my brain like a Ceti eel from The Wrath of Khan was this sign they had up in their shop: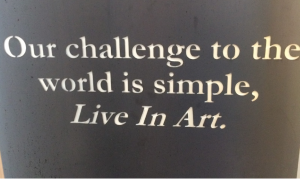 I LOVE THAT. Partly because, as I already established, I'm an HGTV design star, but also because who wouldn't accept that challenge? Living in art is better than living in mindless acceptance of the default. I intentionally try to approach my home like an artist approaches some kind of art thing.
But here's my challenge to the world; it's simple: WORK AS AN ARTIST. Approach your job and your firm the same way an artist approaches her medium. Creating art is better — and more valuable — than mindless repetition of the default.
Here are three ways to approach work like an artist which will make your service offerings more valuable and to transform work into engaging performance.
Learn to play your instrument like

Angus Young

.
Artists and musicians focus on their art at the expense of other opportunities. It's the only way to truly develop the skills required of an artist.
But what's interesting is that true artists find saying "no" to other opportunities easy because they are so intensely driven in pursuit of their art. It's not so much that they say "no;" It's that they're too busy saying "yes" to everything that makes their art better and more compelling.
In a recent article in the Journal of Accountancy, J. Carlton Collins painted a picture of how accountants can begin to become artists: "Many of my clients' staff seem to only be mildly educated about the products that they use. They know the basic features of those tools, and that's it. I wonder whatever happened to employees that took it upon themselves to have the initiative to study and learn and 'completely own' the products they use so that they could get full utility out of them. Give me those employees."
If your instrument is a particular software, learn how to play that software like a concert pianist. If your medium is a particular niche industry, learn how to serve that industry like world-class harpist.² If your specialty is coaching, develop your skills like someone who wants to become a world champion ballroom dancer.
Jason and I interviewed Todd Henry on the Thrivecast and Jason talked about Todd Henry's book Die Empty in this years edition of Jason and Greg's Summer Book Club. At the end of every episode of Todd Henry's podcast he says, "Remember, cover bands don't change the world." Compliance work is the cover band of the accounting profession. Advisory work is where an accountant-artist can flourish.
Identify the aspects of your work that have a limitless artistic ceiling.
For some sharks, if they stop swimming, they die. Similarly, when an artist stops creating, they stop being an artist. So when you're working to unearth the artistic destiny of your career and your firm, you have to identify a professional artistic pursuit that has no finish line.
Artists and musicians never arrive. They either create a discrete piece of art, finish it, learn from it, and then move on to the next distinct piece; or they continually work on one piece over a long timeline to continually perfect the project.
When looking at your firm as your artistic medium, you will be driven to continually perfect it. People love listening to Jason Blumer talk about his firm because he's an artist and Blumer CPAs is his magnum opus. It will never be finished, but it's always getting better. Jason's drive to continually improve is inspiring to his customers, his employees, and his peers.
Create a venue for public exhibition and/or performance of your art.
Art needs to be seen. Music needs to be heard. Your work needs to be displayed and/or performed or else you're just a garage band.
Do everything you can to bring the show to your customers. So much of what we do as accountants is backstage work. We need to intentionally push our work into a space where our amazing expertise and pecuniary artistry is on display.
You need an audience for your art. Fortunately an audience of one is still an audience. Living room concerts are a thing. When customers see what you can do, they have a more robust understanding of the value that you've delivered. When co-workers see each other's artistic expertise, they are inspired to go even farther.
Become the Picasso of your firm. Become the Keith Richards of a particular accounting software. Discover how to make an amazing service offering and never stop perfecting it. It will keep you engaged indefinitely, and it will create value that customers will line up for.
¹My friend, Ron, knows how to do finish carpentry, and I know how to look like I'm helping.
²Harpie?
Greg was born in Akron, Ohio, in the shadow of the Firestone tire factory. He began to swim competitively when he was eight, swimming for the Mountlake Terrace Lemmings. He graduated in 1995 from the University of Washington with a math degree. He chose math for the ladies. After serving ten-years as an 8th grade math teacher, he decided it was time for a career change, mainly because he "couldn't stand those little bastards." He began his accounting career with a local CPA firm in Orem, Utah, where he consistently failed the QuickBooks ProAdvisor advanced certification exam. Greg currently works as the Controller for the Utah Valley Physicians Plaza. He lives in Utah, but manages to make it to Greenville, SC once a year to emcee Deeper Weekend. He enjoys eating maple bars, drinking Diet Pepsi, and swearing.