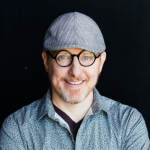 As many past attendees of the Deeper Weekend conference know, our event goes deep into one topic. This year we will be talking about the mechanics and strategies of scaling and growing a service based company. We'll be doing this by leveraging the book
Traction
through our journey. The book Traction is a detailed explanation of the Entrepreneurial Operating System, developed by Gino Wickman. It is a system and rhythm that gives an entrepreneur something to hold on to as they build their company (typically to a larger size).
The book Traction gives a tool to entrepreneurs that they don't know is missing in their company. An entrepreneur is the leader of a business with the passion necessary to start something new, often creating new value that is void in a marketplace. But as the entrepreneur's business grows, the entrepreneur can misstep by failing to let go of the solid operations, rhythms, and systems necessary to make a company bigger. The entrepreneur has to go through a process of giving up what they are not capable of fully doing on their own. They are required to 'give up' their business over to these foundational systems, and rhythms that bring safety. You can hear one of Gino Wickman's co-authors, Mike Paton, explain this phenomenon on our most recent podcast episode,
Implementing the EOS System
.
How do we do it?
We want to teach the concepts of Traction by first having Jeff Phillips come speak about some more general company scaling strategies. He has applied these in his own company,
Accountingfly.com
, and now he will share these general concepts with us. Then Jason Blumer will follow these general scaling concepts with concepts around how Traction can help accounting firm owners build and scale their firms safely.
Members of Thriveal can continue collaboration around learning from Deeper Weekend as they meet together monthly in their own Community Group with 8 to 10 other members. If you are interested in joining Thriveal,
register here
to come to a free monthly Intro Call to find out what Thriveal membership is all about!
We are inviting you to come to Deeper Weekend and experience the teaching around Traction with other accounting firm entrepreneurs. Find out more info below!

What? Thriveal's 7th Annual Deeper Weekend Conference
Who? Firm owners and accounting firm entrepreneurs looking to start their own firms.
When? 
October 25 – 27, 2017
Want a Discount?
Use code
#DW17
on the bottom of the registration page to take $100 off your ticket price until
September 15th
!