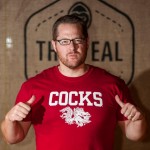 From early 2015 to late 2016, my wife and I were seeing a marriage counselor on a weekly basis. He billed us by the hour (as psychologists tend to do), and it seemed like it wasn't the best use of my time on his couch to educate him on the perils of the billable hour.
Sometime in mid-2016 when we were finishing up a session and my wife was handing him the $120 check for our one-hour session, he sheepishly informed us that he had raised his rates to $125 per hour.
He said something like, "It's been about a year since I raised my rate [meaning he raised his price shortly after we started seeing him], but I've kept you guys at the lower rate. Not too long ago some clients were talking to some other clients, and they found out I was charging one couple $125 and the other couple $120. They got upset about it, so on principle, I'm moving everyone up to the higher rate."
Reflexively, as a business coach, I suggested, "Perhaps you should tell your patients that their response is a clear indication of deep-seated anal fixation and Oedipal tendencies1, and that the challenge posed by their condition merits a $145 per hour fee." I know. Good one.
He continued, half-jokingly, that he didn't like working with those other couples nearly as much as he enjoyed working with us. Since he was treating me for narcissism, I already knew he enjoyed working with us.
Regardless, it was clear that he hated raising his rates. Warren Buffet says that "if you have to have a prayer session before raising your price by 10 percent, then you've got a terrible business." And my shrink was only raising his price by about 4 percent.
But I don't think that was his biggest problem.
The billable hour sucks in a million ways, one of which is you can't differentiate your pricing. So our counselor got the same amount of pay whether he spent an hour with a patient who was pleasant, handsome, fun and funny, or an hour with a patient who wasn't me.
When pricing, we need to keep the idea of customer profit in mind. What's customer profit? Good question, person who's never seen Ron Baker present. The only way a customer is going to choose to part with her money is if she believes that what she gets out of the transaction is of greater value than the cash she's giving up. That's customer profit. Not only that, the value customers are looking at is subjective and, more often than not, it's non-financial.
But similarly, we need to take a more robust view of OUR profit. When determining your price, you need to consider both the financial AND NON-FINANCIAL rewards of the job. Consider the following table: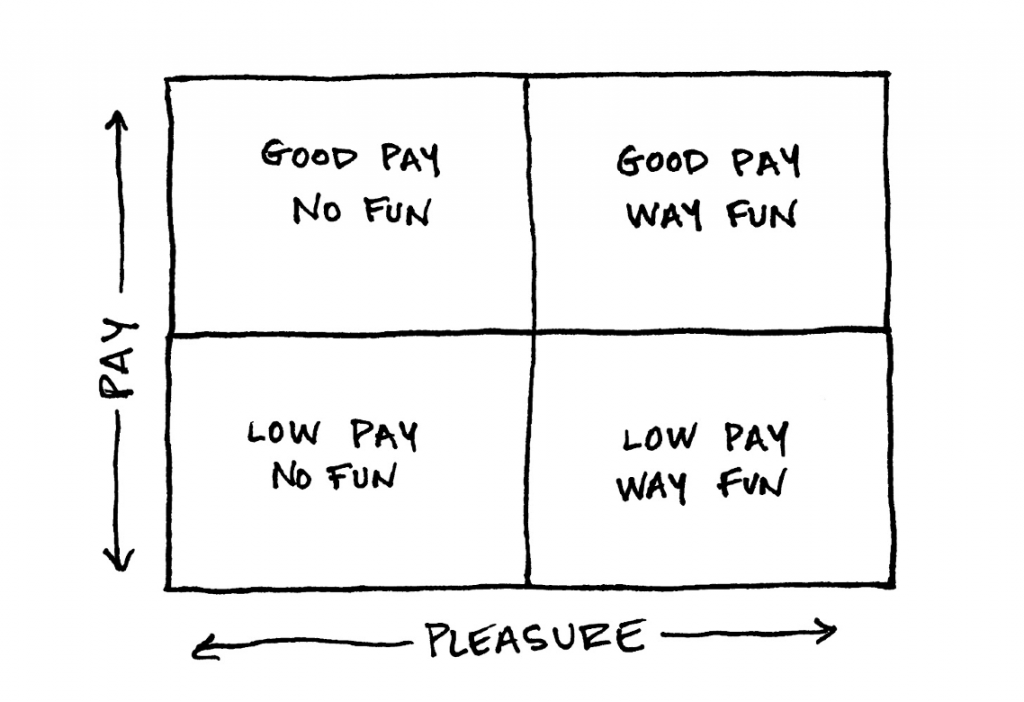 Looking at the table above, everyone thinks, "I'd never do work in the lower left quadrant, and I strive to get all the work I can in the upper right quadrant."
Really?
At any time during busy season did you say something like, "I wish I didn't have to do these little measly tax returns for $250"?2 Well, you don't.
Did you ever say to yourself, "This guy drives me nuts. Every year I've got to chase him down for documents he's been sitting on for two months"?
Or are you a psychologist who likes spending time with some of his patients and not with others?
We need to systematically weed out work that lands us in the lower left quadrant. Here's how you do it: fire one client. Think about your entire client list, pick the client that is the lowest pay and the least fun — the lowest left of the lower left — and write him a letter informing him that he needs to look for a new accountant. Once that customer's gone, find a replacement or expand your services to an existing client that you enjoy working with. Repeat as necessary until the nobody is left in your lower left quadrant.
Obviously, getting all your work in the upper right quadrant is the goal, but I'll go one further. You shouldn't do any upper left quadrant work either. It might give you a rush to do shitty work for a lot of money, but eventually you realize that life's too short to fill it with tasks you find miserable.
Less money and engaging work is a wiser than selling your soul.
¹Thanks, Psych 101.
²You know who you are.
Greg was born in Akron, Ohio, in the shadow of the Firestone tire factory. He began to swim competitively when he was eight, swimming for the Mountlake Terrace Lemmings. He graduated in 1995 from the University of Washington with a math degree. He chose math for the ladies. After serving ten-years as an 8th grade math teacher, he decided it was time for a career change, mainly because he "couldn't stand those little bastards." He began his accounting career with a local CPA firm in Orem, Utah, where he consistently failed the QuickBooks ProAdvisor advanced certification exam. Greg currently works as the Controller for the Utah Valley Physicians Plaza. He lives in Utah. He enjoys eating maple bars, drinking Diet Pepsi, and swearing.