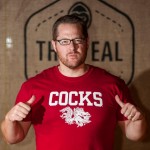 Blogging and exercising: the two things you never feel like you done enough of. Maybe there are some days when you feel like you nailed it, but even after you've finished a half marathon or a killer post, the future is staring at you with it's cold, dead, passive-aggressive eyes, and you know you're supposed to repeat that level of performance every day forever.
It's like if Sisyphus were the owner of a CPA firm with a well-defined niche and was purposefully and intentionally positioning himself in the minds of his ideal customers.
It's weird, but I feel like I need to explain the benefits of content marketing; however, I'm also confident you already know all this stuff. So I'll make it as quick and painless as possible.
If your firm isn't serving a niche, you're a jackass.

If you think you're a local firm, you're living in the past.

Outbound marketing (cold calls, direct mail, etc.) sucks.

Inbound marketing

(where customers come to you) is the promised land of milk and honey.

Creating content (blogging) is a key component of effective inbound marketing.

Blogging as inbound marketing is most effective when you

publish three or more times per week

.
That's where it gets overwhelming. Everyone eventually doubts if they have enough interesting crap left to say if they blog once a week, not to mention three plus times per week. Also, everyone struggles to find the time to blog. So here are three tricks to help make content marketing a little less of a burden.
#1 Hard, Scary, Weird, Stupid
So there's this book called The Comedy Bible by Judy Carter. It's a book that tons of standup comics have read, but that no standup comic wants to admit that they've read. I haven't read it, but there's this great idea starting three-quarters of the way down on page 71 to help comedians generate material, and it works just as well for writing blogs.
Judy Carter says you should always have your mind scanning for things that are Hard, Scary, Weird and/or Stupid. Every time you find something that's Hard, Scary, Weird and/or Stupid, you've found a blog post. This blog post is a good example. Content marketing is hard, so I'm writing this post to help it suck less.
But remember, you're writing for your ideal customer (your niche), not for your peers, so make sure you're scanning for things that your ideal customer would find Hard, Scary, Weird and/or Stupid.
Here are some ideas:
It's stupid that your financial statements have to conform to GAAP even though many of the adjustments to GAAP make the information less useful to small business owners.

It's weird that blind people get a higher standard deduction, but no other disability does.

It's scary that anyone the IRS deems a "responsible person" can be liable to pay unremitted payroll taxes.

It's hard to expand your business into a foreign country.
Caleb Newquist of Going Concern explained that when he's pissed off, it's really easy to create lots of content.
#2 Hire a Writer to Do It for You
Maybe your problem isn't generating ideas. Maybe you have a hard time finding the time to write the posts. I know some very successful, well know writers in the accounting profession who totally cheat by using a ghostwriter.
Here's what you do. You find a writer, often a journalist who wants to pick up some freelance gigs. You set up a schedule of how often you'd like this person to write posts for you. Then you call or email your writer, telling him or her your ideas for the post. Then they'll bang it out for you, imitating your voice. They send it to you. You tweak it as much or as little as you want. Then publish and done.
This will obviously cost you some money, but it can be a great investment to keep the blogs coming on a regular schedule even when you get super busy with other things. And often the opportunity cost alone of writing a blog makes a ghostwriter a net gain.
#3 Interview Potential Customers
This one is a total cheat, a major blog hack, and it's super simple, but it requires you to be committed to a niche.
First, you identify a person who's not your customer, but who you'd love to have as a customer. Ask them if you can interview them for a blog post. In the interview ask them about what it takes to be successful in their industry (your practice niche). Ask them what they're worried about. Ask them about what's hard, scary, weird and/or stupid in their industry. Ask them what advice they'd give to somebody just starting in the industry, and ask them what they see in the future of their industry.
While you're conducting the interview, make it a conversation. Practice active listening by reflecting what they've said and asking follow up questions.
By doing this, you're getting face time with a potential customer and getting to know what their needs are. This is a great way to determine if they're a good fit for you firm, and they get a great chance to see your expertise and how you could be the answer to their prayers to Saint Matthew. By doing these interviews, you will generate inbound marketing with your own hand-picked dream customers.
And you also get a blog post out of it.
Greg was born in Akron, Ohio, in the shadow of the Firestone tire factory. He began to swim competitively when he was eight, swimming for the Mountlake Terrace Lemmings. He graduated in 1995 from the University of Washington with a math degree. He chose math for the ladies. After serving ten-years as an 8th grade math teacher, he decided it was time for a career change, mainly because he "couldn't stand those little bastards." He began his accounting career with a local CPA firm in Orem, Utah, where he consistently failed the QuickBooks ProAdvisor advanced certification exam. Greg currently works as the Controller for the Utah Valley Physicians Plaza. He lives in Utah. He enjoys eating maple bars, drinking Diet Pepsi, and swearing.