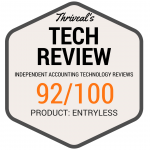 It's easy for businesses to get bogged down with data entry, managing bills, and cutting checks (yes, people still do that). The folks at Entryless want to help. As their name suggests, they remove the 'entry' and streamline the rest, down to actually getting the vendors paid. Entryless is quickly becoming the trusted automated bill processing solution for thousands of business owners around the world.
Core Features – 34/35
When a bill or invoice is submitted, the bill is automatically processed in Entryless and a copy is created in the accounting software. Then when the bill is ready to be paid, simply pay it through Entryless and an ACH or check will be sent to the vendor. Now, let's deep dive into the process.
Getting Started
Onboarding with Entryless is easy. From the homepage you will select the "free account" button at the top right. After entering your information, the dashboard appears. From the dashboard you are directed to connect your Entryless to your accounting software (Sage Live, Xero, QuickBooks Online, QuickBooks Desktop, Sage One, MYOB, or Zoho). Now that your account is setup, say goodbye to data entry!
Submitting Bills
There are four ways to submit bills to Entryless. Files (PDF, JPG, or PNG) or photos of the bill may be submitted. All methods use optical character recognition (OCR) technology which reads the bill and pulls the pertinent data, like vendor's name, address, and amount.  
Each Entryless account comes with a custom forwarding email address ([email protected]). When you receive an email containing a bill as an attachment, simply forward the bill to the custom email address. With certain email clients it may even be possible to automate this.

Entryless also integrates with Box, Dropbox, and Google Drive. Bills can be submitted by dropping files into the designated Entryless folder.

From the Entryless mobile app, bills may be submitted using Dropbox, Google Drive, Evernote, or by taking a photo of the bill.

On the desktop you can go to the Entryless dashboard and drag and drop files.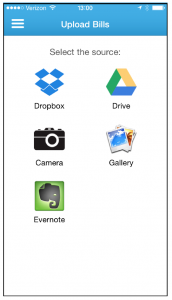 Managing Accounts Payable
Once bills are submitted, Entryless processes them and bills are created in both the accounting software and in Entryless. Over time Entryless will 'learn' from patterns in the bills and be able to automatically categorize certain bills. From the Entryless dashboard you can view processing bills, bills awaiting approval, approved bills, and expenses month-to-date. Once a bill has been approved, you are now free to submit payment.
Paying Bills
Payments can be made by check or ACH. Checks cost $1.49 per check for Entryless to print and mail the check to the vendor. If ACH is selected, you will need to invite vendor to complete an onboarding process to set up a free vendor account. Once this is completed, that vendor can be paid easily and quickly in the future and see when their bills have been approved or paid.
Design – 22/25
The homepage initially greets you by a fun, colorful (and somewhat busy) user experience. Visitors are prompted to either "SIGN UP FOREVER FREE" or scroll down to learn more. Once logged into the dashboard, it is very easy and intuitive to connect to one of the accounting platforms and submit bills. While the dashboard provides a view of one company, the CPA dashboard allows accountants to view all of their clients in Entryless, filter clients, and get a better view of what bills are processed, awaiting payment, and paid. The Accounts Receivable tab allows vendors to track their invoices, see when they are approved, and informs them when they can expect the payments.  The Cloud Sync tab allows you to adjust how Entryless integrates with the accounting systems.
Support & training – 17/20
Once you sign up for the service, you will receive a series of onboarding emails that walk through setting up the integrations, inviting users, and getting started. After setup, support can be found in the Help Center, through video tutorials, by email, or, if you are a premium user, priority support.
Integrations – 5/5
Because Entryless is a cloud-based solution, the experience is consistent between Mac and PC and across all major browsers. With both Android and Apple mobile apps, they are ready for any smartphone. The software integrates with both your accounting system (Xero, QuickBooks Online, QuickBooks Desktop, Sage One, MYOB, and ZOHO) and file storage systems (Box, Dropbox, Google Drive, and Evernote).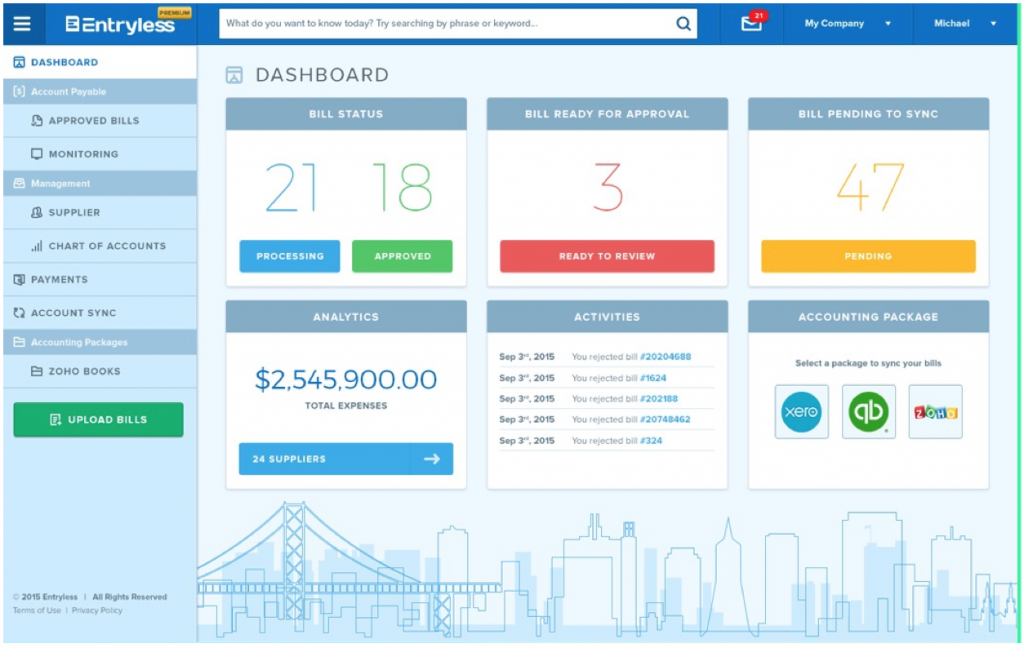 Platform & Practice – 14/15
The basic Entryless account is "forever free." This means you get up to 300 bills processed a month, bill storage, and the accounting integrations. Premium Plans start at $29.99. If more than 300 bills are processed, you are charged $14.99 for 300 additional bills. Premium plans are also available that include priority support, storage integrations (Box, Dropbox, Google Drive, and Evernote), guaranteed bill processing in 12 hours or less, source data synced to accounting system, and the ability to pay bills via ACH or check.
Conclusion
Entryless is a great way to manage accounts payable. It eliminates tedious data entry, provides a fast and efficient way to pay bills, and at $29.99/month costs a fraction of what you're paying Susie in accounting. She has better things to do anyway!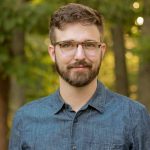 Ian Crook, owner of  Trust Tally, lives in Greenville, SC. He graduated from Bob Jones University in 2007 with a BS degree in International Business. Ian then went to work at a small accounting firm and focused on building relationships and satisfying clients. Becoming frustrated with the "way things have always been" Ian began looking for a more creative way to make a living.  Ian's firm leverages technology and know-how to deliver value to clients and help them achieve their business goals.