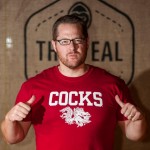 I have no good reason for living in Utah. I'm not Mormon and I don't ski. By state law I could be deported.
I grew up in Seattle where it maybe snows twice a year, and when it does snow, the snow only stays on the ground for like a day, so I'm well aware that I'm a big wuss when it comes to winter. And Utah winters suck. And, yeah. I get it. Winters in the midwest suck so much harder than mine, that it's embarrassing to say my winters suck at all. But we're all a long way from South Carolina where winter just means you have to wear a shirt under your overalls.
But I stay here because I've got a great job and it's a great place to raise my kids. I mean, it's not like kids can't get in trouble in Utah, they just have to work harder to do it. So it's a great place to raise lazy kids.
At some point I decided that getting a 4-wheel drive vehicle would help me hate Utah winters less. I thought maybe a Jeep Wrangler because they're dope. They're pretty simple vehicles, so I figured they'd be affordable. Uh … nope. Not only are they pretty expensive, a stock Jeep looks ridiculous. It's the vehicular equivalent of an eighth-grade mustache. After putting a lift on it and some bigger tires and changing the gear ratio¹, you're spending upwards of $40K.
Subarus are cool. By which I mean, people can talk themselves into believing that Subarus are cool. I decided I could live with a Subaru Crosstrek. Those are going for about $26,000.
But I also started trolling used cars online to see what I could find, and one day a miracle happened. While loading up classified car ads on KSL.com, the first car on the page was this old 1976 Ford Bronco. Um, yes please.
When I was 17, I was witness to some Seattle-based road rage that flared up into a standoff between a dude with a baseball bat and another dude with a tire iron. The dude with the baseball bat was driving this sweet old Bronco, and all I could think was, "That's a sweet old Bronco!" And I've wanted one ever since. But for some reason, they hadn't come to mind as a solution to my Utah-winters-suck problem.

So I ran a search specifically for old Broncos, and I found this baby in Rigby Idaho (about 250 miles away):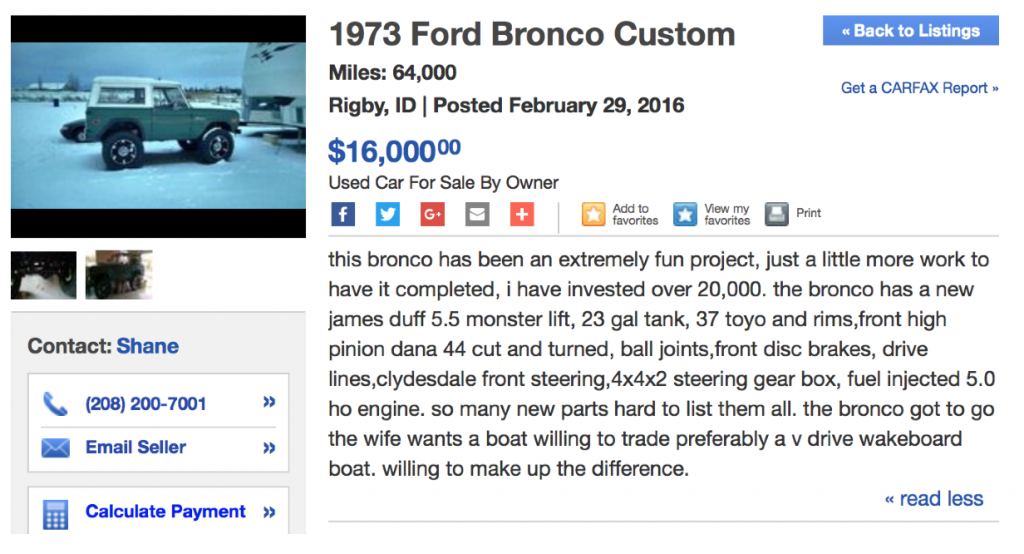 My curiosity was piqued, but I needed more info, so I called Shane, the owner. He had no idea that I knew nothing about cars in general and Broncos in particular, but he told me in detail all the specifics of the awesome and amazing upgrades he'd done to it. I hadn't even told him how preliminary of a conversation this was in my buying process (it was very preliminary), and regardless, out of nowhere, Shane said, "I've got it listed for $16,000, but I'm willing to take $14,000 for it."
Lesson No. 1: Don't reduce your price for no reason.
I never gave any indication that I was price sensitive or that I felt his price was too high. Regardless, he gave away $2,000 for free. When you're pricing, even if you come up with a price that is uncomfortably high for you, don't give away dollars for nothing.
I finally got comfortable asking uncomfortably high prices when I stumbled across this magic question: "Does that work with your budget?" When you ask a customer that, you shift their focus off the price and onto their ability to pay. And however they respond, you get good information that will help you negotiate the right price, and close the deal with good feelings.
During that first call, he told me that the Bronco ran well, but that I should give it a test drive, have a mechanic check it out, and trailer it back to Provo (NOT drive it all that way). When I told him I had no way of trailering it, he said that he was going to Las Vegas in two weeks, which would take him right past Provo, and he offered to trailer it down here for me with no mention of an increase in price.
Lesson No. 2: If you offer additional services, increase your price.
Old Broncos are pretty rare. There weren't any cool ones anywhere near me. Getting the car from Rigby to Provo was a major problem, and solutions to problems are valuable. Shane missed an opportunity to price for the value he was offering me.
But I was still on the fence. I was really, really digging that Bronco, but there was a lot of risk. It could run crappy, break down all the time, or become a total wallet fire. On top of that, I had no concept of what the right price was. So I kept searching old Broncos on car-buying sites, but my search expanded from KSL to CraigsList to Ebay Motors. Then after a few days, I found the same rig in Billings, Montana, on Ebay. The auction still had a few days left, and the price was already up to $11,200.
When I say it was the same, I mean it was the same color and the same year, but that was pretty much it. It had stock wheels, no lift, and a really crappy interior. This one had been neglected. The one in Rigby was Shane's baby. The rims and tires Shane put on his Bronco were worth at least $2,000, which gave me confidence that Shane's $14,000 price was at least reasonable, and at best a smoking deal.
Lesson No. 3: The anchoring effect is real, and it is powerful.
I have a whole post about anchor pricing. Check it out for a thorough discussion.
So I called Shane back and made this offer: I would buy the Bronco, sight unseen, for $13,200 if he would trailer it down to Provo on his way to Vegas. At this point, the Bronco had been listed for over four weeks, and Shane had already told me that he was a little surprised by how little interest he'd seen in it.
I was confident that I could talk him down below $13,200, or at least, I could have started my counter offer lower to see where it could've gone. But I didn't. I didn't want to.
There was a weird dynamic going on inside me. Shane had already demonstrated that he was a crappy negotiator, and I knew I could've squeezed him for a lower price. According to traditional economic theory, I should've tried harder to minimize the price to maximize my personal benefit, but I didn't.
Why did I leave money on the table? Because I was buying something for it. I was buying self respect. I didn't want to be the guy who takes advantage of a knucklehead from Rigby, Idaho, who was awesome at Bronco kick-ass-making, but who sucked at pricing and negotiating. Seeing myself as a nice guy has monetary value.
Ed Kless and Ron Baker talk about "customer profit" which is the subjective value the customer receives from the transaction that exceeds the face value of the cash they part with. An exceptional pricer keeps customer profit in mind and helps the customer recognize customer profit and (when possible) quantify it. Because when you feel great about your profit, and your customer feels great about her profit, the world is in perfect harmony.
Lesson No. 4: Don't screw people just because you can.
Stephen Covey habit number four.
In that minute I felt like Jules Winnfield at the end of Pulp Fiction when he gave Ringo $1,500. His reasoning was weird and recondite.² He totally could have kept the money because he had the upper hand, but he didn't. He was buying an intangible feeling that can't be priced or amortized. Just watch the movie, Blumer.
¹Full disclosure: I do not know what gear ratio is.
²Thanks, thesaurus.com!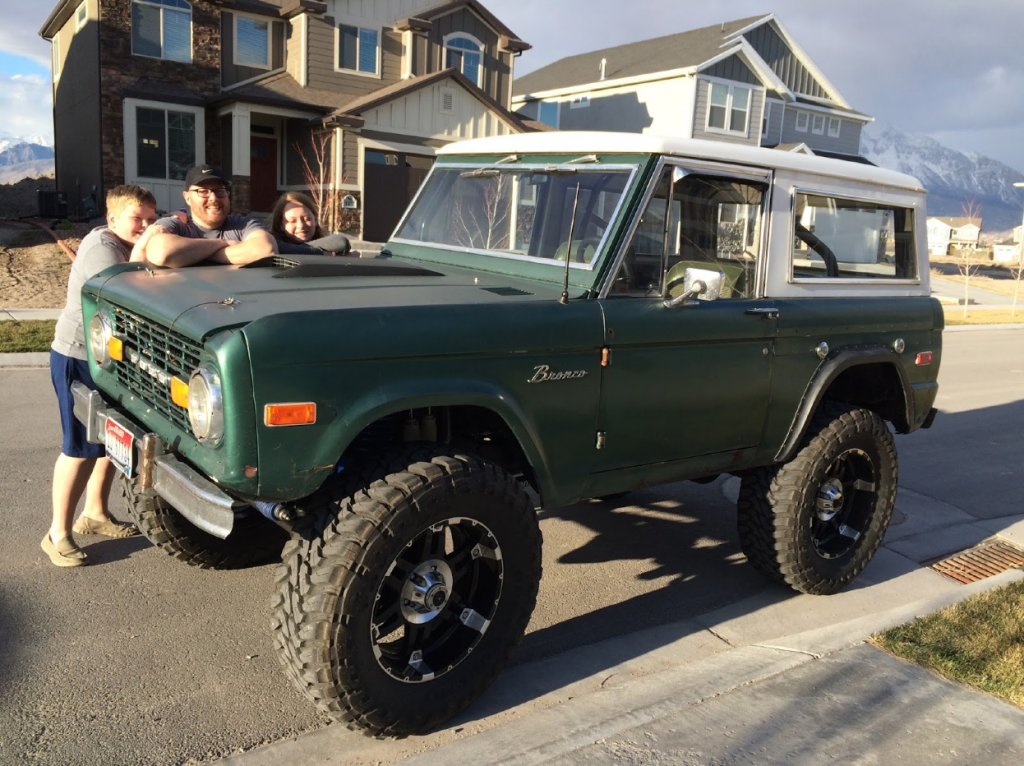 Greg was born in Akron, Ohio, in the shadow of the Firestone tire factory. He began to swim competitively when he was eight, swimming for the Mountlake Terrace Lemmings. He graduated in 1995 from the University of Washington with a math degree. He chose math for the ladies. After serving ten-years as an 8th grade math teacher, he decided it was time for a career change, mainly because he "couldn't stand those little bastards." He began his accounting career with a local CPA firm in Orem, Utah, where he consistently failed the QuickBooks ProAdvisor advanced certification exam. Greg currently works as the Controller for the Utah Valley Physicians Plaza. He lives in Provo, Utah, with his wife and two kids. He enjoys eating maple bars, drinking Diet Pepsi, and swearing.