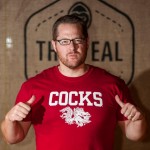 Two years ago, I let Liberty Tax eff up my taxes. This year I allowed H&R Block to do it. In last month's post, I wrote about H&R Block's weird-ass pricing. Next month, I'll tell you all about how hard their accuracy sucked. This post, however, is my story about the H&R Block customer experience.
But this is only my experience. H&R Block files millions of returns every year. So you can't generalize based solely on one experience. But I will anyways because it's fun to generalize based solely on one experience.
I dragged my feet filing my taxes this year. I could have gotten them done on time; I just really didn't want to. So I filed an extension, and in mid-May I stopped by one of the sixteen hundred H&R Block offices in town. I got there at 11:00 a.m. on a normal Monday morning. The door was locked, but they had this super-helpful sign on the front door: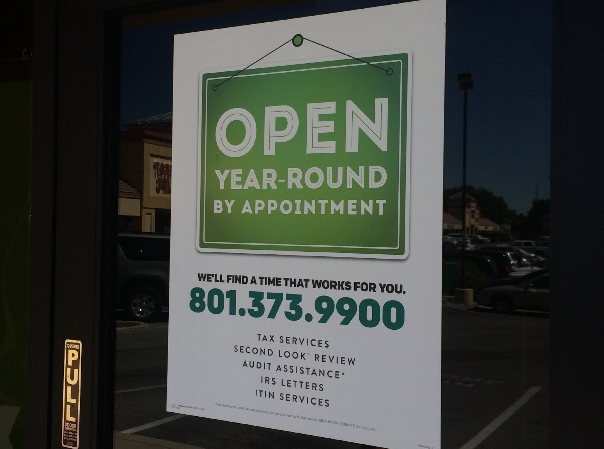 The sign says they'll find a time that works for me. Well hey, H&R Block, you know what time works for me? Right f***ing now. As a matter of fact, I'm going to go out on a limb here and say that right f***ing now works great for everybody who reads your stupid sign.
Because I'm amazing at following directions and because I'm an investigative journalist, I called the number. No one answered. It went to voicemail, and the recording instructed me to leave a short message after the beep and they'd return my call. But there was no beep. Instead, a pre-recorded robo-operator told me, "That mailbox is full."
Pro tip: You're an accountant, not a Pokémon. No one enjoys the challenge of trying to catch you.
So I went to hrblock.com to make an appointment because in my research for this post, I watched some old H&R Block commercials that told me that's what I should do. The website said the next available appointments were on June 1. That was like two-and-a-half weeks out. The sign says they're open year-round, but apparently "year-round" doesn't include May.
While booking my appointment online, the site also asked me to enter my email address so that they could send me "information on everything you need for your appointment, including what to do next" which is a weird way to describe spam.
The email came immediately with links to H&R Block's tax prep checklist, which was basically an online tax organizer in checklist form. It's an environmentally friendly way to confuse their clients into inaction.
There was also a link to my "MyBlock" account where I could upload all of my tax documents prior to my appointment. This was under the heading "Organize Your Tax Life" because "Do Our Job For Us" didn't test well with the focus group.  I was pretty sure that this was going to piss me off. Like when I call my credit card company and the automated system asks me to enter my credit card number, and then after waiting on hold for 15 minutes, the first thing the operator does is ask me for my credit card number.
I have to say, I like the little explanation they had for the Organize Your Tax Life section. It said, "Upload your receipts and tax documents throughout the year." That's a great idea: every time you drop off a bag of shiz at the Salvation Army, you just scan the receipt to your Charitable Contributions file via an online portal and never worry about it again. That's got to be something even a tiny firm can put together, and everyone would dig it — you and your clients — as long as it worked right.¹
It took me about 20 minutes to scan all my crap and it took another 20 minutes to upload all of it to the various MyBlock folders.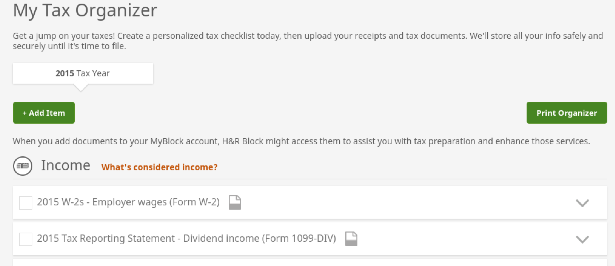 MyBlock had me name each file, assign it a category (income, adjustments and deductions, credits, or taxes), and then assign it a subcategory. Some of the subcategories were as specific as the actual tax form that was uploaded (eg. Form 1098). In hindsight I regret not being more creative with my file names. I could have named my W-2 "Liberty Tax Rulz," or named the P&L for my Schedule C "Definitely Not Personal Expenses."
Four days before my appointment, they sent me a text reminder. All I had to do to confirm the appointment was reply "Y" to the text, which I did, and I immediately got a text reply that my appointment had been confirmed. That was pretty damn cool. If you know the app that does that, you've got to share it in the comments because everyone needs to use it.  I need to use it. You need to use it. Twix, my hairdresser, needs to use it.
On June 3, I showed up about ten minutes early for my appointment. I saw the sign again, so I decided to call it again. The voice mailbox was still full! I just called it again while writing this post on July 11, 2016 — still full! You should call it right now and leave a comment below with the date, whether the mailbox was full or not, and — if it was not full — a brief summary of the smartass message you left.
I went in and met my H&R Block dude, an EA named Kim² and secretly snapped a picture of him.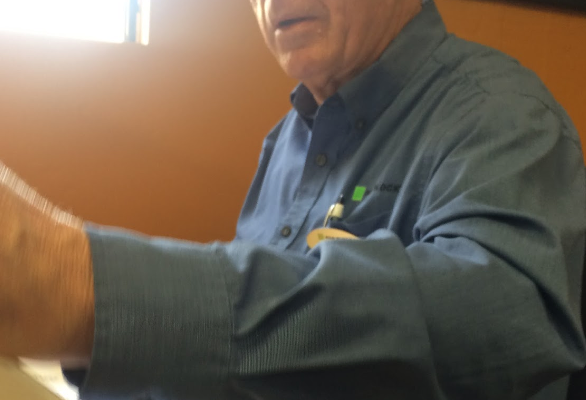 Turns out this office is closed outside busy season except for appointments, so Kim was there for me and only for me, and within 15 minutes, we figured out that I had to come back later.
I'm not a tax guy. One thing that I'm always worried about is screwing up per diem expenses on Schedule C. I mentioned that to Kim, and he explained that since I'm self-employed, I can't take per diem for lodging; I have to deduct my actual lodging expenses. My P&L reflected per diem for lodging, and I had no way to update it at the H&R Block office, so that was that.
Kim explained that he was "going on furlough" starting the next day, so he scheduled me to meet with another EA, also named "Kim," at a sister office a few days later. Interestingly Kim did not seem disappointed that our meeting was cut short or that he was being put on furlough. Probably because he was excited to update his end-of-life plan.
Between H&R Block meetings, I updated my Schedule C and uploaded it to my MyBlock account.
I showed up five minutes late for my appointment with the new Kim, but was greeted by Chris³ who told me that he was going take care of me, and then had me wait for another ten minutes while he talked to some other dude (who didn't have a f***ing appointment!) about capital gains and trusts and gift tax and stepped up basis. So I guess Chris isn't a rookie.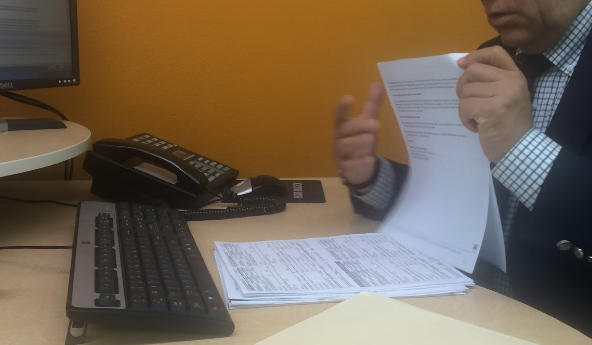 Turns out Chris is a lawyer. He practiced law for 20 years. Now he works at the Block and he even trains some of the 300+ noobies hired by H&R Block every tax season. So if you want the cream of the H&R Block crop to do your taxes, avoid them during busy season.
Here are some of the highlights from the two hours I spent sitting at Chris' desk while he populated my tax return:
He used a cloud-based tax research product called "Google" to see if I passed the phaseout for the American Opportunity Tax Credit.

He COULD NOT access any of the files I uploaded to my MyBlock account. (He blamed it on their super-tight computer security.)

He took some time to explain a lot of stuff about a rental property that won't affect our taxes until 2016. That was some pretty good customer service.

Because he had his law degree, Chris was uniquely qualified to help me AND act as the office receptionist. (There were only two people in the office that day, and there were a few walk-ins.)

He thought I could claim mileage on Schedule C AND depreciation on the vehicles used for business purposes. His software wouldn't let him do it. Finally, he asked Heather to help him, and she set him straight. Did I mention that Chris teaches classes at H&R Block?

There seemed to be no review process. (More on that in next month's post.)
Once he finally finished my return, he printed my invoice and the first two pages of my federal and state returns. He told me that I was under no obligation to pay them or have them file the return (see last month's post). That was over a month ago, and no one from H&R Block has followed up with me. Because H&R don't give a shit about utilization.
Ultimately, the customer experience didn't suck. I did not like sitting there for two hours. I got hungry and antsy. They could have offered me an apple fritter or a Diet Coke or some sort of braised meat. And Chris alternated between undermining and bolstering my confidence in his abilities.
My overall rating for H&R Block's customer experience is one "meh" and two and a half shoulder shrugs.
But I have to share the biggest insight I gained. It's a trick that has the potential to transform your entire life into a Zen-like state of bliss and peace. I've found that every time I go undercover for a blog post, I'm totally content no matter what my experience is. In fact, I find myself actually hoping that something goes horribly wrong because train wrecks make great stories.
So from now on, I'm going mystery shop everything: my son's Christmas concert, my neighbor's lawn care, the cop who pulls me over for editing this blog on my phone while driving. Then, the crappier my experience is, the better my experience is because I know I'm getting an awesome story, so I win forever.
¹It didn't.
²Either (A) I changed his name to protect his identity, or (B) horrible parents gave their son a girl's name.
³Chris could be another fake name. Or it could be short for Christine.
Greg was born in Akron, Ohio, in the shadow of the Firestone tire factory. He began to swim competitively when he was eight, swimming for the Mountlake Terrace Lemmings. He graduated in 1995 from the University of Washington with a math degree. He chose math for the ladies. After serving ten-years as an 8th grade math teacher, he decided it was time for a career change, mainly because he "couldn't stand those little bastards." He began his accounting career with a local CPA firm in Orem, Utah, where he consistently failed the QuickBooks ProAdvisor advanced certification exam. Greg currently works as the Controller for the Utah Valley Physicians Plaza. He lives in Provo, Utah, with his wife and two kids. He enjoys eating maple bars, drinking Diet Pepsi, and swearing.