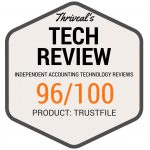 For any small business selling products, sales tax is a time suck. Business owners are required to become experts on state specific requirements, nexus, and even county taxes. With a growing number of businesses selling online, states are cracking down on "out of state sales" and more and more businesses are finding themselves owing taxes in states in which they do business. Avalara was founded in 2004 to solve this problem and for the past 12 years, they have been a trusted leader in the industry. TrustFile is one of their many products built to give peace of mind to users and to allow them to run their businesses and stay compliant.
Core Features – 33/35
Unlike some of Avalara's automated tools, TrustFile is built as a do-it-yourself tool for small business owners who prefer to file their sales tax returns themselves. Using TrustFile's framework, users are able to import data from a number of different places (Xero, Amazon, Etsy, and QuickBooks Online, to name a few) and automatically prepare signature-ready returns that can either be printed and mailed, or e-filed. TrustFile provides a liability report for each state, county, and locality and provides a liability report for detailing the tax owed. For the jurisdictions that have local taxes that are not reported on the state return, users will need to prepare and file those returns themselves, using the liability report provided by TrustFile. Currently TrustFile's signature ready returns are available in about 42 states and where that isn't available, their e-filing tools can be used.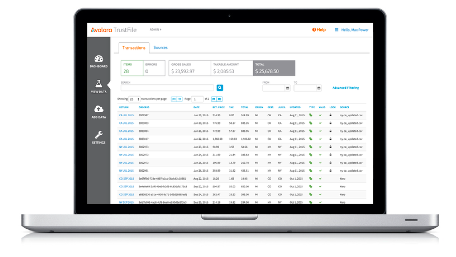 Design – 24/25
The folks at Avalara are a bit obsessive, and users love it. Their obsession with the color orange is only surpassed by their obsession to make sales tax compliance  simple. The application's design is built to make the overly complex sales tax process simple, easy to use, and cost efficient. Instead of navigating multiple state websites which are clunky and hard to use, TrustFile allows you to manage all states right from the dashboard. Once you import your data, returns are automatically created with the correct tax rates and you're given the due date. On or before the due date, simply print and mail the return or e-file it. While the dashboard provides an overall view of liability in each state, the liability report breaks down the numbers by jurisdiction and even includes transactional data.
Support & training – 19/20
Although the design is extremely user friendly, if you do have an issue, Avalara has you covered. For prospective users their site offers general sales tax help- including videos and webinars to help businesses navigate their own specific compliance requirements. Avalara has partnered with Peisner Johnson & Company, a CPA firm that will help new businesses register for the proper accounts in the states they will owe tax. TrustFile's support team offers email and phone support to answer your questions as quickly as possible.
Platform – 15/15
Since TrustFile is truly a cloud-based product, it works on all browsers, Mac or PC, and any operating system. The software will update every hour, on the hour, so you can be sure the data in TrustFile is accurate. New features and software upgrades happen automatically, so you can be confident you're always using the latest and greatest.
Integration – 5/5
One of the key features of TrustFile is their ability to easily pull your data from wherever it may be. TrustFile integrates with every major cloud accounting platform, e-commerce site and point of sale system, and can even import Excel spreadsheets. TrustFile makes it easy to import your data wherever it may be.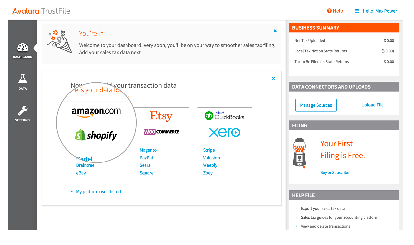 Conclusion
Pros: TrustFile is great for new businesses just getting started selling products. The more complex a company's sales tax, the more benefit they will receive from TrustFile's service. Anyone looking for an easy, simple way to stay compliant with sales tax should look no further.
Cons: Though TrustFile is mostly paperless, some jurisdictions don't accept e-filed returns and taxpayers will need to print and mail the returns on time. Because TrustFile uses the data it's provided, the support team will not be able to respond to tax notices the users get from the state governments. For this type of service users will need to upgrade to Avalara Returns.
Value: TrustFile's real product is peace of mind and time given back to the user. For a subscription fee of $24 per month, TrustFile provides a liability report with signature ready returns for all states where a company is registered.  For an additional $20/return, users can e-file returns through TrustFile in every state.
Avalara also offers a referral program called AvaCash.  CPAs and bookkeepers can refer any clients they have whom they believe are good candidates for sales tax automation – you'll find more info on the program here. For every referral you submit, you'll receive a $75 gift card.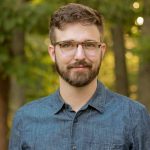 Ian Crook, owner of  Trust Tally, lives in Greenville, SC. He graduated from Bob Jones University in 2007 with a BS degree in International Business. Ian then went to work at a small accounting firm and focused on building relationships and satisfying clients. Becoming frustrated with the "way things have always been" Ian began looking for a more creative way to make a living.  Ian's firm leverages technology and know-how to deliver value to clients and help them achieve their business goals.