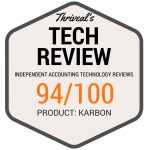 The past decade has produced many great tech products for accountants. Although most of the tools focus on ways to do work efficiently, none have changed the way accountants communicate, manage workflow, or lead their teams. The team at Karbon is disrupting the way accountants think about their task management by giving them tools to communicate effectively, prioritize work, and bring all their core offerings together in one place.
   
Core Features – 34/35
    Karbon's tagline "task management for accountants," summarizes their goal well, but their vision is bigger than task management alone.  
Triage – It's all about priorities
Many accountants treat their inbox as a to-do list allowing external factors to plan their day. Karbon wants to change this. Triage is way for accountants to organize their email into projects, or 'pieces of work' within the software. By integrating with email, Triage creates a copy of your inbox within Karbon. When items are cleared in Triage, they are also archived in your inbox. These email threads can then be viewed within the work or contact by anyone with access to the piece of work.
Work – What clients pay for
Pieces of work are created for each job or project your team has. The 'Work' contains all emails related to the job, internal notes and communications, and checklists. A checklist can be created and each task assigned to different people on the team. Each team member can view their to-do list in 'To-do.'
To-do – Here's what needs to be done today
To-do is a complete list of individual tasks each team member needs to complete. Doers know what to do, managers know who is doing what, and partners have the visibility to see how work is progressing.
Contacts – Not just a rolodex
    Contacts in Karbon are not just a list of names and addresses. Multiple contact cards can be created for an individual to accurately describe the many roles she has. Company cards are linked with the individuals and outline each of their roles. Contacts can store information regarding their accounting and payroll systems, tax specific information, personal data, and even family relationships.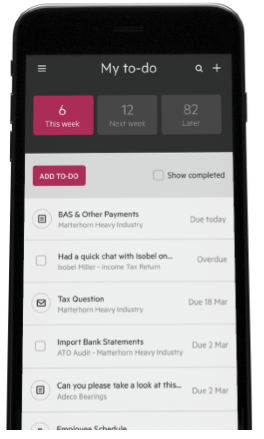 Design – 24/25
    The team at Karbon consists of individuals with decades of experience building some of the best accounting software in the industry. From the inception of the product they have made the user's experience paramount. The sleek and simple design focuses on giving accountants the information they need to enhance their workflow. By integrating email within the workflow the whole team working on a job has visibility to conversations about the job, even if they weren't copied on the email.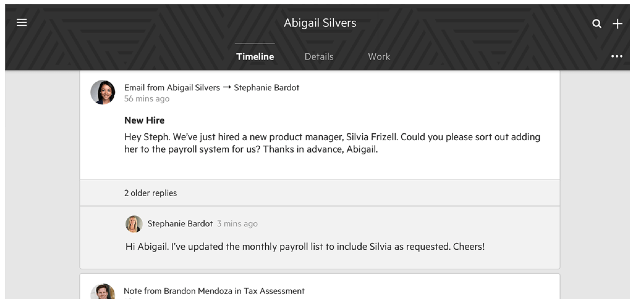 Support & training – 19/20
    Prospective users interested in learning more about Karbon will be given a one-on-one demo of the software, its features, and how it will help their firm. They will then be personally onboarded by a member of Karbon's sales team who will help them import clients and jobs, connect their email, and offer several training sessions in the software to ensure the user is comfortable using the software. Once onboarded, chat support is always there to help answer questions or accept feedback. Updates are pushing out every few weeks, rolling out new features and services.
Platform & Practice – 14/15
Karbon is a cloud based product and can be viewed on all major browsers and operating systems. Though there is no mobile app yet, the responsive design can be viewed from a mobile device. Development is underway on a mobile app that should be released soon.
In practice it works like this: From the time the first email comes in from a client, you create a contact for them, and create a piece of work for the job. Your own internal comments, processes, and checklists can be stored within the piece of work. Managers can use checklists to assign certain tasks to their team members and manage the overall project. Each team member can view their to-dos that list out every task that is assigned to them with the due dates. This simple process can be used to increase the productivity of the team, work with a remote team, and manage projects for effectiveness.

Integrations – 3/5
    Currently Karbon integrates with Windows 360 and Google to import email. Anyone using another email client may have trouble integrating their account. They are integrated with QuickBooks Online and currently building out Xero integration for accounting, Box and Dropbox for storage, and more.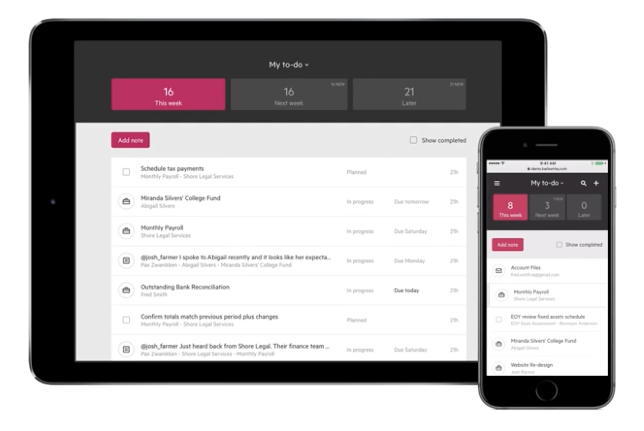 Conclusion
Simply put, Karbon helps accountants manage their tasks. They have tackled both internal and external communications, contact management, and tasks to help accountants rise above their email and get work done.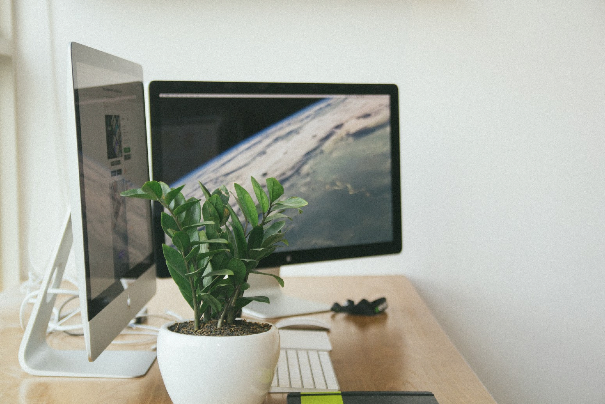 Pros: For firms looking for a tool that can connect their processes, people, work, and clients, Karbon is the answer. Streamline the work so everyone knows what the next step is and who is responsible for it.
Cons: Karbon's integrations, while in the works, are not all functional now. Also, as mentioned there isn't currently a mobile app, though one is in development.
Value: Karbon is great for any size firm but is a must for firms with multiple departments, distributed teams, and firms with accountants that are tech-centric. Firms pay $50 per month per user on an annual basis or $65 per month per user month to month. For more information contact KarbonHQ for a free demo.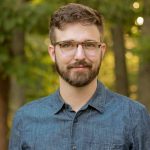 Ian Crook, owner of  Trust Tally, lives in Greenville, SC. He graduated from Bob Jones University in 2007 with a BS degree in International Business. Ian then went to work at a small accounting firm and focused on building relationships and satisfying clients. Becoming frustrated with the "way things have always been" Ian began looking for a more creative way to make a living.  Ian's firm leverages technology and know-how to deliver value to clients and help them achieve their business goals.