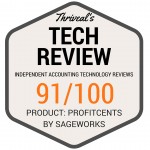 There is a growing disconnect between accountants and their clients. Accountants generally provide great data on a company's historical performance while today's business owners crave more forward-focused advice to ensure their day to day decisions propel their businesses forward.
ProfitCents seeks to solve this problem by offering accountants an easy means to create narrative financial health reports, projections, and industry-specific trends and ratio benchmarks for their clients. It enables accountants to provide relevant, timely information to business owners on their companies' performance, which creates data-driven, forward-focused conversations.
Core Features – 33/35
ProfitCents is composed of several tools, each built to provide insight into the business, its problems, and to suggest solutions.
Industry Data
ProfitCents takes its users' aggregated data and creates reports comparing users' financials to the financials of other users in their industry, allowing users to compare their ratios and financial percentages to those of companies of similar size, location, and industry. Accountants using ProfitCents with multiple clients can also compare clients to each other.
Narrative
This feature provides a business analysis based on financial data you import. It provides scores (1-100) for liquidity, profitability, sales, borrowing, and assets, letting owners know what part(s) of their business needs more attention.
Projections
Once you see industry comparisons, your narrative, and the areas you need to work on, the projections tool helps you create a forecast, run "what if­­­" scenarios, and even calculate informal valuations. The forecasted data is exported as an Excel spreadsheet to allow the user to adjust the metrics and see the results to the forecast in real time. Forecasts can be monthly, quarterly, or yearly and can forecast up to 10 years into the future.
Design – 21/25
ProfitCents provides a great deal of data with many options, which can overwhelm new users. It's up to accountants to decide what data they want to share with their clients so that the business owners don't get lost in the data.
Let's be honest, ProfitCents' user interface isn't sexy. It focuses more on providing multiple options rather than leading users down a pre-determined path. The product could do a better job of streamlining the importing/review process, and the overall site could be designed more for experience rather than utility. It is, however, a product targeting accountants, who, I'm sure, are accustomed to vast amounts of data that would overwhelm most business owners.
Support & training – 20/20
Each ProfitCents customer receives a dedicated representative to walk them through the software, answer questions, and help them get the most out of the product. The reps are extremely responsive both with email and phone calls and are very knowledgeable about the product.
Platform – 12/15
ProfitCents is a cloud-based product that can be accessed with any major Internet browser and on both Mac and PC. However, the product's projections tool does utilize Microsoft Excel's more advanced options only available to PC users. For Mac users who would like to use that tool, there is a work around for an additional fee.
Integrations – 5/5
Importing financial data is easy. Simply create a company and import the company's data from one of the following places: Xero, QBO, QuickBooks Desktop, ProSystem FX, Creative Solutions, Caseware, Peachtree (Sage50), Excel, or even pull the data from a PDF of the tax return.
Conclusion
Pros: ProfitCents is great for importing your clients' data (no matter where it is), analyzing it, and helping you project into the future. Since the software cost is not based on the number of clients you have, you can import as many clients as you like and not pay any extra.
Cons: Users should be ready for data overload. Accountants will still need to analyze the data and pare it down to determine what data points will be useful to clients. Since the projection tool utilizes the more advanced features of Excel only available on a PC, it isn't available for Mac without a custom work around.
Value
ProfitCents prices are tailored to each accounting firm based on the size of the firm and may be customized depending on what tools the firm needs. Firms will capture the most value from a ProfitCents subscription when using it with multiple clients.
Contact ProfitCents to receive a quote.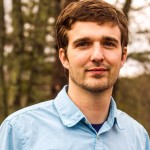 Ian Crook, owner of  Trust Tally, lives in Greenville, SC. He graduated from Bob Jones University in 2007 with a BS degree in International Business. Ian then went to work at a small accounting firm and focused on building relationships and satisfying clients. Becoming frustrated with the "way things have always been" Ian began looking for a more creative way to make a living.  Ian's firm leverages technology and know-how to deliver value to clients and help them achieve their business goals.