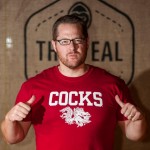 I want to trust the AICPA.
But there was their obsessive push to get everybody to get the CGMA designation. When they launched the designation in 2012, all you needed was a check for $150 payable to the AICPA to prove your expertise in global management accounting. They wanted member buy-in, literally.
And it didn't help the legitimacy of the AICPA's push for the CGMA designation when the AICPA sent out emails reminding members to hurry and get the designation to prove that they are awesome at managerial accounting before they had to take a test to prove that they are awesome at managerial accounting.
Now they're weirding me out with their obsessive push to approve the AICPA/CIMA merger.
Technically it's not a merger.  It's a "joint venture" that would "create a new accounting association that would integrate the operations" of the AICPA and CIMA.¹
And the AICPA has been promoting the hell out of the merger.
Facebook knows I'm an AICPA member because cyber-enhanced Mark Zuckerberg is omniscient, so this promoted post has been on my timeline for like a week: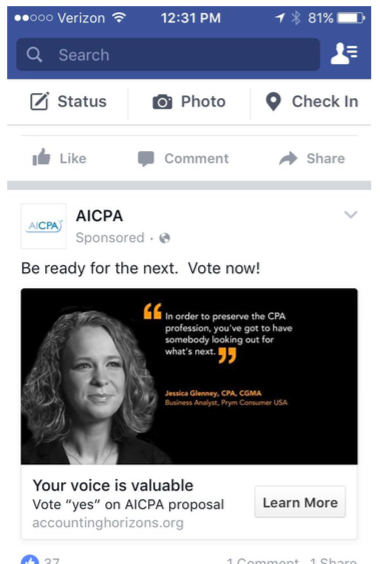 It kind of pisses me off and makes me suspicious of the AICPA's motives. Because the AICPA isn't just using my membership dues to encourage its members to learn more about the proposal and to participate in an important vote; the AICPA is using my membership dues to influence members to specifically vote 'yes' on an important vote. Because objectivity is important to CPAs, but not to when they're considering AICPA bylaws.
It's weird, too, because despite my half-assed research, I couldn't find anywhere that the AICPA was presenting an opposing viewpoint. To find an opposing viewpoint, I went to the accounting profession's leader in opposing viewpoints, Going Concern.
Go ahead, click the link, scroll down halfway, and read what the naysayers say.² I'll wait. Because this post isn't about whether or not the merger is a good idea. I think I'm actually in favor of it. This post is about how the AICPA's actions aren't transparent which brings their integrity and objectivity into question.
In an email sent to me by the AICPA on May 3rd, I was reminded that "The Proposal, which was endorsed by the AICPA's governing Council 222-0, is also supported by the AICPA Board of Directors, 52 state CPA societies³ and committees representing members in firms, business, government, and education."
Most likely all those people also think that Captain America: Civil War is a great movie, but they're not sending me emails with a link to Fandango to buy tickets. If this proposal is so uncontroversial and so unanimously embraced, then why are they spending so much time and money pushing us to vote yes? It's eroding my trust.
I'm also skeptical because the operations of the new organization are incredibly vague.
"The new association would build upon [existing] member benefits and represent more than 600,000 professional accountants, strengthening advocacy on a wide spectrum of issues. [It] would provide a stronger defense against regulations that burden businesses and do not protect the public interest. It would power expanded resources across public and management accounting to keep members ahead of emerging issues."
What the f*** does any of that mean? I think they're trying to say that one big group is more powerful than two not-as-big groups. But if that's the case, then maybe they should just say that.
And the AICPA Chairman doesn't help clear anything up in his four-minute propaganda video. He says, "The debate has been extremely rigorous," but he never outlines anything that was debated. It's like, "Just take my word on it. It was like Fight Club, but with accountants, and instead of fighting, it was debating."
He also says this weird thing: "What's the right time for change or evolution? … When you can see where the world is going, sooner is almost always better [than later]." So apparently the AICPA can predict the future. Finally someone at the Psychic Hotline got their MAcc.
Way back in June 2012, Jason and I interviewed Mark Koziel and Tom Hood on the Thrivecast. They did a great job explaining why membership in state societies and in the ACIPA made sense, and their message did a lot to give me confidence in the work and integrity of those bodies. But this whole thing has been an antidote for their sunny presentation.
The CPA brand tells people that we're "trusted business advisors." And the AICPA is supposed to advise CPAs regarding what's in the profession's best interest. So the AICPA is the trusted business advisor's advisor. Unfortunately their weird handling of this CIMA merger crap makes me question whether the AICPA is my trusted trusted business advisor advisor?
And I voted no because f*** that.
¹So it's a merger.
²They say "nay."
³The count of state CPA societies is off by about two. But an audit of the email determined the difference to be immaterial.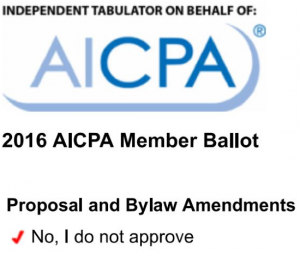 Greg was born in Akron, Ohio, in the shadow of the Firestone tire factory. He began to swim competitively when he was eight, swimming for the Mountlake Terrace Lemmings. He graduated in 1995 from the University of Washington with a math degree. He chose math for the ladies. After serving ten-years as an 8th grade math teacher, he decided it was time for a career change, mainly because he "couldn't stand those little bastards." He began his accounting career with a local CPA firm in Orem, Utah, where he consistently failed the QuickBooks ProAdvisor advanced certification exam. Greg currently works as the Controller for the Utah Valley Physicians Plaza. He lives in Provo, Utah, with his wife and two kids. He enjoys eating maple bars, drinking Diet Pepsi, and swearing.