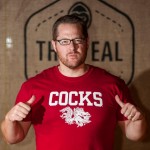 As you may or may not know, I'm the only Thriveal Member who works in industry. I'm the comptroller for a group of medical office buildings. That's right, the comptroller. Why comptroller? Two reasons: (1) comptroller is a hilarious word and (2) it confuses people about what I do, so they leave me the hell alone.
On one of our medical campuses, I'm effectively the general manager over real estate. Over the past several years we got pounded by the the one-two punch of the Great Recession and the uncertainty in the medical industry caused by the Affordable Care Act. The result is that we have plenty of available space, and we priced it to move.
True confession time: I have sinned against Ron Baker and the Thriveal Community by not giving three pricing options to lease my medical office space. Coming up with three pricing options can be challenging when you're selling services, and it's not much easier when you're selling goods. To create different price points, manufacturers often develop different variations of the same product (like the Gillette Mach 3, the Mach 5, and the Mach 20). To help facilitate three pricing levels, VeraSage created the Six T's Model for Creating Options & Choices, but it's impossible to apply that model to real estate.¹
Now that things seem to be stabilizing in the economy as a whole and in the medical industry specifically, our realtor was able to find us a potential lessee, a pain clinic. The location of one of our buildings and the other medical specialties on campus made it a very attractive site for them to open a satellite office.
As I'm sure you're aware, the culture of real estate includes negotiation. People expect you to come down off your listed pricing, but we weren't playing that game. We listed our lowest and best price. So when the pain clinic expressed that they were interested in taking some space, they also asked us to drop our price by 5 percent and increase our cash contribution toward the remodel of the space by 15 percent and reduce the annual escalation of the lease price by 20 percent.
Uh. Hell no.
I checked in with my realtor about our pricing compared to the market, and he reaffirmed that our pricing was exactly where it should be.
So in this circumstance I chose to apply the Furman University Negotiation Model, which, simply stated, consists of nothing more than repeatedly saying, "Rah! Rah! F.U.!" More specifically, I communicated to the pain clinic that we were extremely excited about the possibility of having them on our campus (Rah! Rah!), but we're not changing our terms (F.U.).
The Furman University Negotiation Model is incredibly unnerving. You've got to have some big balls not to change your position at all when a potential customer begins a negotiation. But when you know you have a valuable offering, and you know your pricing is good, you don't have to make any concessions. Did you hear that? You don't have to make any concessions. Even though you feel the psychological pressure to give them something, you don't have to. It's possible to be pleasant and kind and to build the foundation for a positive, long-term relationship, and at the same time not budge an inch on your price.
The pain clinic went back and forth with me three times, I stood my ground, and they're renting space from us according to the original terms we listed, and they don't even seem to be butthurt about it. Even if they were butthurt, they're a pain clinic, so they should know how to deal with that medically.
The Furman University Negotiation Model can be very powerful. I'd love to hear your stories about winning (or losing) negotiations using the FUNM. Tell me about it in the comments below.
¹I'm too lazy to apply that model to real estate.
Greg was born in Akron, Ohio, in the shadow of the Firestone tire factory. He began to swim competitively when he was eight, swimming for the Mountlake Terrace Lemmings. He graduated in 1995 from the University of Washington with a math degree. He chose math for the ladies. After serving ten-years as an 8th grade math teacher, he decided it was time for a career change, mainly because he "couldn't stand those little bastards." He began his accounting career with a local CPA firm in Orem, Utah, where he consistently failed the QuickBooks ProAdvisor advanced certification exam. Greg currently works as the Controller for the Utah Valley Physicians Plaza. He lives in Provo, Utah, with his wife and two kids. He enjoys eating maple bars, drinking Diet Pepsi, and swearing.