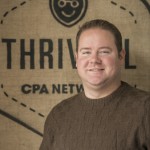 One of the great things about owning your own business is getting to make every decision exactly how you want.  You are in charge of every aspect – how you work, when you work, what you work on.  You can even stock your favorite pens.  As some of my fellow Thrivealists like to say, "You are ridiculously in charge."
At first glance, this sounds like every disenfranchised employee's dream, but making decisions is the easy part.  Having to live with consequences of these decisions is completely different.  That's when things get real.
Whether it's the impact of hiring your first employee or choosing to work in a narrowly defined niche, you are no longer running the same business you were before that decision. You may even be losing sleep over these effects.  Once you hire someone, you're in charge of making sure they get paid every single time. Once you narrow your focus, you're going to see a lot less business come in.
I'm currently feeling the effects of a choice I made.  Many Thrivealists and other cutting edge CPAs choose to work very progressively with their clients.  This can include monthly (not annual) conversations as well as many other traditional and non-traditional services.
I chose to embrace my roots.  My business focuses mainly on taxes.  This is achieved both through referrals that come directly to me, as well as strategic partnerships that I have with other CPAs who may not be interested in doing taxes.
The main appeal of this business model was that I could front-load my year – getting most of the work done early and doing my best to enjoy summer and the later months of the year. This is a perfect example of making a decision about how you want to work.
Currently, I'm living with that decision as I experience the "crunch time" that many people automatically associate with CPAs.  This decision comes at a cost of my own personal time that I could be spending with family, friends, or just enjoying Netflix.
Running a business is not all fun and games.  It can be late nights and hard work, but ultimately it's a result of a decision you made. So when you think about making a decision in your own business, make sure you understand the effects. You're going to have to live with them.
Bryan is a recent cliff jumper looking forward to running a firm his own way.  He aims to catalog his experiences here for future generations of cliff jumpers to learn from. Starting in January 2015, he will also be the Visiting Instructor in Accounting at Assumption College located in Worcester, MA. Bryan is also the co-host of a new podcast, Ctrl Alterego, which follows the saga of two new businesses in different stages of development.  He has joined forces with Barrett Young of The Green Abacus for this adventure. Follow along atwww.ctrlalterego.com.