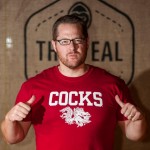 Dress codes are simultaneously infuriating and amusing, like presidential candidates.
They were the topic for Jason, Caleb, and me on our last #WhatsNext in the Accounting Profession Blab. I thought it would be a fun, light topic, easy to make fun of, but not too deep. Turns out, dress codes are a quick path to the seventh circle of HR.
This week, I asked some friends who work at two different mid-size CPA firms to send me their company's dress codes. And it turns out they are awesome.
For one company, under "Examples of Not Acceptable Attire" they listed "stirrup pants," "bolo ties," and "bathing suits." Bathing Suits?! How the hell do bathing suits get explicitly banned on the dress code?
Audit Manager: "Hey, Rebecca, are you ready to head to the client's office for … what the f**k?! Are you wearing a swimsuit?"
Audit Staff: "Uh, yeah. It's July. Don't worry, I'm going to put a towel on the chair when I sit down.
If you have to tell accountants not to wear bathing suits to work, then I think you have to go all the way and tell them to not wear gas masks, ball-gags, and mascot outfits, including but not limited to NBA, NFL, college, and Disney.

But here's what must have happened. One person wore a bathing suit to the office one time, and a manager or a partner had to have a conversation that was painfully uncomfortable. They never wanted that to happen again, so they put it in the dress code. Because dress codes are like timesheets: they make managers feel like they are managing even when they're not really managing.
The other dress code I received had a nice little section near the end. It said, "If you dress inappropriately, you will be counseled by your supervisor. Repeat offenders will be asked to go home and change." This sounds more like actually managing people. However, in a rules-based profession like ours, the first time you wear an American flag thong to work, you could argue that since you weren't a repeat offender, you couldn't be sent home.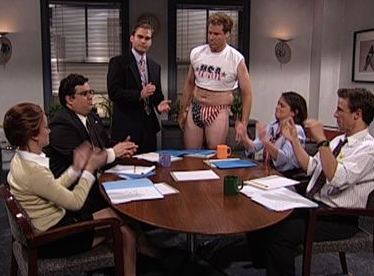 But here's the thing: dress codes are about branding. If your firm's position in the accounting market space is to serve a niche client base, then your brand is best served by dressing like your client base. That means that firms who serve financial service companies need their employees to wear suits – nice suits – to work every day, and firms who serve the tattoo industry need their employees to have visible tattoos, piercings, and drug paraphernalia.
Why is it important to dress the way your client base dresses? Because studies show that the more I think you're like me, the more I'm going to trust you and want to do business with you.
But how you choose to dress is also about your personal brand. Studies also show that beautiful people make more money and are more successful. And there's a really interesting testimonial of a guy who credits the growth of his consulting practice to his wardrobe choices. He transitioned from normal clothes to suits to high-end suits and expensive watches. As he made his way up the clothing pyramid he said, "When I started talking to potential customers, they naturally assumed that I was successful and my services were costly because I was better dressed." How you dress and how your people dress is an indicator of value, a signal of the quality of your work.
Tinder, the "dating" app, hasn't changed us so we now make snap judgments based on appearance. It's just allowed everybody to openly acknowledge that we all make snap judgments based on appearance. Emily Burns Perryman, who had a regular blog for Accounting Today called "Fashion & Finance," says, "I hate to judge a book by its cover or 'fashion shame' anyone, but in the business world, the reality is that people can judge your professionalism and your first impression can be heavily influenced by your outward appearance."
I think it's easy for us to think that what we wear has no bearing on the value we deliver, but if you look like crap, it can undermine our customers' perception of the quality of your work. And whether we like it or not, wardrobe, is a significant component of delivering a positive customer experience.
Greg was born in Akron, Ohio, in the shadow of the Firestone tire factory. He began to swim competitively when he was eight, swimming for the Mountlake Terrace Lemmings. He graduated in 1995 from the University of Washington with a math degree. He chose math for the ladies. After serving ten-years as an 8th grade math teacher, he decided it was time for a career change, mainly because he "couldn't stand those little bastards." He began his accounting career with a local CPA firm in Orem, Utah, where he consistently failed the QuickBooks ProAdvisor advanced certification exam. Greg currently works as the Controller for the Utah Valley Physicians Plaza. He lives in Provo, Utah, with his wife and two kids. He enjoys eating maple bars, drinking Diet Pepsi, and swearing.