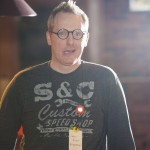 I was excited to share Thriveal's vision for 2016 in our annual Family Meeting a couple of weeks ago.
You can watch the recording of our Family Meeting below if you missed it: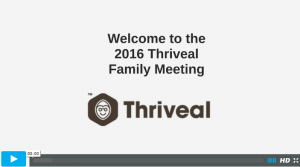 We have a leadership team in Thriveal now. This means we are able to make our visions much larger, because smarter people are attempting to pull them off. Have you ever wondered what we do at Thriveal? Here it is…
Thriveal helps firms of all sizes build great companies, and enjoy the lifestyle of being a creative entrepreneur while transforming their clients.
This year, we are offering new educational initiatives through our Academy division led by
Joy Lizotte, CPA
. Thriveal's Academy is where we equip entrepreneurial accounting firm leaders to grow their firms, add new value to their clients, and make more money. Below is a highlight of some of the new things that will be happening in the Thriveal Academy this coming year.
Thriveal Meetups
This is something we've heard Thriveal firm members are anxious to start. Some have even started these on their own. Joy Lizotte and I will be visiting 3 to 4 sites in the US in 2016 to lead a one day Meetup, where 8 to 10 Thriveal members will come together to do work on their firms. There will be some sessions on
Thinking Big
and
Strategic Planning
, but a lot of the Meetup will center around members working with each other to build the firm they want. This is for Thriveal members only, and costs $75 per attendee. Not a member of Thriveal?
Join here!
Future Firm Summit
We will be assembling the smartest, most innovative leaders in the accounting industry for two full days in Chicago in late May of 2016. Just being in the same room with these firm leaders will increase your ability to exponentially grow your firm, create new value, and make more money. There will be times of direct instruction, but a lot of the Summit will be led by the attendees, as well as required discussion from everyone. This event is $1,700 to send up to 3 owners/leaders from the same firm to come and experience the challenge of exponentially growing their firm.
The Summit is invite only
, but you do NOT have to be in Thriveal to attend. You can 
request to be invited here
.
Thriveal Workshops
We are offering 2 hour workshops, which are more in depth than our typical online education. There will be pre-work to be completed before each workshop, as well as a follow up meeting to keep everyone accountable to the goals they are setting in each workshop. You will be able to grow your firm based on what you'll learn in the Thriveal Workshops. Anyone can attend workshops, and they are priced at $125 for members, and $250 for NON-members. Here are the topics we are working on for 2016:
Behavioral Economics: Theory and Application by Jason Blumer. This is a follow up to the 2015 Deeper Weekend, and will be based on some teaching Ron Baker provided at our conference. Topics like how to price, and why clients make decisions will be discussed.
The Power of Full Engagement by Brandon Simpson. Brandon Simpson taught this topic at the 2015 Deeper Weekend, and it became a favorite of the attendees, so we're bringing it to everyone. It's based on the book The Power of Full Engagement by Jim Loehr and Tony Schwartz.
How to Sell Coaching by Joy Lizotte. Clarifying what coaching is, and making it a part of your firm's services can really contribute to transforming clients, while helping the firm make more money. Joy sells coaching to her clients, and now she is going to teach you how to do it too.
Communicating with Your Team and Partners by Melinda Guilemette, Thriveal's Community Coach. Communication is the foundation to becoming a great firm, and Melinda is going to challenge us to make this a skill in our firms as we interact with our partners, and our team.
How to Build a Publishing Culture in Your Firm by Caleb Newquist and Brian Swanson of Flashpoint Marketing. Together, they will help you understand content creation, and how this affects your firm's thought leadership.
Certificate in Accounting Firm Entrepreneurship
We are offering so much entrepreneurial education in 2016 that if you receive 40 hours of education from the Thriveal Academy in 2016, you will receive a Certificate in Accounting Firm Entrepreneurship. You do not have to be a member of Thriveal to receive this Certificate, by all education and CPE must be provided by Thriveal. You will probably need to attend
Thriveal's Deeper Weekend
in order to meet the requirements of 40 hours of education, so make sure you sign up for Deeper Weekend once the site is live.
Are you ready to boost your entrepreneurial abilities with Thriveal in 2016, change your firm, and make more money? Sign up for our email list so we can tell you when all of our new educational opportunities go live.