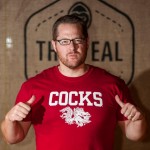 I don't do CrossFit. I work out at home. In my garage. Alone. Partly because I'm an antisocial bastard. Partly because I'm cheap. Partly because it's convenient. But mostly so I can watch TV with the sound on.
Last Tuesday while I was doing dumbbell lunges¹, I caught this segment of The Daily Show.
In it Trevor Noah talks about the Uberization of different service industries, also known as "the gig economy." According to The Daily Show, the following actually exist: the Uber of healthcare, the Uber of tailors, the Uber of massages, and the Uber of live chicken rentals.
So I had to ask myself, is it possible to Uberfy the accounting profession? And what objectives would have to be met to achieve full Uberfication?
Objective No. 1 of Uberfication:
Deploy technology to match a client with an accountant in a timely fashion based on the expertise of the accountant and the needs of the client.
This seems very possible, maybe even inevitable. But the major assumption here seems to be that clients will actually know what they need. Uber customers know that they need a ride from the exact place where they are currently standing to the exact place they want to be standing. People who are seeking accounting services often have no clue where they are or where they need to go. If someone wants to Uberize accounting, they will fail unless they develop an effective onboarding process for clients.
They will also have to vet the accountants to make sure that they have the competence and expertise to really do the work. Uber isn't going to send a kid on a skateboard to get you to the airport, and the Uber of the accounting profession isn't going to send an EA on a skateboard to do a PCAOB-compliant audit.
It's a challenge, but it's not impossible.
Objective No. 2 of Uberfication:
Implement surge pricing.
For Uber, when drivers are scarce, and demand is high, prices go up. Regardless of Uberfication, the accounting profession needs to adjust its pricing to match the variations of supply and demand. As I said in my Definitive Guide on When and How to Gouge Your Clients:
Accountants in general suck at adjusting prices when supply is low. Firms that bill by the hour basically remove the possibility of adjusting their pricing. But even firms that use fixed price agreements seldom adjust their pricing based on capacity. But we're idiots if we don't. For instance, if a client finally gets all their tax info to you on April 13, you should be charging them more than the client who gets it all in by February 1.
This one also seems possible.
Objective No. 3 of Uberization:
Create an effective rating system for both clients and accountants.
With Uber, passengers rate drivers, and drivers rate passengers. If a driver's rating slips below a certain amount, they get booted out of Uber. If your passenger rating slips below a certain amount, you may find it difficult to get a lift.
Remember what our Glorious Leader Ron Baker (peace be upon him) says, "You're only as good as your customer list." We're supposed to be rating our clients, and we're supposed to be booting them out of our firm if they suck. What if customer ratings were shared among firms? You may be able to price for the difficulty of the client, or they may not be able to get their financial statements reviewed, or maybe they'll start being decent human beings. Regardless, an effective rating system would be very valuable for both the service provider and for the consumer of the service.
And this already exists. Kind of. Many firms use the Net Promoter Score to figure out if they suck or not, but the information isn't generally shared with clients. And many firms grade their clients, but that info isn't shared with other firms. Once someone figures out a way to make these ratings public (or semi-public), then this Uberfication objective is complete.
There are, however, some real obstacles to Uberization. Several businesses have popped up attempting to Uberficate legal services, and Above the Law identified some of their shortcomings. The biggest one is that "people like to have a personal connection to the lawyer they're hiring and like to sit down with them face-to-face before coming to terms." The same is true for accountants. Most people will need to see more than a five-star rating to trust you with their finances. Providing that personal connection will be the difference between the people who actually make the Uber of accounting and the people who try to make the Uber of accounting but instead wind up making the Tinder of accounting.
Another question that comes up when contemplating Uberfication isn't just can it happen, but should it happen?
Does Uberization imply commoditization? If so, I don't want to be part of it.
There is one company called CountUp that is attempting to launch an "on-demand CPA marketplace," specifically the Uber of accounting. I can't say I'm not skeptical, but on the other hand it could become an effective parachute for future cliff jumpers.
¹ A dumbbell lunge is a sudden forward thrust of the body toward a stupid person.
Greg was born in Akron, Ohio, in the shadow of the Firestone tire factory. He began to swim competitively when he was eight, swimming for the Mountlake Terrace Lemmings. He graduated in 1995 from the University of Washington with a math degree. He chose math for the ladies. After serving ten-years as an 8th grade math teacher, he decided it was time for a career change, mainly because he "couldn't stand those little bastards." He began his accounting career with a local CPA firm in Orem, Utah, where he consistently failed the QuickBooks ProAdvisor advanced certification exam. Greg currently works as the Controller for the Utah Valley Physicians Plaza. He lives in Provo, Utah, with his wife and two kids. He enjoys eating maple bars, drinking Diet Pepsi, and swearing.