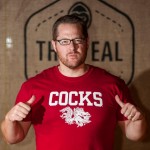 Last month, I saw something that torqued my brain while I was driving to Cinnabon. Why was I headed to Cinnabon? Great question, Inspector General. I needed a four-pack to realize my lifelong dream of eating several Cinnabon Classic Rolls in my underpants during a movie marathon.
The day was lining up nicely for dream fulfillment. I had the house to myself for most of the day, so I wouldn't have to share my cinnamon rolls because screw that. I procured the movies This Is Where I Leave You, While We're Young, and The Family Man because I didn't just want to eat cinnamon rolls in my underpants, I wanted to cry while eating cinnamon rolls in my underpants. And on that particular day, my mindset was just right: I felt inclined to actively reach for my dreams while simultaneously feeling comfortable with the prospect of type two diabetes.
On my way to the mall (because Cinnabon is no longer just in airports), I was waiting at a red light, heading east, and in the left-hand turn lane (turning southbound to eastbound) there was a cop and a car that had either broken down or run out of gas (see Figure 1). Once the cop and the shitty car owner got their green arrow, the cop started pushing the car through the intersection while the car owner steered.
And that's when he came along.
He had been standing on the northwest corner of the intersection with a cardboard sign that said, "Homeless with 2 kids to feed," or something that sounded bullshitty like that. But he put down his sign ran out into the intersection and got hit full speed by a garbage truck.
No. That didn't happen, but if I was making a movie, I'd totally put that in.
He ran into the intersection and helped the cop push the car. It was totally no big deal, but at the same time, it was totally a big deal.
Like a lot of you, I don't ever give to panhandlers because I assume they're scamming me and because none of them are ever set up as a 501(c)(3). But this guy, by doing something that didn't conform to my preconception of panhandler behavior, made me trust him and made me want to give him some cash. (Please note: I didn't actually give him any money because it's logistically impossible for an eastbound driver to hand money to a panhandler stationed on the northwest corner. Location, location, location.)
People have preconceptions about panhandlers, and they have preconceptions about accountants. And when we can break those preconceived molds, people suddenly want to engage with us.
I'm not talking about customer service here, although that's clearly one way you can break molds and break brains. Our customers are comparing our customer service against every other customer service experience they've ever had, from an Arco gas station to The Four Seasons Hotel. If they expect Arco and you give them Four Seasons, you'll break the mold and break their brains and win advocates. Ron Baker does a great job unpacking this in one of his books. I can't remember which book because they're all pretty much the same.
By breaking molds, you're standing out because you're doing the unexpected. But I'm not talking about a gimmick. It's not a gimmick if it's authentic. That panhandler didn't contrive a busted-down car and a cop in order to boost his panhandling revenue. The dude saw somebody who could use some help, and his authentic response was to help.
This isn't expectations management, either; although that's very important, too. Expectations management is where you promise a level of service fully intending to exceed it. When the host at Cheesecake Factory tells me it's going to be a 75-minute wait, and then seats me in 50 minutes, I think they're great. If she tells me it's going to take 20 minutes and I have to wait 45 minutes, I'm ready to create a Yelp account just so I can give them an online nutpunch. Effective expectations management is good, maybe even essential, but I'm talking about something different here.
You need to look for ways to express yourself to the world that is (A) authentic and (B) clashes with the world's stereotypes of accountants.
This is playing Beastie Boys for hold music because you think the Beastie Boys are rad.
This is having an X-Box set up in your lobby so the receptionist can play Assassin's Creed IV with clients while they wait because you and your staff are gamers.
This is artfully using the word "bullshitty" in a conversation with a client or in a blog post because you enjoy the artful use of profanity.
When you break molds and break brains through authenticity, you become both intriguing and accessible. And it brings the added benefit of weeding out crappy customers. If somebody won't do business with you because of the Beastie Boys, Assassin's Creed IV, or the word bullshitty, then pursuing them as a client would be kind of bullshitty.
Greg was born in Akron, Ohio, in the shadow of the Firestone tire factory. He began to swim competitively when he was eight, swimming for the Mountlake Terrace Lemmings. He graduated in 1995 from the University of Washington with a math degree. He chose math for the ladies. After serving ten-years as an 8th grade math teacher, he decided it was time for a career change, mainly because he "couldn't stand those little bastards." He began his accounting career with a local CPA firm in Orem, Utah, where he consistently failed the QuickBooks ProAdvisor advanced certification exam. Greg currently works as the Controller for the Utah Valley Physicians Plaza. He lives in Provo, Utah, with his wife and two kids. He enjoys eating maple bars, drinking Diet Pepsi, and swearing.