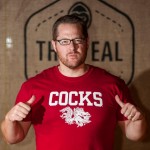 To celebrate the Fourth of July, I went to a Salt Lake Bees baseball game with a bunch of my comedian friends. Here's a pro tip: If you take your kids to a baseball game, try to not sit near a group of comedians. I'm just saying that when we got there, there was a family with children sitting in front of us and another sitting behind us, and after Andy Gold explained under what circumstances he would and would not hook up with a transsexual, there were no families with children sitting in front of us or behind us.
Now I'm not much of a sports guy, especially not a baseball guy. I went to the game to hang out with friends and to watch the postgame fireworks show. Baseball just happened to be going on in the periphery of my Independence Day celebration. But we had decent seats for the game that I wasn't interested in, and our tickets cost $17 each.
The game started at 6:30, but since most baseball games last for 17 hours, I felt like it wasn't a horrible decision to show up 20 minutes late.
It was a horrible decision to show up 20 minutes late.
I was unaware that the Fourth of July game is the best attended game of the year, and I was also unaware of how ridiculously inadequate parking is at Smith's Ballpark¹ because 20 minutes after the first pitch, there was no parking left. Nothing.
After a 15-minute search, I finally found a pudgy middle-aged man in a reflective vest waving an orange flag for a dirt-and-gravel parking lot, and in front of him there was a sign that read, "$15 Parking."
I wasn't thrilled that parking was going to cost almost as much as my ticket, but I understand supply and demand, and my only alternative was to waste a bunch of time looking for other parking options which may or may not have actually existed and may or may not have cost any less.
So I willingly chose 20-minute-late $15 parking.
I pulled up to the parking lot attendant who looked like Cliff from Cheers with Norm's body, and he said, "That'll be twenty dollars."
"What?! Your sign says $15."
"The sign's wrong," he said in a way that somehow made me feel stupid. "It's $20."
I considered protesting, but I knew I had no other options, so I paid the $20, and I got one of their last parking spaces.
On my walk from my car to the game, I saw the sign for the official Smith's Ballpark parking lot. Obviously the lot had been full for quite a while, but apparently parking for the punctual is only $6, if you could get it.
Accountants in general suck at adjusting our prices at times when supply is low. Firms that bill by the hour basically remove the possibility of adjusting their pricing. But even firms that use fixed price agreements seldom adjust their pricing based on their capacity. But we're idiots if we don't.
For instance, if a client finally gets all their tax info to you on April 13, you should be charging them more than the client who gets it all in by February 1.
And we know this. We were formally educated on supply and demand, but we just don't do it, which is weird because we're trusted business advisors who don't apply simple economic principles to our own businesses. In my opinion, we need to be at least as good at pricing as a parking lot attendant.
However, unlike parking lot guy, we have an ongoing relationship with our clients that we can't jeopardize by being dicks, and the dick-antidote is communication. But that's not breaking news either. All good pricing depends on intentional and effective communication. In order to properly price your customer, you need to know what your customer needs and values. And for them to have a good experience, they need to understand how much it's going to cost them to get it.
Don't tell a client that their return is going to cost $600, and then when they finally give you their W-2 at 2:30 on April 15 tell him the price went up. Let them know up front how supply drives your price and give them the tools to easily navigate your pricing structure.
So it's not okay to gouge your customers, but it's perfectly fine for them to make active choices whereby, in effect, they gouge themselves.
¹Just to clarify, the stadium is named after the grocery store chain, not the Mormon prophet.
Greg was born in Akron, Ohio, in the shadow of the Firestone tire factory. He began to swim competitively when he was eight, swimming for the Mountlake Terrace Lemmings. He graduated in 1995 from the University of Washington with a math degree. He chose math for the ladies. After serving ten-years as an 8th grade math teacher, he decided it was time for a career change, mainly because he "couldn't stand those little bastards." He began his accounting career with a local CPA firm in Orem, Utah, where he consistently failed the QuickBooks ProAdvisor advanced certification exam. Greg currently works as the Controller for the Utah Valley Physicians Plaza. He lives in Provo, Utah, with his wife and two kids. He enjoys eating maple bars, drinking Diet Pepsi, and swearing.