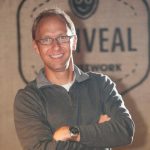 Each time another book review blog post comes around, I look back at the books I've read over the past couple of months and I reflect on which book impacted me the most. There have been several books that have met this criterion, but I honestly feel like this audience has already embraced the major concepts in the books. Books such as So Good They Can't Ignore You (Cal Newport) and Influence, The Psychology of Persuasion (Robert Cialdini) were great, but again they deal with concepts like developing a rare and valuable skill (hone your craft) and understanding decision making biases and what influences them. These are ideas that our readers are well versed in.
However, this past quarter I also took part in my fourth annual reading of Healing Leadership (Geske & Hansen) . This book has shaped me more in the past several years than any other. I briefly shared a concept from Healing Leadership during our 6 minute TED Talks at #DW13 (Deeper Weekend 2013). Let me try to introduce these insightful thinkers to you.
A summary of the book as written by Edwin H. Friedman in A Failure of Nerve: Leadership in the Age of the Quick Fix.
The colossal misunderstanding of our time is the assumption that insight will work with people who are unmotivated to change. If you want your child, spouse, client, or boss to shape up, stay connected while changing yourself rather than trying to fix them.
This is a book about what To Be and less about what To Do. Leadership is an emotional process. Many times we will hear of great leaders described as inspiring, motivational, passionate, or compelling. These are not "bad" in and of themselves, and many of us would like these words to be used to describe ourselves as leaders. In fact, well timed moments of inspiration and motivation can be a great thing. However when these emotional processes are the norm in a leadership system, rational processing is suppressed and stress and anxiety are increased. The authors challenge this emotional system or idea of choosing a leadership style with a "way of being." This way of being is expressed in an Energy Management Model.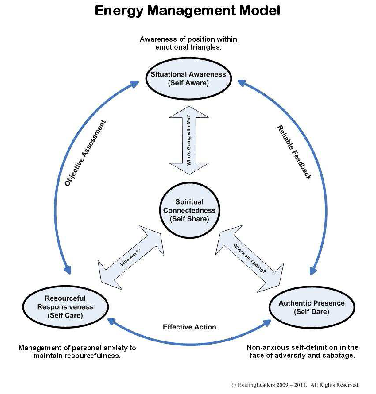 Self-Care – the preservation of one's physical, mental, emotional, and spiritual integrity
We are to get out of the business of needing others to change
Chronic v. Episodic Anxiety – this is such an important concept to understand… "lowering your anxiety increases your creativity" (Ron Baker #DW11)
Self-Dare – the authentic expression of oneself in life and the investment of energy as we seek to make a difference in the world (our personal mission)
Instead of focusing on mission statements or business plans, leaders should focus on the process of defining one's self and in telegraphing our values, direction, and intensions to others so they can make their choices as to whether they want to follow (come with you) or not (pg 48)
Self-Aware – the preservation of self in relation to others
No one can change another human being for more than about a week… when it comes to human behavior, what you oppose, you empower. You cannot change a human being, but you can influence the environment which increases the likelihood of them making the desired change happen.
Emotional Triangles – understanding that relationships always occur in threes. There is too much anxiety between any two people, and a third party (person or idea or thing) is always brought in as a safety valve in order to handle the anxiety between the other two. [this is such a key idea to grasp and understand]
Self-Share – the realization that we share a connection to all things
Look for 'challenge groups' rather than 'support groups'
There is so much in this Energy Management Model to unpack and it is fundamental to the leader's "way of being." As you adopt the four dimensions of the Energy Management Model, there are 3 Questions of Life that are to be addressed and the order of each question is important.
1. Who am I?
Navigate the forces of the herding instinct (togetherness and anxiety) and individualization (separateness and maturity).
2. Where am I going?
Three aspects of our life-calling (skills, passions, service)
3. Who will go with me?
Building tolerance for the pain of others
Building tolerance for our own solitude
While these 3 Questions are important to address in sequence, they likely will take a lifetime to answer. This means that the process and pursuit of answering these questions is part of our calling toward healthy leadership.
This book is unlike any other business or leadership book that you have read. You will be asked to consider aspects about yourself and how you see the world. There are many books that give us the latest ideas in bringing out the best in ourselves or how we can use different approaches for getting what we want. This is not a "how-to" manual, and will challenge how you live out your days as a leader. I have only the highest of recommendations to pick up this book and absorb the ideas and concepts of this incredibly valuable resource.
Scott is one part of a team of individuals that make up Kregel & Company. We change people's lives by coming alongside those in their pursuit of doing good. At our core, we are givers looking to give opportunity, peace of mind and inspiration to small businesses and their owners. We help starters and established companies with practical accounting and tax consulting and compliance solutions. Whether you are looking to move your business accounting to the cloud, need ongoing bookkeeping support or desire strategic tax, financial and operational planning, Kregel & Company CPA will provide innovative solutions to save on taxes, prevent costly mistakes and free up your valuable time to run your business. We specialize in working with Creatives… those that use their minds to make a living, and the leaders of those small businesses. You could be a medical practitioner, a professional services firm, or a construction industry professional. Working together, we look to enrich the lives of our customers so that they are better off through their relationship with us.