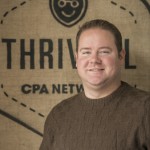 "The day you sign a client is the day you start losing them." – Roger Sterling, Mad Men
Losing a client isn't something we like to think about, but in the end it's unavoidable. It can be stressful or painful; it can even be a relief. Regardless, you need to be prepared for this. The reasons behind a client's decision to leave are myriad. Life happens. Clients can move or retire, but more often than not clients leave because they weren't getting the level of service they desired.
In the early days of the cliff jumping experience, we're all in builder mode. With each passing day we try to add more clients and replace that old paycheck. So when a client leaves it can seem like getting blindsided. Just when a clear trajectory was unfolding before your eyes, you start to stall out.
I was once told building a CPA firm is like building a house; you do it one brick at a time. If that's true, then losing a client is like finding a crack in your foundation. What we do after we see the crack will dictate if we can keep building.
I am only a few months into my own practice and I have already lost clients. It's only a matter of time, but here are a few words of advice for when it happens:
Don't panic. The first time you hear that a client is moving on, it can be devastating – emotionally and financially. Like with any break up, it likely won't be your last. So don't let this shake you to the core. A stumble is fine, but don't fall down. Keep moving.
Review what went wrong. As I pointed out, it may have been something you did or didn't do that caused this separation. If it's on you (and it might be, we are human after all) determine what led to this and take corrective action. If you understand the problem, you can avoid it next time.
Make sure it doesn't happen again. Some clients are willing to let you slip up once, but they won't take kindly to it if you make a habit out of it. Show them the respect you promised upfront and they will stay with you.
Roger's advice might sound negative at first, but ultimately people are going to come and go from our lives all the time. Clients, employees, even business partners can all have a shelf life. All we can do is serve them to the best of our abilities until it's time for them to move on.
Bryan is a recent cliff jumper looking forward to running a firm his own way.  He aims to catalog his experiences here for future generations of cliff jumpers to learn from. Starting in January 2015, he will also be the Visiting Instructor in Accounting at Assumption College located in Worcester, MA. Bryan is also the co-host of a new podcast, Ctrl Alterego, which follows the saga of two new businesses in different stages of development.  He has joined forces with Barrett Young of The Green Abacus for this adventure. Follow along atwww.ctrlalterego.com.