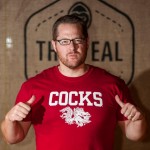 "Live a life worth commenting on." – Pete Holmes
Science fairs suck. They've always sucked, and they suck even more now than when we were in school. Because the Internet. No elementary school kids are asking real science questions that they really want real answers to. Kids come home with a list of requirements, and parents Google the cheapest, fastest, and least-lame way to help their kid get an A.
But this year at my house, science fair did not suck because my daughter is awesome. She asked a real science question that she wanted a real answer to: How long does it take for an egg to blow up in the microwave? This like all great science fair projects was inspired by America's Funniest Home Videos. And we got more science learning done than we bargained for because we also discovered how many eggs it takes to blow up a microwave.
That's right. My daughter successfully created an improvised explosive device out of a chicken egg and used it to take out our over-the-range microwave. Seriously, check out this 27-second video to witness the carnage.
It cost $315 to replace the microwave, making this our most expensive science project by about 30 times. My daughter, Kylee, didn't place in the science fair or even get an honorable mention. Just last week, I asked her what grade she got, and she didn't really remember. She thinks she got an A.
But here's the thing: I don't care how much it cost or what grade she got because it was the best damn science project ever. It was the best because we were living a life worth commenting on.
The very fact that we were blowing shit up made this a commentable experience. The fact that we ended up destroying an appliance and nearly knocking out my daughter's best friend made it an epic tale in the annals of our family history.
We didn't win the science fair, but then again we did, using our definition of success, not the idea of success that was imposed by the Man.
What if you ran your business like that? What if you ran your firm in a manner that was worth commenting on?
Think about it for a minute. What could you do that would get your firm on the cover of Wired? Now go do that.
Yeah, I know. You've got to put food on the table. And my kid has to pass the sixth grade. I'm not saying you should light your cash on fire and show up to work with no pants. I'm just saying that if you think it would be an awesome way to run your business, you should show up to work with no pants.
Having a good idea isn't worth commenting on. A good idea is worth vetting. It's worth exposing to public scrutiny. But until you act on your good idea, you're just a chicken with a good idea.
Copying isn't worth commenting on. Achieving benchmarks isn't worth commenting on. Doing things simply because you think it's expected isn't worth commenting on.
Sacrifice is worth commenting on. Risk is worth commenting on. Experiments, especially experiments gone wrong, are worth commenting on.
Life rewards action. Pull the trigger.
Greg was born in Akron, Ohio, in the shadow of the Firestone tire factory. He began to swim competitively when he was eight, swimming for the Mountlake Terrace Lemmings. He graduated in 1995 from the University of Washington with a math degree. He chose math for the ladies. After serving ten-years as an 8th grade math teacher, he decided it was time for a career change, mainly because he "couldn't stand those little bastards." He began his accounting career with a local CPA firm in Orem, Utah, where he consistently failed the QuickBooks ProAdvisor advanced certification exam. Greg currently works as the Controller for the Utah Valley Physicians Plaza. He lives in Provo, Utah, with his wife and two kids. He enjoys eating maple bars, drinking Diet Pepsi, and swearing.