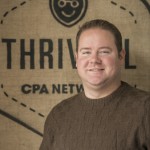 Once you've leapt off the cliff, you have to adjust to the sensation of free fall. Like any good rollercoaster, the majority of the fear that you feel is in the moments leading up to that first huge plunge. After the drop, the feeling is exhilarating, but it's all too easy to get lulled into a false sense of security.
I definitely felt a lot of excitement knowing that I was officially self-employed. All I wanted to do was go on the road show and share the news with everyone. I do think that this is a necessary first step. Part of any good marketing campaign is getting a buzz out there, but that's not your only job. In fact, now you have EVERY job.
It can become very hard to keep your eye on the prize. Here are a few things that I learned in the first month of being on my own:
Don't lose sight of deliverables.
If you're a one man (or woman) show now, it's perilously easy to get side tracked. You're doing all the business development, back office admin, and actually performing the work. I have lists for just about everything: office equipment I need to buy, people to get in touch with, and books to read. All of this background noise can make it easy to lose sight of the projects that actually pay you. This leads me to the next point.
Get a system in place.
Now that you're running your own business full-time, you're going to have more projects than ever. You need a way to keep track of these and the old steel trap memory just isn't going to cut it. It can quickly become too many irons in the fire and the lack of a real system can lead to problems. I should know.
This is something that happened to me just the other day. An email landed in my inbox adding a small task to my "to do" list. It was at this point that my stomach dropped. It wasn't that this was a difficult task. It was something rather easy. The problem was that with all the excitement of the holidays and jumping off the cliff, this ENTIRE project wasn't even on my radar. And it was due in only TWO days. Fortunately, I pulled it off, but it was a photo finish.
Don't let this happen to you. Put a system in place. I don't care if it's Basecamp or Podio or something entirely different. Pick something that you'll use and that won't let you forget what you need to do. As my friend Barrett Young said recently, "If you don't do it, it's not going to get done."
Find a way to anchor yourself.
Lastly, I found keeping a normal schedule to be quite hard at first. I'm not saying you have to work 9 to 5. It's one of the benefits of owning your own business, but when your clients and referral sources do – it helps to be in the same ball park. Left to my own devices, I would easily revert back to a schedule reminiscent of college days: going to bed at 2AM, waking up at 10AM, if not later. To counter this, I tried to anchor myself a little – a morning networking group, regular coffee meetings, etc. Try to pick something you can't easily get out of or else you might start making excuses.
I think my biggest take away from this first month was that it was time to get my act together.
Bryan is a recent cliff jumper looking forward to running a firm his own way.  He aims to catalog his experiences here for future generations of cliff jumpers to learn from. Starting in January 2015, he will also be the Visiting Instructor in Accounting at Assumption College located in Worcester, MA. Bryan is also the co-host of a new podcast, Ctrl Alterego, which follows the saga of two new businesses in different stages of development.  He has joined forces with Barrett Young of The Green Abacus for this adventure. Follow along atwww.ctrlalterego.com.