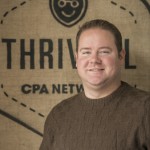 That's what I really wish someone would've told me.
"Jumping the cliff" is our euphemism in Thriveal for quitting your day job and going out on your own.  It's a scary proposition.  When you jump, you're in free fall and rock bottom is staring you right in the face.
I felt the ground was coming faster than my wings could flap, so I prolonged the jump. In the name of "preparing" myself, I did a lot to avoid the plunge.  Looking back on it now, I can see a few trends:
1. I spent way too much time thinking. I would spend hours researching the kinds of cutting-edge technology I wanted to use. I think Bill.com is the fanciest thing I ended up using consistently. I also spent too much time asking for and compiling the names of business books that I wanted to read that would give me an edge when I jumped. Sure, I read some. I'm not saying reading is a bad idea, but I'm not even sure I made it a third of the way through my list. Maybe 25%.
2. I tried to reassure myself too much. I frequently sought out business owners to hear their success stories. Now, I'm a big fan of networking with the right people. In fact, all of my business is from referrals, but I was doing this for the wrong reason. I wasn't trying to get the word out about my top notch service offerings or how great my firm was going to be. I was looking for peace of mind in hearing that they leapt and survived.
3. Lastly, and most vainly, I worried too much about image. In fact, I didn't even think I could get off the ground without a cool logo or flashy website. Who could respect me if I wasn't the next Nike swoosh? I would think about that finely designed stationary with my business on it or how I'd nail my introduction at a party as a "business owner."
While it is a good idea to have some kind of a game plan as you approach the edge of the cliff, you really just need to jump. As you get into it, you realize that you develop way more new business from doing good work than you ever will from having the perfect logo.
In the world of accounting, these clients are hiring you, not your website.  As much as it makes you feel good, your well-manicured email signature didn't seal the deal, especially this early on.  People running their own businesses have a lot on their plates.  Accounting, tax returns, even basic understanding of financials aren't necessarily high on their list. It might even be getting in their way.  They are hiring you to relieve a headache.
You are their aspirin. You. Not that freshly-minted business card burning a hole in your pocket.
So stop looking for an excuse and just jump already. There will always be one more book to read or one more person to talk to. You need to get out there and do some work.
Now that I've done it, I can't believe it took me so long.
Bryan is a recent cliff jumper looking forward to running a firm his own way.  He aims to catalog his experiences here for future generations of cliff jumpers to learn from. Starting in January 2015, he will also be the Visiting Instructor in Accounting at Assumption College located in Worcester, MA. Bryan is also the co-host of a new podcast, Ctrl Alterego, which follows the saga of two new businesses in different stages of development.  He has joined forces with Barrett Young of The Green Abacus for this adventure. Follow along at www.ctrlalterego.com.