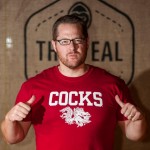 An advertising agency in Minneapolis is bribing its employees with beer to get them to turn in their timesheets. This officially puts time tracking on the same level as having unprotected sex — many people only do it when beer is involved.
The firm enacted the program by developing The Tapserver, a beer-for-timesheets robot. The Tapserver asks employees to scan their keycard, verifies that the worker's time sheet has been completed, and rewards the employee with his or her choice of beer from the machine's "multi-keg beer deployment system." The Tapserver's software was written to tie seamlessly with the company's timekeeping application.
The agency, Colle + McVoy, reports that timesheet completion has improved by 90% since the beer-for-timesheets initiative was launched, which is very impressive.¹
Let's say timesheet completion was at 60% BB.² That's a solid D-. Since 90% of 60% is 54%, a 90% increase would put them at 114% AC,³ and the laws of mathematics would require a write down.
If timesheet completion was 52.63% BB, a 90% increase would put them at exactly 100% AC, but then the article would've reported that beer is the magic timesheet-completion elixir that partners have been looking for since the first billable hour.
The more interesting story here is that employers are beginning to recognize that drinking on the job is an appropriate way to cope with hourly billing.
What's also awesome is the amount of non-billable work that is required to maintain the billable-hour work environment, including but not limited to:
Tracking and calculating baseline timesheet completion rates
Brainstorming ideas to increase timesheet completion rates
Listening to people tell you how stupid the beer-for-timesheets robot idea sounds
Listening to HR tell you how risky the beer-for-timesheets idea sounds
Reducing the risk implicit in the beer-for-timesheets idea by confirming in some non-illegal way that the company doesn't currently employ any Mormons or Muslims
Listening to HR's new diversification plan to increase the company's employment of Mormons and Muslims
Meeting with robotics engineers to explain your beer-for-timesheets robot
Listening to robotics engineers tell you how awesome your beer-for-timesheets robot idea sounds
Wondering if the robotics engineers were just saying that because you're going to pay them lots of money to make a beer-for-timesheets robot
Listening to employees tell you that your choice of beer sucks and that if you really wanted to motivate them, you'd dispense some kind of locally brewed craft beer that tastes like ass
Finding a replacement for Karen, a recovering alcoholic who can no longer work for your company
Tracking and calculating the change in your company's timesheet completion rate
Publishing a press release touting your company's amazing success at spending lots of money to get employees to complete a non-billable task in a billable-hour environment
At Colle + McVoy employees still have to eat time, but now they can wash it down with a PBR.
¹If you suck at math
²Before beer
³After Coors
Greg was born in Akron, Ohio, in the shadow of the Firestone tire factory. He began to swim competitively when he was eight, swimming for the Mountlake Terrace Lemmings. He graduated in 1995 from the University of Washington with a math degree. He chose math for the ladies. After serving ten-years as an 8th grade math teacher, he decided it was time for a career change, mainly because he "couldn't stand those little bastards." He began his accounting career with a local CPA firm in Orem, Utah, where he consistently failed the QuickBooks ProAdvisor advanced certification exam. Greg currently works as the Controller for the Utah Valley Physicians Plaza. He lives in Provo, Utah, with his wife and two kids. He enjoys eating maple bars, drinking Diet Pepsi, and swearing.