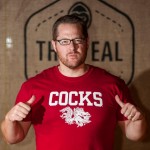 All joking aside, I'm scared, I'm insecure, and I'm worried that I'm making the stupidest decision of my life.
My mom sold drugs for 20 years on a street corner in Seattle because that's what pharmacists do. She had a decent job, working part time at a drug store on the intersection of 56th and 232nd. To me as a kid, the job seemed like it gave her just enough money and just enough time to be a pretty damn good single mom.
Shortly after I got into middle school, she and two of her co-workers¹ decided to open their own pharmacy. I thought that was really cool, only partly because I figured the kid whose mom owned the drug store got candy for free.²
But within two years, her partnership was in the toilet, she was in trouble with the IRS (because one of those partners wasn't remitting payroll taxes), and she got sued for $75,000 (which in 1987 was worth like 100,000,000 Venezuelan pesos in what Venezuelan pesos are expected to be worth in 2028).
She was putting in over 80 hours per week. No vacation days. No sick days. But things started to turn around after about five years, right before some jackass burned the store to the ground. Apparently someone in the community forgot to refill his anti-arson medication.
My mom spent the next five years working everyday to build up her business to the point where she could pay off the business's debts, lock the doors, and walk away honorably. She was hoping to sell her business, but the mid-nineties marked the demise of the independent drug store, so nobody was buying.
I didn't have front row seats to entrepreneurial tragedy. I was in the cast. (I started working at the pharmacy when I was 14.) And I promised myself that I'd never do anything as stupid as going into business for myself.
I was born in Akron, Ohio, because my dad worked at a rubber factory. Not Trojan. BF Goodrich.
When I was in 6th grade, he was hired as the GM for the Pendleton Woolen Mills' plant in Pendleton, Oregon. It was a fantastic job except for the fact that it was in Pendleton, Oregon.
He made great money and had plenty of time off: enough money and time to build two boats. That's right. Your dad built bird houses. My dad built mother****ing boats. The first one was a 27-foot St. Pierre dory, a beautiful wooden boat that he made from scratch. The second was a 29-foot live-aboard that he built using the reclaimed fiberglass hull of a Chris Craft.
My dad was passionate about boat building. So passionate that after building two boats for himself, he took some naval architecture classes, quit his lucrative day job and got hired by a boat builder in Tulalip, Washington, to pursue his dream job as a boat builder.
And then he got laid off six months later.
His kick-ass experience and resume made him overqualified for most jobs, and his age made him over-ageified for the rest. Other than a very short stint as an engineer at some kind of rocket factory, he's kept jobs in laundry rooms at various hotels and fitness clubs. Laundry rooms.
So I also got to see what happens to people who pursue their dreams and passions.
Psychology tells us that humans suffer from "loss aversion," that is, people prefer avoiding losses to making gains.
Here's what loss aversion does. Let's say I gave you $100.³ Then I ask if you'd like to wager that $100 on a coin flip: heads – you lose the $100 I just gave you; tails – you win an additional $200. Economically and mathematically, everything says you should take that bet. However, experiments in behavioral psychology show that most people feel good with their $100 and don't play the game.
I'm standing on the threshold of starting my own business (Comedy CPE, launch date May 1, 2015), and everything seems to indicate that I can make good money doing what I love, but the reality of loss aversion is evidenced by the piss in my pants.
But as I sit in my wet trousers, I know that I can't not pursue this dream. Because, if I wuss out, the ghost of what could have been will haunt me for the rest of my life.
¹I spell it with a hyphen because without a hyphen it looks like "cow orkers" which for some reason makes me uncomfortable.
²He didn't.
³You're Welcome.
Greg was born in Akron, Ohio, in the shadow of the Firestone tire factory. He began to swim competitively when he was eight, swimming for the Mountlake Terrace Lemmings. He graduated in 1995 from the University of Washington with a math degree. He chose math for the ladies. After serving ten-years as an 8th grade math teacher, he decided it was time for a career change, mainly because he "couldn't stand those little bastards." He began his accounting career with a local CPA firm in Orem, Utah, where he consistently failed the QuickBooks ProAdvisor advanced certification exam. Greg currently works as the Controller for the Utah Valley Physicians Plaza. He lives in Provo, Utah, with his wife and two kids. He enjoys eating maple bars, drinking Diet Pepsi, and swearing.