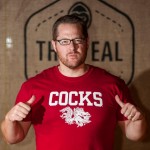 When Jason and I interviewed Cal Newport on the ThriveCast, he called BS on following your passion.
Everybody's been told – and most people believe – that you first find your passion, and then you find a way to make money pursuing that passion.
And we buy it, even though the logic's clearly flawed: I love napping. Always have. Everybody loves a good nap. Some people love napping so much it could be classified as a passion. Despite all that napping passion there are no professional mattress critics. Only semi-pro. And you can't put the kids through college on a one-time $1600 semi-pro mattress critic stipend.
Rather than following your passion, Newport says we should pursue a career in a field that we find interesting. Once in this interesting field, we should develop rare and valuable skills that apply to that field. We then exchange those rare and valuable skills for (a) increased autonomy, (b) increased competence, and (c) increased connection to others. He argues that we develop passion for the things that pay us with autonomy, mastery, and interpersonal connection.
In other words, we become passionate about something (1) when we're awesome at it, (2) when we've got a lot of control over it, and (3) when we consistently give and receive good feelings while doing it.
And I saw that happen in my front yard two weeks ago.
My son's name is Grady. If you're not already familiar with him, he's effing hilarious, and he's obsessed with Legos. (He's not "passionate" about Legos, however. Saying Grady's passionate about Legos is like saying people in Bakersfield are passionate about meth. There's a difference.)
I don't know what he is passionate about. Last year he launched a moderately successful¹ comic book series called "Pizza Man." But he's not passionate about cartooning. He did it for cash. Cash to buy Legos.
Then two weeks ago, Grady, launched his latest business enterprise: streetside fortune cookie sales. He was inspired by an episode of Johnny Test, and he was motivated by an episode (the only episode) of Lego Atlantis.
He diversified a little. He sold fortune cookies for 25¢ each, and Costco cookies for 75¢ each. After only two-and-a-half hours of operating, here's a summary of his financial data:
Gross revenue $23
CEO salary: $23
Beginning inventory: $18
Cost of goods sold: $9
Inventory shrinkage²: $9
Ending inventory: $0
Beginning equity³: $18
Ending equity: $0
But this isn't a story about unconscionable executive compensation or extraordinary losses due to asset misappropriation. It's a story about how people will volunteer for your business when they're psyched about what you're doing.
You see, the same day Grady opened his cookie stand, my daughter, Kylee, had her best friend over for a sleepover. But instead of acting out emotionally and relationally nuanced scenarios with American Girl dolls, my daughter and her friend gladly donated two-and-a-half hours to helping Grady sell cookies.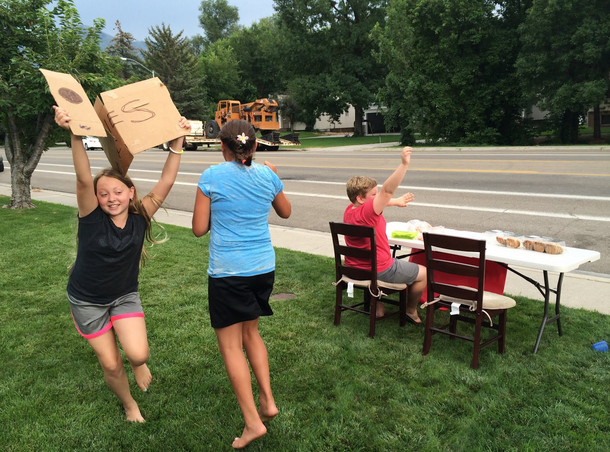 And they didn't just help. They made signs and danced and yelled, "stop and buy a cookie!" at strangers in cars. For two-and-a-half hours. Typically little brothers are big sister repellant, but that Thursday in late July, my daughter and her friend volunteered to be his marketing staff.
Why? What happened? He didn't pay them. Eventually he let them have exactly one cookie each because he's not a total hard ass. But they weren't working for cookies, and they happily continued helping afterwards.
What I believe happened is that they found autonomy, mastery, and connection in the fortune cookie stand. No one asked the girls to do anything or guided them in their marketing efforts. Everything they did was self-directed (autonomy). Previous streetside sales attempts failed miserably. This time they averaged a sale every six-and-a-half minutes (mastery). Additionally the girls got to do it together, and everyone who pulled over caught a little bit of the kids' joy (connection).
The following is 100 percent true – try to prove it wrong: New success breeds enthusiasm. Enthusiasm is contagious. As enthusiasm spreads, it builds momentum.
Once you and your business achieve momentum, you have a few options. You can relax and enjoy the ride, you can work to maintain the momentum you've already achieved, or you can reinvest your momentum by taking new risks which lead to new successes which breeds to new enthusiasm which results in additional momentum.
Do you want to be enthusiastic about your business again? Then take some risks. And when those risks pay off, allow others – employees, customers, everybody – to participate in the success and to catch the joy.
¹For an eight-year-old
²Leaving cookies unattended on the kitchen counter was a material weakness in his internal controls.
³My wife and I are horrible venture capitalists. We contributed cookies for an equity stake in a nine-year-old's business.
Greg was born in Akron, Ohio, in the shadow of the Firestone tire factory. He began to swim competitively when he was eight, swimming for the Mountlake Terrace Lemmings. He graduated in 1995 from the University of Washington with a math degree. He chose math for the ladies. After serving ten-years as an 8th grade math teacher, he decided it was time for a career change, mainly because he "couldn't stand those little bastards." He began his accounting career with a local CPA firm in Orem, Utah, where he consistently failed the QuickBooks ProAdvisor advanced certification exam. Greg currently works as the Controller for the Utah Valley Physicians Plaza. He lives in Provo, Utah, with his wife and two kids. He enjoys eating maple bars, drinking Diet Pepsi, and swearing.