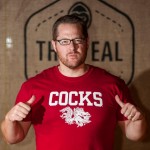 The title of this post is a lie. We'll get to that in a minute.
Actually, we'll get to a lot of crap in a minute. Like why it's maybe not the best idea to post the following status on Facebook:

And also – just a heads up – it's maybe not a good idea to call someone who's close to you and say, "Hey, I need to find a drug dealer, and you're the first person I thought of."
And I didn't even want any drugs. I wanted a business coach. Duh. So on June 14, I posted on the Thriveal Yammer group that I needed help finding a business coach to launch my Comedy CPE business – to take that from my side job to my only job. I assumed the business coach acquisition process had been discussed in great detail in past Yammer threads, and I figured one of the Thriveal Yammer junkies¹ would redirect me there.
Didn't happen.
Not only that, seemed like nobody knew anything about the business coach acquisition process. The only solid lead I got from Yammer was a link to an organization called Strategic Coach.² Looked pretty cool, and even Ron Baker, who's skeptical about the effectiveness of business coaching in general, verified that Strategic Coach was legit.
I started digging into their literature. They do group coaching for business owners, and they break their clients into two cohorts based on business's income. One cohort is for people whose business is kicking out between $100K and $500K per year (after expenses but before taxes), and the other is for people whose business is making them over $500K. Since I only moonlight with Comedy CPE, it's only making about $11,000 per year, and therefore I'm not cool enough to get coached by them. If your business isn't kicking out at least $100K, they won't coach you, probably for the same reason Phil Jackson won't coach the Dixon Middle School Panthers.
The Yam-Store, while being light on actual suggestions for coaches, had two particularly innovative ideas for finding a coach, specifically "craigslist" and "google." So since Google hooked me up with Vietnamese Dongs, I took my search there next.
I can't remember exactly what I googled. Knowing me, it was probably some combination of the words "business", "coach", and "Bruno Mars." The search led me to a site called Noomii, "the web's largest directory of life coaches and business coaches." So I filled out seven input fields on their website describing my coaching goals so that Noomii could match me with "coaches whose experience and background meet [my] particular situation." After putting my responses through their proprietary algorithm, they pulled two business coach referrals right out of their coach hole.
I had two prospective coaches in hand, but that wasn't good enough. Since I envision Comedy CPE as a solopreneur venture, I went back to Google and entered a combination of "solopreneur", "business coach", and "cat chasing laser pointer," and it hooked me up with Larry Keltto of The Solopreneur Life. Larry's not a coach, however. Nor is he a consultant. He's a coachsultant. Kind of like how I'm a comediountant.
Still not feeling as though I had enough applicants, I contacted Amber Setter. We know each other through Going Concern. When we were first getting acquainted, she mentioned that she was a coach. Not only that, she's on the CalCPA Accounting Education committee and gave me a great idea for how to break into the CPE market in California.
And just for fun, I reached out to Jason M. Blumer, too.
With five prospective coaches in my back pocket, I moved on to Step #2: introductory/exploratory coaching sessions with each.
The first Noomii guy didn't seem to totally get what I wanted to do, and I didn't feel a solid connection with him. It seemed like he worked mostly with people in big companies, not one-man startups. But I was impressed with his focus on systems and financial growth. Maybe we didn't click, but do you have to click with your coach? Maybe it's actually advantageous to get a coach with a totally different frame of reference and who needs to be sold on your business idea.
I told the second Noomii coach about my plan to teach comedy continuing education, and her initial response was that business (in general) doesn't support professional education financially. I told her that's good to hear because one thing I want my coach to do is tell me if my business idea is stupid. I think she thought I was offended (I wasn't) and from then on she pretty much told me lots of nice things she thought about me based on our twelve minute relationship, which was probably disingenuous, but I didn't stop her.
I had a really great chat with Larry the Coachsultant. It better have been good because he didn't offer a free introductory session. I had to pay $75 to see if this guy could make all my financial and business dreams come true. He was very encouraging. It was great talking to him. But in the end, he felt more like a paid friend than a coach with a structure and a plan. He was like a friendstitute³. Larry was also the cheapest, and I have to admit that influenced my decision. I don't want a cheap business coach. I want a good business coach, and I assume you're not the best if you charge a third of what everyone else is asking. Plus I don't want my coach to suck at pricing.
Jason never even gave me a practice coaching session. It never got that far. I emailed him about the idea of a coaching relationship, and he replied, "I'm not sure I should coach you. You feel more like a friend than a client." That was an unexpected and weird and insightful response. I was a competitive swimmer for about ten years. I had lots of coaches. Some I considered friends, but none were primarily friends. Something about coaching seems to require a certain amount of relational distance from the person being coached. I want my coach to be effective at helping me achieve my objectives, and I don't want his or her effectiveness compromised by any anxiety that our friendship will be hurt. I want my coach to have the freedom to kick my ass.
So Jason's out. I'm going to say that I rejected him. He'd probably say that he turned me away because I wasn't a "strategic fit" or something like that. Regardless, Ron Baker says you are your client list, so now Jason Blumer doesn't get to be Greg Kyte.
I ended up choosing Amber Setter. Why? Great question. Here are four reasons:
She's enthusiastic about the potential of my unique business plan.
She seems confident in her ability to help me launch a successful business.
She has strategic information and resources specific to my target niche.
She's not Jason Blumer.
The other big realization I had was that coaching relationships are not permanent. Every single coach I interviewed had valuable insight into my business, and there's nothing saying I can't circle around to them again later. Unless they won't have me, Strategic Coach.
The business coach acquisition process really was much more challenging than I imagined it would be, and at one point I seriously thought that it would be easier to find a drug dealer than a business coach.
I ran that idea past my not-coach, Jason M. Blumer, and he attempted to write this blog post for me. Here were some of his insights (my comments are in [brackets]):
I think finding a coach is a major issue – there is a hole in the marketplace in that respect and I have ideas how to fill it (but I don't have time).

I imagine finding any illegal drug is easier than finding a coach. Why?

​1. Finding Customers​
​If you are selling drugs, it's probably easy to find customers. You know where they hang out [Classic Skating]. But if you are a coach, you don't really know who your customers are, much less where they are [Starbucks and/or the Apple Store?]. Marketing to "customers who want coaching" is very hard to do because they don't congregate in any one place.

2. Product Fit
Illegal drugs can work for anyone [until you build up a tolerance], but coaching does not. Everyone needs coaching [until you build up a tolerance], but not everyone will let you coach them. Drugs are general: they apply to everyone. But coaching is a specialists' service – you have to make sure there is a product fit, or the service won't work.

3. Positioning
It's easy to position yourself to your market place when selling drugs [street corners]. But when positioning your service as a coach, you have to build processes to establish trust. Your positioning is important, and you have to be strategic. And you have to have some experience as a coach before you can position yourself to your market. People perceive that a coach is an expert (though that is not actually a necessity to provide the service), so you have to say you are an expert.
Regardless, I was able to find a business coach, but I was not able to find a drug dealer. I was also able to piss off my aunt and offend a person who is close to me who I assumed was a recreational drug user. Best of all, when I posted that request for help finding a drug dealer on Facebook, I didn't think through the fact that (a) I work for a group of medical office buildings and (b) I'm facebook friends with several of the doctors who employ me. As a result, I had a fun chat with an oral surgeon who wanted to follow up with me about my brilliant status update.
So now I have a business coach and random drug tests.
¹I'm looking at you Megan and Barrett and Michael
²That's kind of a lie. Erin Rue told me about about a coach in Oregon, and Brian Coleman mentioned an executive coach who's in his BNI group. Full disclosure in case there's any blog post auditors out there.
³Prostiquanitance.